The Cleveland Browns struggled to run the ball last season, averaging just over 95 rushing yards per game. As such, the Browns made an aggressive move in this year's NFL draft, moving up one spot to select Trent Richardson with the third overall pick.
Behind Richardson are four other backs who are going to be angling for the very limited carries that don't go Richardon's way.
Let's take a look at all five running backs on the Browns' roster and see just what they may or may not accomplish this season as the team works to improve this aspect of their offensive attack.
Trent Richardson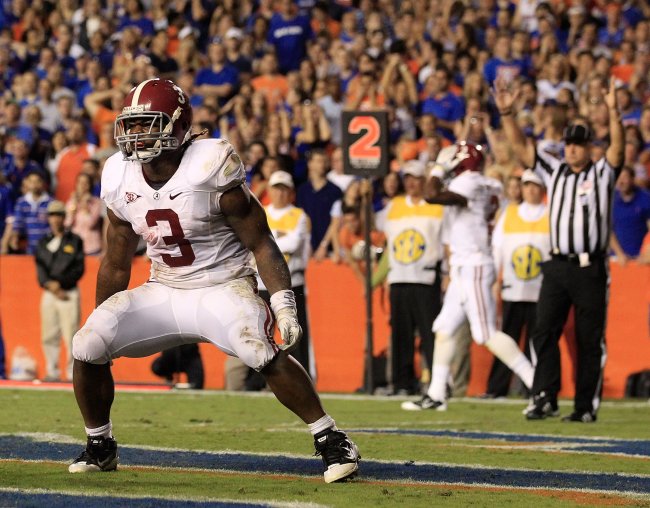 Sam Greenwood/Getty Images
Trent Richardson will be, without question, the Browns' workhorse back this season and will be used in practically every situation imaginable.
As a running back, Richardson is a brutal, hard runner who doesn't shy away from contact. He's a reliable receiver and is just as talented in pass-blocking situations. He's the exact player the Browns needed to draft, and he'll make their offense a great deal better than it was.
While it's not likely that Richardson will match the production he had at Alabama last year in his rookie season in the NFL (nearly 1,700 rushing yards and 24 combined rushing and receiving touchdowns), it's quite possible that if he's used as prolifically as he should be, he'll be in the double-digit touchdown club and could come near 2,000 total rushing and receiving yards.
Montario Hardesty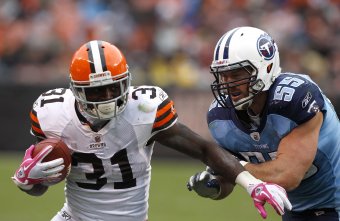 Matt Sullivan/Getty Images
For now, Montario Hardesty is the Browns' No. 2 back. But it may not stay that way by the time the season starts. His injury history and the fact that he provides no change of pace from Richardson except for lesser talent makes him likely to slip down Cleveland's depth chart.
Hardesty was a second-round pick in 2010, but he missed his rookie season with an ACL tear, as well as six games last season with a torn calf muscle. Clearly, there are durability concerns about the third-year back, but it's the presence of Richardson that will seal Hardesty's fate as the No. 3 back on the roster.
Brandon Jackson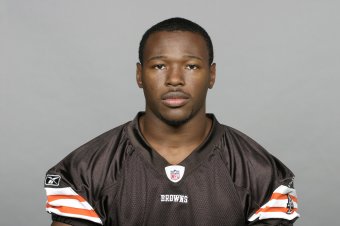 Handout/Getty Images
Chances are, Brandon Jackson will end up winning the team's No. 2 running back job this summer. Jackson, who came to the Browns last season after being with the Green Bay Packers for the four previous years, missed 2011 with a turf toe injury.
Jackson presents a real change of pace from Richardson—he's fast and elusive, rather than straight-ahead powerful, and he can also catch passes. But again, Richardson will be getting the vast majority of the work.
As such, Jackson will likely be considered Richardson's backup rather than someone who spells him consistently. Rotoworld anticipates Jackson to be on the field for no more than a dozen snaps per game, and I agree with that estimation.
Chris Ogbonnaya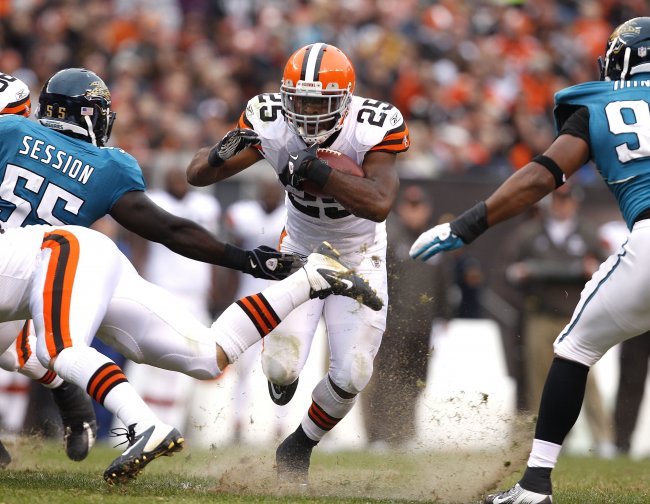 Matt Sullivan/Getty Images
The Browns brought Chris Ogbonnaya onto their roster last year after he was cut in the preseason by the Houston Texans. As an injury replacement for both Hardesty and the now-departed Peyton Hillis, Ogbonnaya racked up 340 yards and a touchdown on 76 carries and 165 yards on 23 receptions.
Unless the Browns move on from Hardesty (something that is a definite possibility), Ogbonnaya could find himself firmly on the roster bubble. Aside from showing some promise as a running back, he struggles in pass protection and will need to be impressive on special teams to secure himself a spot come September.
Adonis Thomas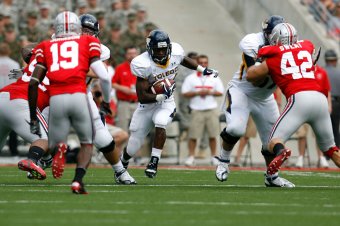 Kirk Irwin/Getty Images
Adonis Thomas is an undrafted rookie in the mold of Jackson—he's fast and elusive and is adept at catching passes. However, his youth and the fact that there are four backs on the depth chart ahead of him might prevent him from making the 53-man roster this year.
His only shot will be special teams; otherwise, it'll likely be a practice-squad season for the intriguing Thomas.