Manny Pacquiao and 20 Former Champions Who Will Recapture Title Belts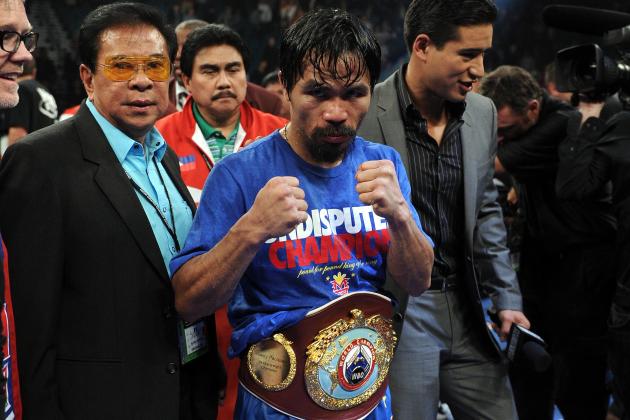 Harry How/Getty Images

When Timothy Bradley was awarded a split decision over Manny Pacquiao, the boxing world watched in stunned disbelief.
Bad decisions are a part of boxing, but the Pacquiao-Bradley verdict defied the privileged logic of superstardom in North American sports. In a matter of instants—regardless of what the outcome should have been—Pacquiao went from (nearly) invincible to former champion.
Some would argue that the true test of champions is how they handle adversity and rise from defeat, and this adage takes on added significance in boxing. To lose a fight—especially a championship fight—is to be both metaphorically and physically vanquished.
Boxing's most remarkable champions are often ones who defy seemingly insurmountable odds to recapture former glory.
Just think about George Foreman and his improbable run to snatch the heavyweight title from Michael Moorer in 1994. That victory did more to endear Foreman to sports fans than his frightening run through the golden age of heavyweight boxing.
In compiling this list, I tried to avoid former champions who currently hold interim titles. Boxing has an abundance of meaningless belts, and sifting through the muck of sanctioning bodies is often arduous. I also refused to acknowledge the fact that, say, Sergio Martinez was stripped of his WBC title, given that he is still The Ring and true middleweight champion.
With that said, let's find out which former champions will reign again.
Begin Slideshow

»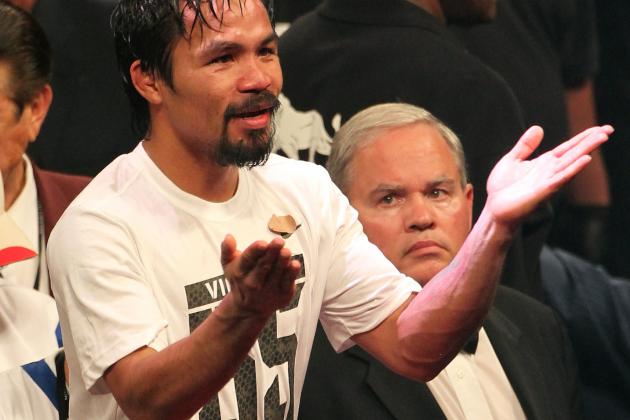 Jeff Bottari/Getty Images

Pacquiao's list of accomplishments is well documented. As the only eight-division champion, Pacquiao (54-4-2, 38 KOs) has won titles from flyweight to junior middleweight.
His nearly unprecedented run through the higher weight classes is the closest thing to a facsimile of the great Henry Armstrong's accomplishments as modern boxing fans are likely to ever see.
Pacquiao last held the WBO welterweight title, which he won via a brutal Round 12 TKO over Miguel Cotto. Sadly, Pacquiao lost his title to Timothy Bradley on June 9 via a highly controversial split decision, in what amounted to one of the most outrageous verdicts in recent memory.
Considering that most analysts and fans believe that Pacquiao was robbed in the Bradley fight, "Pac-Man" is, in many ways, still viewed as a champion.
Unfortunately, the record books do not concur, but given Pacquiao's pedigree and accomplishments, he can essentially walk into a title shot when he returns to the ring.
Pacquiao does not necessarily fight for belts at this point in his career, but everything about his performance against Bradley suggests that he is still an elite, championship-level fighter.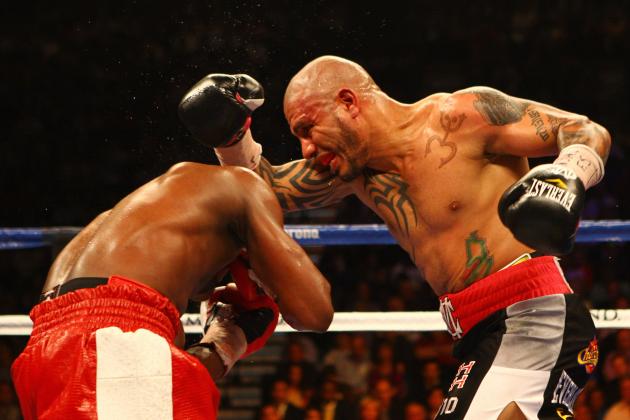 Al Bello/Getty Images

As a three-division world champion, Miguel Cotto's relentless aggression and boxing skills have made him into boxing's most marketable fighter after Floyd Mayweather and Manny Pacquiao.
Incidentally, Cotto (37-3, 30 KOs) has succumbed to both of the aforementioned fighters, but before losing to Mayweather in his last fight, Cotto had enjoyed a successful jump to junior middleweight, where he held the WBA title.
In losing his WBA strap to pound-for-pound king Mayweather in May, Cotto exhibited his world-class skills and determination by extending Mayweather the 12-round distance in a highly competitive fight.
Though Mayweather was a clear winner, a majority of the rounds were hotly contested, and Cotto arguably put Mayweather through his most grueling fight in a decade.
At 31, and considering his form against Mayweather, Cotto still has the polished boxing skills and relentless power of an elite champion. Also, given Cotto's earning and drawing power, expect him to walk right into a title shot or mega-fight as soon as he decides to return to the ring.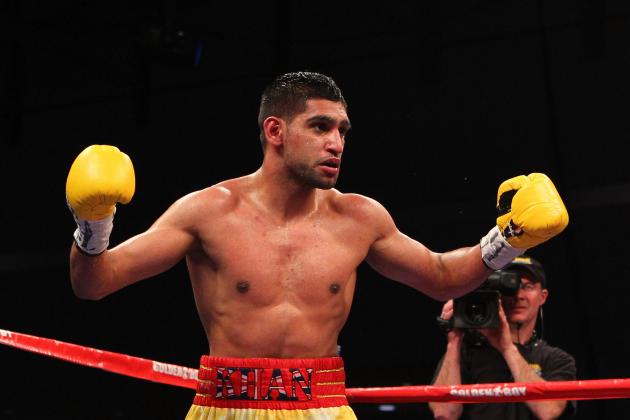 Al Bello/Getty Images

Amir Khan (26-2, 18 KOs) was correctly labeled as a can't-miss prospect after he won a silver medal for Great Britain as a 17-year-old at the 2004 Olympics.
But after claiming the Commonwealth and WBO Inter-Continental lightweight titles early in his career, Khan's meteoric rise came to an unceremonious halt when he was waxed by Columbian banger Breidis Prescott inside of a round.
After this stunning defeat, Khan hooked up with trainer Freddie Roach and went on to fulfill his world championship promise.
In 2009, Khan outclassed Andriy Kotelnyk to win the WBA light welterweight title, and four title defenses followed before a scintillating Round Five knockout of Zab Judah to unify the WBA and IBF titles.
During his championship run, Khan dispelled notions that he has a weak chin, and his combination of speed, power and dazzling combinations have made him one of the most marketable and exciting fighters in boxing.
In his most recent fight, Khan lost a close and controversial decision to Lamont Peterson in Peterson's hometown of Washington, D.C. Of course, Peterson tested positive for a banned substance (synthetic testosterone) and it is still unclear as to what will happen with the IBF and WBA titles Khan formerly held.
Despite this blemish on Khan's record, he is slated to fight Danny Garcia on July 14 for Garcia's WBC light welterweight title. Khan will be the betting favorite, and it is perfectly reasonable to expect the exciting 25-year-old Brit to have long title reigns in multiple weight classes before his career is over.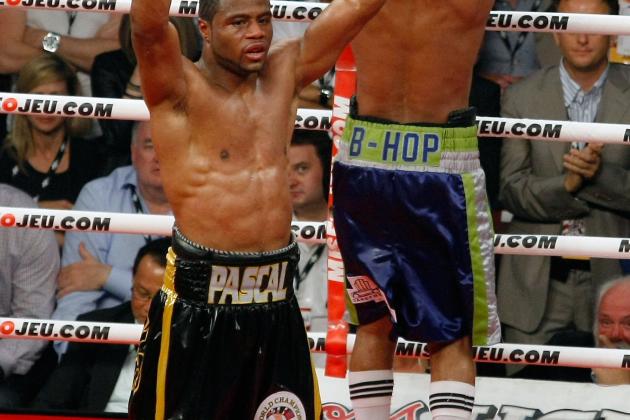 Richard Wolowicz/Getty Images

After unsuccessfully challenging Carl Froch for the WBC super middleweight title in 2008, Jean Pascal (26-2-1, 16 KOs) moved up to light heavyweight and quickly established himself as one of the division's elite fighters. In 2009, Pascal defeated his Montreal-based counterpart Adrian Diaconu to win the WBC title in a tremendous slugfest.
Pascal made three quality defenses, including a career best win over Chad Dawson where Pascal handed the then-undefeated and highly touted American his first career defeat. But then Pascal ran into Bernard Hopkins.
After fighting Hopkins to heavily debated draw to retain his lineal title in 2010, Pascal granted the crafty Hopkins a rematch in a fight "The Executioner" won via close but deserved decision.
Pascal's willingness to fight the absolute best is admirable, and his popularity in Montreal and Quebec City has led to another title shot against IBF champion Tavoris Cloud on August 11.
At 29, and with an athletic, exciting fighting style, expect Pascal to reign as light heavyweight champion again—perhaps even as soon as his next fight.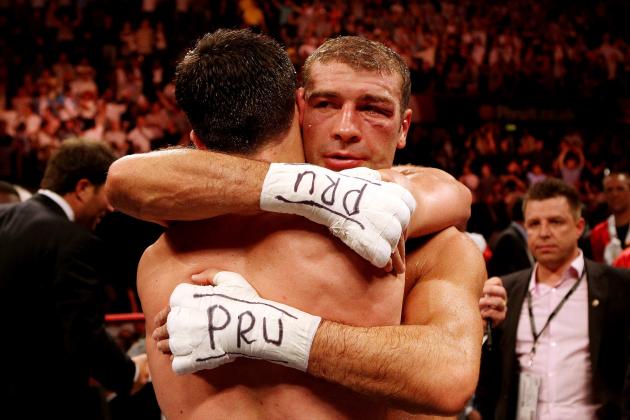 Scott Heavey/Getty Images

The Montreal-based Lucian Bute (30-1, 24 KOs) won the IBF super middleweight title in his adopted hometown when he dethroned Alejandro Berrio via Round 11 TKO.
Despite being excluded from the Super Six World Boxing Classic, Bute pressed on with nine consecutive title defenses—mostly via spectacular knockout or dominant decision.
While many felt Bute was arguably the world's second-best super middleweight behind Andre Ward, critics pointed to Bute's underwhelming opposition and the fact that all of his title defenses had come in Montreal, Quebec City or his native Romania.
Stung by this criticism, Bute agreed to defend his IBF title against Carl Froch in the Englishman's hometown of Nottingham.
Bute deserves commendation for his willingness to fight in Froch's backyard, but what ensued was a nightmare performance that ended with Froch winning via devastating Round 5 TKO
Still, other than the Froch fight and the final round of Bute's first bout against Librado Andrade, "Le Tombeur" has not absorbed tremendous punishment. Given his power and slick boxing skills, expect Bute to be in title contention soon, regardless of whether he exercises his rematch clause against Froch.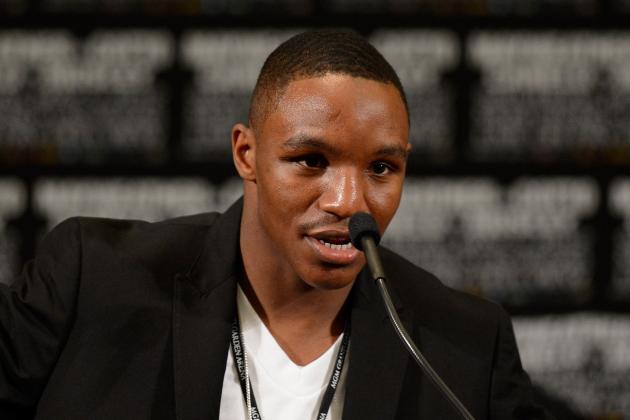 Ethan Miller/Getty Images

Devon Alexander (23-1, 13 KOs) is a fast and skilled southpaw with an excellent following in his hometown of St. Louis.
In 2009, Alexander won the vacant WBC light welterweight title against England's Junior Witter. Having fulfilled his championship promise, Alexander went on to unify junior welterweight titles against hard-hitting Juan Urango and made another successful defense before his marquee showdown with Timothy Bradley.
Against Bradley, Devon Alexander was smothered and outworked by an opponent with both speed and skill disadvantages. Alexander got sucked into fighting Bradley's fight, and he seemed to wilt under Bradley's relentless pressure.
A cut from an accidental clash of heads further exacerbated Alexander's discomfort against Bradley, and the fight was eventually stopped and sent to the scorecards when Alexander complained of obstructed vision.
Of course, Bradley was ahead on the scorecards by fairly comfortable margins, and Alexander's willingness to allow the fight to be stopped called into question his heart and will to win.
Fast-forward a year and a half and the 25-year-old Alexander is in prime position to challenge for a welterweight title.
After quality wins over Lucas Matthysse and Marcos Maidana, Alexander seems to be back on track, and given his blend of youth, speed and boxing skills, expect Alexander to claim at least one more major title before his career is over.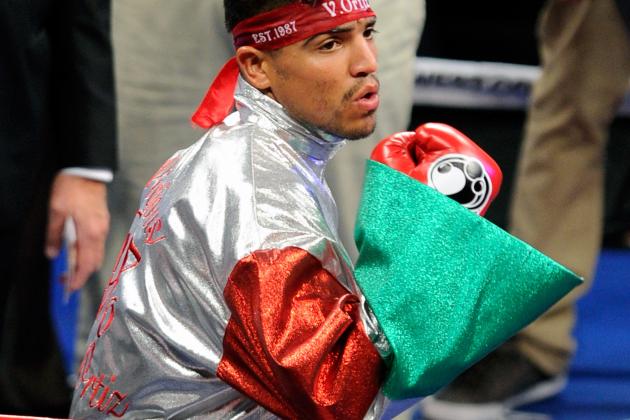 Ethan Miller/Getty Images

In 2009, Marcos Maidana stopped Victor Ortiz (29-3-2, 22 KOs) in Round 6 of a brutal slugfest that featured five knockdowns and a gruesome number of flush power punches.
At the time, Golden Boy Promotion was grooming Ortiz for stardom, and his decision to quit against Maidana was seen by many as an irreparable mistake.
Ortiz, however, persisted and moved forward, and in 2011 he dethroned then-undefeated WBC welterweight champion Andre Berto in one of the year's best action fights.
Both fighters hit the canvas twice, and any lingering questions about Ortiz's heart were answered in what amounted to a career-best win.
For his first title defense, Ortiz was saddled with the practically impossible puzzle of Floyd Mayweather, and the fight ended via Round 4 KO after a defenseless Ortiz—who was apologizing to Mayweather after an illegal head-butt infraction—was floored by "Money" and dropped for the count in one of the most bizarre endings to a title fight.
Ortiz has not fought since, though he is scheduled to clash with Josesito Lopez for the WBC "silver" welterweight title on June 23. Should Ortiz win, a legitimate title shot for the actual WBC strap looms against Saul "Canelo" Alvarez on September 15.
While Ortiz might not beat "Canelo," at 25 and with an exciting, powerful southpaw style, expect him to be in championship contention for a long time.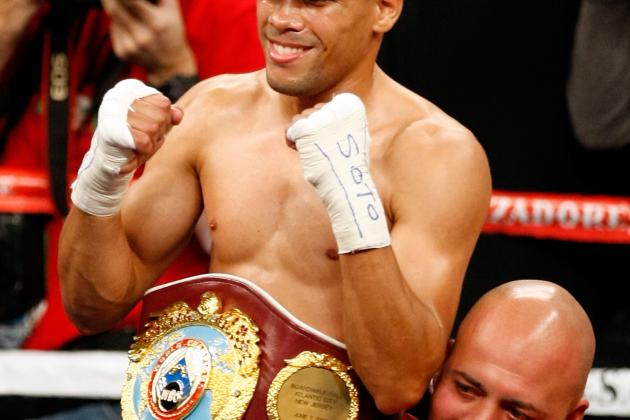 Ethan Miller/Getty Images

In 2008, Juan Manuel Lopez (31-2, 28 KOs) stopped Daniel Ponce De Leon in the first round to claim the WBO super bantamweight title.
Five title defenses followed before Lopez jumped to featherweight, where he also claimed that division's WBO strap. Along the way, Lopez established himself as one of boxing's most exciting and powerful fighters in the smaller weight classes.
Lopez made two successful defenses of his WBO featherweight title before running into Orlando Salido, who seems to be the Puerto Rican's kryptonite.
Salido shockingly stopped Lopez in Round 8 of a brutal slugfest, and followed up this career-best performance by again stopping Lopez in their equally exciting rematch, this time in Round 10 of an absolute war of attrition.
Lopez, of course, was then suspended for claiming that referee Roberto Ramirez Sr.'s alleged gambling problems contributed to what Lopez felt was a premature stoppage.
While he was punch-drunk when he uttered this nonsense, Lopez's comments will cost him dearly, and the former two-division champion will only be able to return to the ring on November 10, 2013 (unless he fights in Mexico or Europe).
The layoff might actually do Lopez some good.
His aggressive style inevitably leads to him eating an abundance of punches, and a recharging of his batteries is exactly what the 28-year-old banger needs. Given his age and power, expect Lopez to be challenging for a belt shortly after he dusts off his ring rust.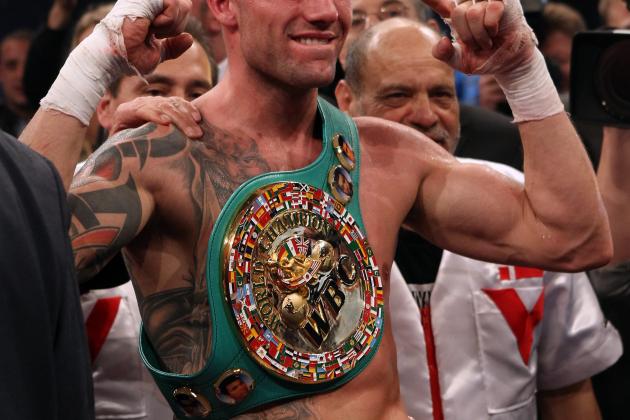 John Gichigi/Getty Images

In 2004, Mikkel Kessler (45-2, 34 KOs) won the WBA super middleweight title and went on to make four consecutive defenses, including a unification victory over Markus Beyer where Kessler added the WBC strap to his increasingly impressive resume.
Then came a highly publicized unification fight against Welsh legend Joe Calzaghe for the WBO, WBC, WBA and The Ring super middleweight titles.
Kessler was a popular pick in this battle of unbeatens, and the fight was viewed as one of the most significant in the history of the super middleweight division.
Ultimately, Kessler lost a competitive but clear decision to Calzaghe, and the process of rebuilding towards a championship began for the classy Dane.
Kessler's path to regain a title was hardly laborious, and he reclaimed the then-vacant WBA strap—after Calzaghe had moved up in weight—in his next fight.
Two more defenses followed—but then Kessler ran into the technically perfect wrecking crew that is Andre Ward in the first round of the Super Six World Boxing Classic.
Given the highly competitive nature of the Super Six, Kessler again regained a title—this time the WBC belt—by dethroning Carl Froch in one of 2010's most memorable slugfests.
Unfortunately, Kessler was forced to vacate his title and had to withdraw from the Super Six due to an eye injury.
But upon returning to action, Kessler won a tune-up fight before obliterating Allan Green for the WBC "silver" light heavyweight title in a definitive candidate for knockout of the year.
Despite the questionable nature of this "silver" title, expect Kessler—given his performance against Green—to contend for a legitimate title in either the super middleweight or light heavyweight division as soon as his next fight.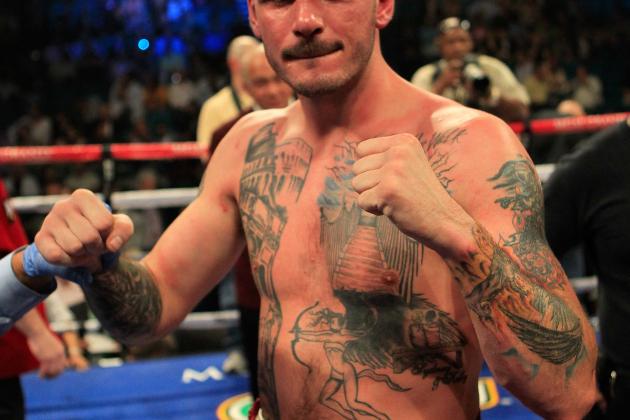 Chris Trotman/Getty Images

In 2007, despite being behind on the scorecards, Kelly Pavlik (39-2, 34 KOs) rallied sensationally to stop Jermain Taylor in Round 7 to become the middleweight champion.
Pavlik went on to make three successful defenses of his lineal title against underwhelming competition, though he did move up in weight to decision Taylor in a highly anticipated rematch.
Pavlik's other foray into the higher weight classes during his time as middleweight champion was a fight against Bernard Hopkins at a catch-weight of 170 pounds.
While many thought that an aging Hopkins would succumb to youth and power, Pavlik was thoroughly outclassed in a disappointing effort.
Two of Pavlik's other middleweight title defenses came after the Hopkins fight, which set the stage for a bout with former junior middleweight titlist Sergio Martinez.
Battered and bloodied, Pavlik lost his lineal middleweight title to Martinez via clear decision. Then the trouble really began. Pavlik checked himself into rehab and fought only twice between April 2010 and March 2012.
Nevertheless, Pavlik seems to have his personal life in order, and he was most recently seen systematically dismantling an overmatched Scott Sigmon on June 8. Up next is a solid fight against Will Rosinski—who recently narrowly lost to Edwin Rodriguez.
Pavlik has been campaigning at super middleweight since his loss to Martinez, and, at 30 and still possessing thudding power, expect Pavlik—with his resume and name recognition—to soon find himself in a high-profile title fight.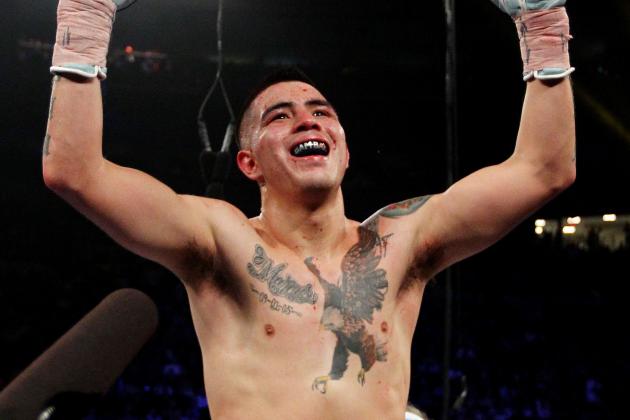 Al Bello/Getty Images

In 2011, the powerful and relentless Brandon Rios (30-0-1, 22 KOs) stopped Miguel Acosta in Round 10 to claim the WBA lightweight title. Rios then defended his title with a third-round knockout of Urbano Antillon.
With his aggressive, crowd-pleasing style, Rios was tabbed as a future superstar destined for a lengthy title reign.
Then came his weight issues. Rios was unable to make weight and was stripped of his title before his second defense against John Murray.
But despite draining himself in an attempt to tip the scales at 135 pounds, Rios rebounded on fight night to score a Round 11 stoppage after a grueling fight.
Following his victory over Murray, Rios was given the opportunity to reclaim the WBA title he gave away on the scales.
Unfortunately, Rios again failed to make weight and was thoroughly outclassed by slick Cuban Richard Abril. Inexplicably, the judges awarded Rios a split decision in one of the worst verdicts in recent boxing history.
Despite these blemishes, the 26-year-old Rios is still a hot commodity. Having moved up to junior welterweight, Rios, with his exciting style and in-ring intensity, should find himself in title fight soon. Hopefully, when he gets his next shot, he'll actually make weight and be eligible to win whatever title is at stake.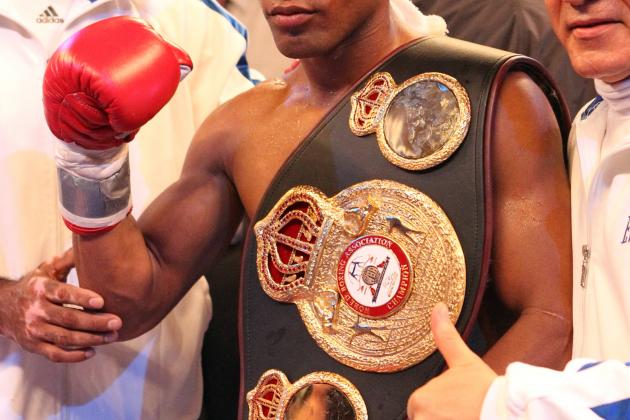 Hunter Martin/Getty Images

Yuriorkis Gamboa (21-0, 16 KOs) famously defected from Cuba with fellow teammates and gold medalists Odlanier Solis and Yan Barthelemy before making his professional debut in 2007.
Since then, Gamboa has become one of the most powerful, fast and exciting fighters in the lower weight classes.
In 2009, Gamboa won the interim WBA featherweight title and soon defeated Whyber Garcia to elevate his championship status.
With actual possession of the WBA strap, Gamboa made two more defenses before adding the IBF featherweight title to his haul with an impressive win over Orlando Salido.
The Cuban, despite being knocked down and having two points deducted, floored Salido twice in Round 12 to close the show.
In Gamboa's next fight against Jorge Solis, the Cuban won via Round 4 TKO, though he was stripped of his IBF title for skipping a mandatory reweigh-in. This proved to be a sign of a disturbing trend, and Gamboa was eventually stripped of his WBA title as well.
Gamboa was last seen scoring a technical decision win over Daniel Ponce De Leon in a non-title fight, but he has been on the shelf since September 2011 due to promotional issues with Top Rank over Gamboa's alleged breach of contract in the buildup to a fight against Brandon Rios.
The two sides, however, seem to be moving towards a reconciliation, and Gamboa—who is in his physical prime at 30—should hopefully be terrorizing opponents from featherweight to lightweight in the near future.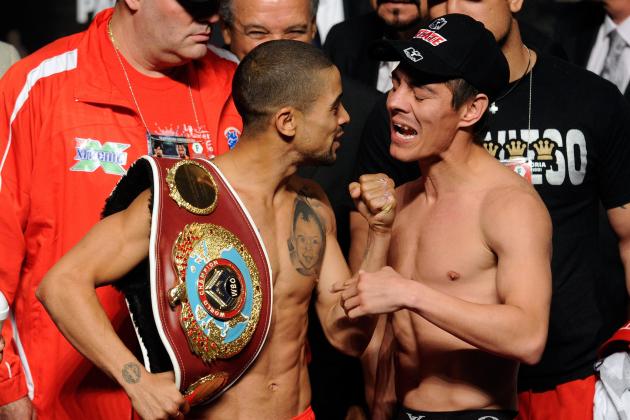 Ethan Miller/Getty Images

In 2010, Wilfredo Vazquez Jr. (21-2-1, 18 KOs) defeated Marvin Sonsona via Round 4 KO to win the WBO super bantamweight title. Vazquez Jr.—the son of three-division world champion Wilfredo Vazquez Sr.—followed this title-winning performance with two consecutive defenses via stoppage.
In 2011, Vazquez Jr. lost his title to Jorge Arce via Round 12 TKO in an absolute war.
Both men traded punches for the fight's duration, and Vazquez Jr. ultimately wilted under Arce's relentless pressure, despite scoring a knockdown in the Round 4.
After a bounceback win, Vazquez Jr. lost a split decision to Nonito Donaire for the then-vacant WBO super bantamweight title, in a fight that was not as close as the scores indicated.
Still, the 28-year-old Vazquez has acquitted himself well at the elite level, and his blend of power and improving skills suggest he will challenge again for world titles.
In fact, should Vazquez defeat Rafael Marquez on August 4, he will be in excellent position to challenge for a belt by the end of 2012.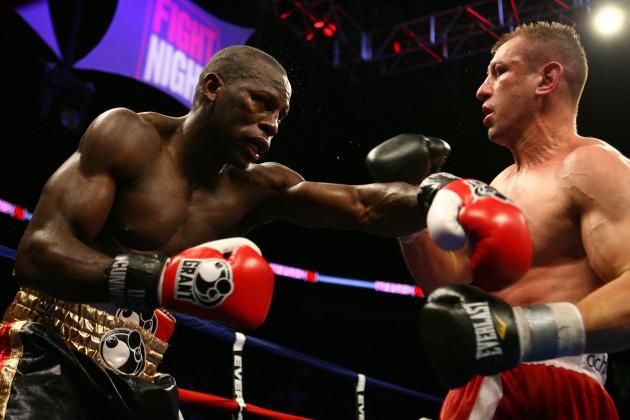 Al Bello/Getty Images

The cruiserweight division might not get an abundance of publicity, but the 200-pound heavyweight stopgap does possess a number of quality fighters.
In 2007, American Steve Cunningham (24-4, 12 KOs) first won the division's IBF world title, which he defended via Round 12 TKO against Marco Huck (arguably the top cruiserweight in the world at the moment), before losing a hotly contested split decision to Tomasz Adamek.
Cunningham rebounded to regain the IBF title against two-time Canadian Olympian Troy Ross, though the outcome was somewhat controversial as Cunningham appeared to open a cut over Ross' eye with a thumb instead of a punch.
After another successful defense, Cunningham lost twice to Yoan Pablo Hernandez—the second time by competitive but clear decision.
Despite Cunningham's advanced age of 35, he only has 28 professional fights, and his range and boxing skills suggest he can still compete at the highest level.
Cunningham has only lost to the division's best, and given that all four cruiserweight belts are spread out over four titleholders, expect Cunningham to be in championship contention once he returns to the ring.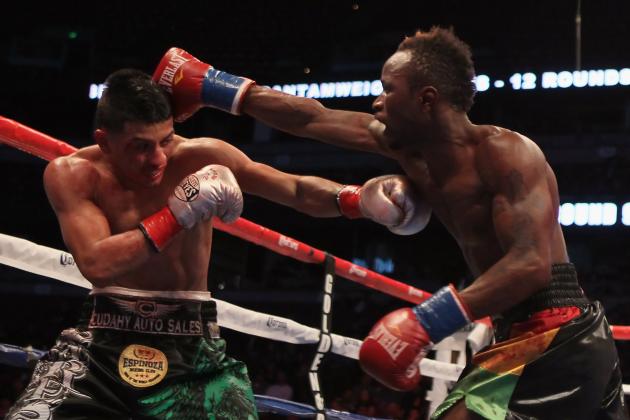 Jeff Gross/Getty Images

In 2007, Joseph Agbeko (28-4, 22 KOs) systematically dismantled Luis Alberto Perez to win after Round 7 when the ringside doctor advised that the fight be stopped.
With the victory, Agbeko claimed the IBF bantamweight title, and he would go one to make two consecutive defenses, one of which was a unanimous decision over Vic Darchinyan in a career-best win.
Agbeko lost his IBF title to Yonnhy Perez, but was quick to exact revenge in their rematch. Agbeko-Perez II was one of the semifinal bouts in Showtime's bantamweight tournament, and with his win, Agbeko reclaimed the IBF title with plans for a unification fight against Abner Mares.
In a foul-filled fight, Mares landed multiple low blows, which referee Russell Mora repeatedly missed or incorrectly ruled as knockdowns. The fight was hotly contested, and an immediate rematch ensued.
This time, Mares won clearly in another competitive fight, and Agbeko was again left without a title.
Mares, of course, has since moved up in weight to claim the WBC junior featherweight title, and his departure leaves room for Agbeko to regain a bantamweight belt. Agbeko is currently suing Don King, but when he does return to the ring, his power and granite chin should carry him towards another world title.
Andreas Rentz/Getty Images

In 2005, Arthur Abraham (34-3, 27 KOs) defeated Kingsley Ikeke by Round 5 KO for the then-vacant IBF middleweight title.
"King" Arthur would go on to make 10 defenses, including several by sickening knockout. During his middleweight title reign, Abraham became known as one of the most feared punchers in boxing.
In 2009, Abraham decided to vacate his title in order to move up to super middleweight for the Super Six World Boxing Classic.
Abraham's foray into the 168-pound division started spectacularly, as he disposed of former middleweight champion Jermain Taylor, knocking the American out cold in Round 12.
The rest of the Super Six, however, was a nightmare for Abraham.
He lost three consecutive tournament fights, and his only win during that stretch was a stay-busy fight as he waited for a title shot against Andre Ward.
Before getting outclassed by Ward, Abraham was disqualified after hitting Andre Dirrell with an illegal punch, and he was essentially shut out in an unsuccessful bid for Carl Froch's WBC title.
Abraham took some time to regroup after the tournament debacle, and he then claimed and defended the WBO European super middleweight title in his two comeback bouts. As it stands, he is poised to challenge Robert Stieglitz for the WBO world title.
While the fight against Stieglitz is a difficult one, Abraham stands a solid chance if he stays busy and applies intelligent pressure. At 32, and given his raw power, Abraham has the proverbial puncher's chance to win another championship belt.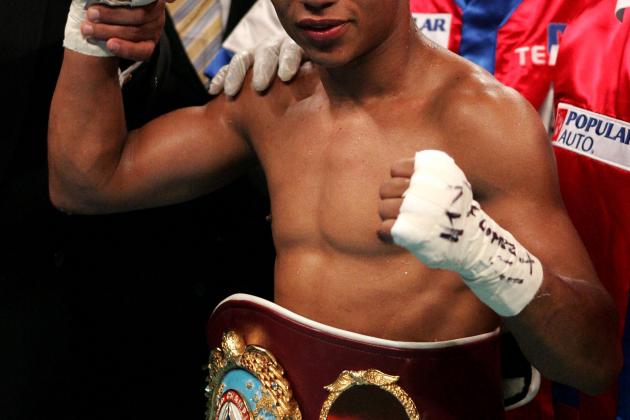 Al Bello/Getty Images

Ivan Calderon (35-2-1, 6 KOs) might be the best pure boxer not enough people know about.
In 2003, Calderon won the WBO strawweight title and made 11 defenses, mostly via lopsided decision. Calderon was never defeated at 105 pounds, and the slick Puerto Rican then moved up to light flyweight where he captured that division's WBO title.
Calderon would make six defenses of his light flyweight title before running into the powerful and relentless Giovani Segura. Calderon's lack of punching power seemed to have caught up with him, and he was unable to keep Segura at bay or employ the same level of superior movement and boxing that fans had become accustomed to in his younger days.
Segura stopped Calderon in two consecutive fights—the first time in Round 8 and the second time in Round 3. While many suspected Calderon would retire, the former champion made an interesting decision to return to the 105-pound division, where he won a comeback fight.
At 37, the clock is ticking on Calderon's career, and his upcoming fight against WBO titlist Moises Fuentes could be his last crack at a world title. While he isn't quite the sublime boxer he used to be, expect Calderon to give fans one more age-defying performance to reclaim his old belt.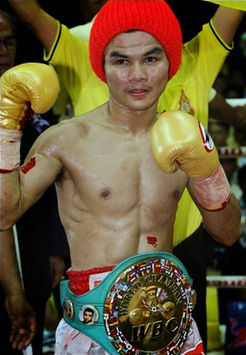 Image courtesy of boxrec.com
Thai legend Pongsaklek Wonjongkam (84-4-2, 44 KOs) first captured the WBC flyweight title in 2001 and went on to make a division record 17 title defenses.
Wonjongkam's activity and conditioning allowed him to sustain one of the sport's lengthiest title reigns, and his 17 defenses spanned an impressive six years.
Wonjongkam first lost his title to Japanese boxer Daisuke Naito, whom the Thai champion had earlier beaten via technical decision and first round knockout in a mere 34 seconds—the fastest knockout ever in a flyweight title fight.
After losing his title, Wonjongkam soon fought Naito for a fourth time but could only muster a draw.
Wonjongkam pressed on, and after winning the interim WBC flyweight title, he challenged brash Japanese superstar Koki Kameda for his old belt.
In a virtuoso performance, Wonjongkam turned back the clock and continuously beat Kameda to the punch to win a majority decision.
Wonjongkam defended his reclaimed WBC title four more times before being stunningly upset by unheralded Sonny Boy Jaro via Round 6 TKO. But Wonjongkam has since won a comeback fight, and given how he reclaimed his belt against Kameda, expect him to do the same thing to Jaro.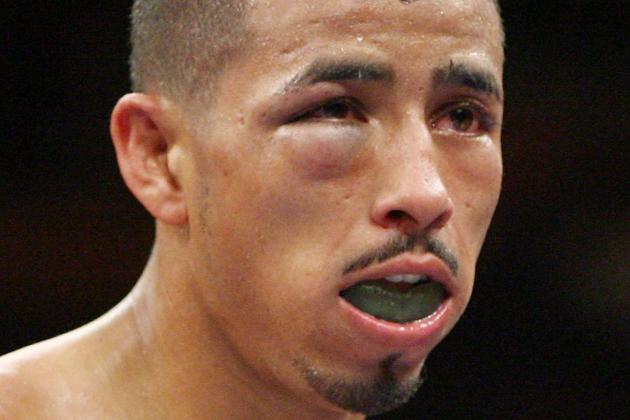 Ethan Miller/Getty Images

Giovani Segura (28-2-1, 24 KOs) is one of the hardest hitters and most exciting fighters in the lower weight classes.
In 2009, Segura won the WBA light flyweight title and made four defenses, including a unification knockout victory over Ivan Calderon, where Segura added the WBO belt to his haul. In the rematch against Calderon, only the WBO title was at stake, and Segura again won via knockout.
Segura then moved up in weight and lost to Brian Viloria in a minor upset for the WBO flyweight title.
Viloria effectively countered Segura's pressure and wide hooks, and the fight was stopped after Segura was staggered in Round 8 and was suffering from a grotesquely swollen right eye.
Segura has not fought since the loss to Viloria in late 2011. However, Segura is in his prime at 30, and given his power and fighting instincts, expect his strength and aggression to carry him towards another title at light flyweight or flyweight.
Image courtesy of sraboxing.com
In 2009, Gabriel Campillo (21-4-1, 8 KOs) eked out a majority decision victory over Hugo Hernan Garay for the WBA light heavyweight title. Campillo's first defense was another close victory over Beibut Shumenov, and the fight lead to an immediate rematch.
Campillo-Shumenov II proved to be the start of bizarre stretch for the slick-boxing Spaniard—Campillo has been the victim of some of the most controversial decisions in recent memory.
First, Campillo lost an absurd split decision to Shumenov, and then, after building up towards another title shot, Campillo rallied from two first round knockdowns to outbox IBF champion Tavoris Cloud. Unfortunately for Campillo, Cloud was awarded a laughable split decision.
Although he's screwed out of two world titles, Campillo has shown he is a slick, world-class boxer who can compete with anyone at light heavyweight. His crafty southpaw style gives opponents fits, and expect Campillo to work his way towards another title shot where, hopefully, the judges will be competent.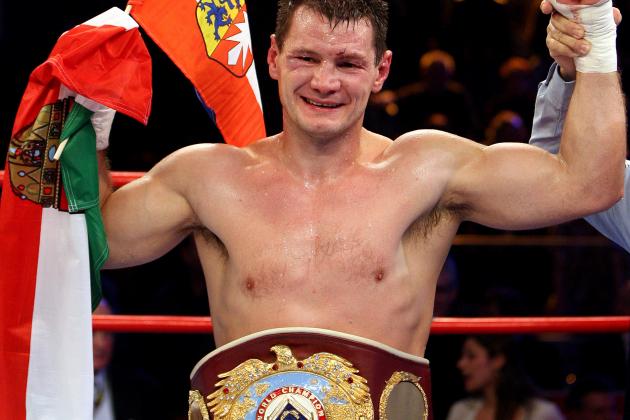 Ronny Hartmann/Getty Images

In 2004, Zsolt Erdei—a Hungarian two-time Olympian—defeated Julio Cesar Gonzalez for the WBO light heavyweight title.
Erdei would go on to make 11 consecutive defenses, though his competition was hardly elite. Still, Erdei (33-0, 18 KOs) became a big draw in Germany, as well as in his native Hungary.
Erdei then vacated his light heavyweight title to move up to cruiserweight, where he defeated Italian Giacobbe Fragomeni for the WBC title. Temporarily satisfied with his accomplishments, Erdei retired undefeated.
Erdei's absence from the ring, however, only lasted a year, and he soon singed with Lou DiBella with the intention of fighting in the United States.
Erdei has won two comeback fights in New Jersey, and he was slated to challenge IBF champion Tavoris Cloud, though Erdei was forced to withdraw from the fight due to injury.
Given his skill and pedigree, expect the undefeated Erdei to position himself for a title shot shortly after he returns to the ring, which will hopefully be soon.