England vs. Italy: A Match Made in Heaven
June 20, 2012

Alex Livesey/Getty Images
England and Italy are preparing to meet Sunday in a quarterfinal match.  A match that most believed should not be taking place in the quarterfinals. 
Each club has been through a long and winding road to make it to this point.  Both England and Italy are exceptional, and the match should produce some engaging style of defensive football. 
Both teams have given their supporters and fans headaches, but the draw should continue to be entertaining. 
As Group D winners, England advance to face Group C runners-up Italy in the quarterfinals.  The winner of this highly anticipated match will face either Germany or Greece. 
Drawing Italy in the quarterfinals has been seen with much favor by most of the England faithful.  France's 2-0 loss to Sweden helped England avoid the Spanish for at least this round. 
But the draw is hardly enough for celebration, as Italy's resume includes four World Cups victories and a European title.  Italy will prove to be no slouch, and will provide England with great competition. 
Date: Sunday, June 24
Coverage Begins: 2:30 p.m. EDT
Television Coverage: ESPN
Live Streaming: ESPN3.com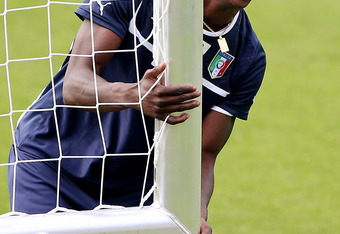 Scott Heavey/Getty Images
Player to Watch for England: Wayne Rooney
Player to Watch for Italy: Mario Balotelli
As Americans we are inundated by the superstition of American sports figures.  From John Henderson getting his face slapped, to the bucket of chicken that Khalid El-Amin would eat before every basketball game. 
But the footballers and their coaches may have gotten the better of us in this category. 
After promising monks that he would pilgrimage if Italy advanced to the quarterfinals, Italy coach Cesare Prandelli has taken his promise to heart.  Prandelli made his last preparations for the match with England by making a 12-mile pilgrimage to a monastery in the middle of the night.  The former Fiorentina coach had promised the Benedictine monks at the Camaldolese Priory that he would visit them if Italy qualified for the quarterfinals via Group C.  Keeping to his promise, Prandelli walked to the priory. 
After the 2-0 win against the Republic of Ireland on Monday, Prandelli and his coaching staff began their 12-mile jaunt.  At 3 a.m. on Tuesday morning, Prandelli and his staff set off for their pilgrimage.  They arrived at the monastery at 6:30 a.m. and then returned by car to the team hotel by 7:15 a.m. 
A Historic Look at Italy and England
England and Italy have met at the European Championship finals once before, with Italy winning 1-0 in 1980. 
The last match between the two squads saw Italy win a friendly 2-1 in 2002.
Italy and England have scored three goals apiece from set play, the most combined in the group stages of Euro 2012.
Italy and England have scored the opening goal in each of their first three games. 
Italy
Italy have only been knocked out of the quarterfinals of a major tournament on two occasions.
In 10 quarterfinal matches at the European Championships or World Cup finals, Italy have allowed four goals and never more than one in a game.
England
England have lost seven out of 10 quarterfinal games at major tournaments
They have managed just one win from their last nine games against Italy.
They had the best shot conversion rate in the group stages of the tournament at 21.7 percent.
How We Got Here
England
Despite dealing with injuries and a suspension to Rooney, the English were treading on perfection in the group stages.  England opened the tournament with a 1-1 draw against France.  They then beat Sweden in a riveting 3-2 match.  Finally, the English finished group play with an exciting 1-0 victory against Ukraine.
Italy
The Italians continue to surprise many with their play.  Coach Prandelli and the Italians have been solid but unspectacular so far throughout group play.  Italy has advanced to the quarterfinals with five points despite only scoring four goals in three games.  They opened play with 1-1 draws with both Spain and Croatia before finally earning a tough 2-0 victory against the Irish.
Injuries Will Make an Impact
Italy will have to deal with an injury heading into this match.  Defender Giorgio Chiellini has been ruled out with a thigh strain.  The loss of Chiellini should have a large and immediate impact on the Italians.  Chiellini is the most experienced defender on Italy's squad. 
Chiellini was forced to leave Italy's 2-0 win against the Republic of Ireland on Monday. Chiellini has been in doubt for most of this tournament.  He suffered a similar injury in a win against Atalanta last month. 
Chiellini was replaced by Leonardo Bonucci against Ireland, and Coach Cesare Prandelli has many big decisions to make before this quarterfinals match against England. 
Penalties May Be the Difference
England and Italy are two teams who have an interesting history with penalty kicks. 
The Italians have already won and lost a World Cup final on them (1994 and 2006).  In major tournaments, Italy's record with penalty kicks is short of memorable.  Italy holds a record of 2-6 in major tournament matches that are determined with the spot kick. 
England have not been much better historically.  England have seen penalty kicks decide their fate on six different occasion in major tournaments.  Within those situations, England hold a 1-5 record, with  their only win coming against Spain in 1996. 
These two teams combine for a 3-12 record in major tournament matches that are determined by penalty kicks. 
With the defense both of these clubs are expected to play, penalty kicks could become a crucial factor in who comes out victorious from this match.
Prediction
In what should be a tough fought defensive match, England pulls away with a scrappy 1-0 victory over the Italians.