Why Jermichael Finley's "Freestyle" Approach Will Be a Successful One
June 21, 2012

Streeter Lecka/Getty Images
No one would ever describe Green Bay Packers tight end Jermichael Finley as being an eloquent public speaker.
All too frequently, he says things without fully thinking them through when there's a microphone in front of his face, and his thoughts come out unfiltered.
As a result, fans shouldn't take what Finley says at the surface level. And when he says he'll be "freestyling" this upcoming season, that shouldn't necessarily be viewed as a negative.
Similar to how Wisconsin sports fans have become accustomed to Japanese-born Milwaukee Brewers outfielder Norichika Aoki speaking to the media through an interpreter, Finley could use the same assistance in Green Bay.
Finley created a stir during the recently completed organized team activities with a few off-the-cuff comments to the local media, but perhaps a translator is needed.
What Finley said: "My coach, of course, (Jerry) Fontenot, he's more of a relaxed guy. He's going to let you play your game. He's not going to coach you too much."
What fans may have heard: Tight ends coach Jerry Fontenot doesn't have enough control over his position, and as such, he's an accomplice to Finley's me-first attitude.
What Finley meant to say: Jerry Fontenot treats his players like professionals and isn't going to hold our hand. He isn't going to confuse us with information overload.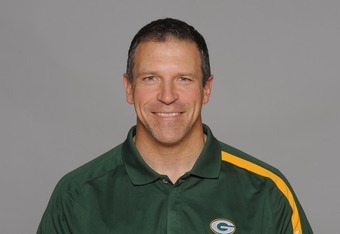 Handout/Getty Images
Fontenot probably shook his head when he heard of Finley's comments. But as a coach who's been with the Packers for six seasons, he knows better than to put too much stock into what comes out of Finley's mouth.
Coming off a season in which many might say Finley underachieved, the tight end simply doesn't want to get bogged down by thinking too much on the field.
Despite 55 receptions for 767 yards and eight touchdowns, there were many other NFL tight ends that outproduced Finley. Those 55 catches only ranked 14th among all players at his position last season.
The argument can be made that Finley was trying too hard in 2011. With an expiring contract in the back of his mind, maybe he was reaching too much, trying to play beyond his means.
By signing a two-year, $14 million contract with the Packers in the offseason, Finley's mind should be at ease, if only temporarily. It didn't provide him with long-term security, but $14 million isn't chump change either.
As long as performs at a high level, Finley will have another opportunity to sign a lucrative contract in two more seasons. And partially because he entered the NFL draft as an underclassman, Finley is still young. Only 25 years old, he should be entering the prime of his career the next time he's eligible to become a free agent.
In order to reach the upper echelon of tight ends, to join the Jimmy Grahams and Rob Gronkowskis of the NFL, Finley doesn't want to suffer from paralysis by analysis.
Continuing his comments in regards to Fontenot, Finley talked about playing without hesitation this season.
What Finley said: "I think that's a good fit for me. It's going to kind of freestyle my play. And I think it's going to be a good one this year."
What fans may have heard: I know better than the coaches do. I'm going to do my own thing this year. 
What Finley meant: I can't think and hesitate on the football field this year. I just have to react and let my talent shine through.
In addition to the boneheaded remarks Finley has made over the years, he needs to become more reliable on the field.
Fans were irate over the staggering amount of dropped passes by Finley over the second half of last season.
According to statistics kept by the Milwaukee Journal Sentinel, Finley dropped 13 passes.
That's a number not lost on the Packers tight end. When asked what he specifically needs to work on for the upcoming season, Finley replied, "Of course, catching. This last year, I dropped what, 12, 13 balls? My blocking needs a little bit of improvement, and be more consistent in my game."
There's reason to believe that dropped passes won't continue to plague Finley. In his first three seasons as a professional, he only let seven out of 117 slip through his fingers.
In a lengthy interview with Tyler Dunne of the Journal Sentinel earlier in June, Finley said part of the problem last season was the timing between him and quarterback Aaron Rodgers. Having an offseason wiped out due to the NFL lockout didn't help in that regard.
This season, that's not the case. And to ensure any issues with timing don't persist, Finley said he plans on flying out to Rodgers' native California to work out with the quarterback before training camp begins.
Finley may sometimes annoy with his foolish comments, but he doesn't get in trouble off the field, hasn't been a locker room cancer and has shown a willingness to work hard to improve.
Those qualities alone won't get him anywhere. He has to produce consistently and consistently well to quiet his critics.
But entering his fifth year in the NFL, Finley is due to join the conversation of the league's best tight ends. If he catches 80 passes and reaches double-digit touchdowns this season, observers won't have a problem with "freestyling." They'll say, "Whatever works."