Nets 2012: What Does the Barclays Center Have to Do with Brooklyn Basketball?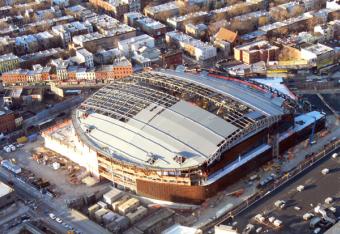 www.cbsnewyork.files.wordpress.com

The Barclays Center represents many things, perhaps the least of which is Brooklyn basketball.
The Center is comprised of eight million square feet of office, commercial, and residential property that stretches well beyond the pale of a new sports stadium.
The array of political, economic, and environmental issues surrounding the Center is dizzying.
Forest City Ratner - the Center's majority owner and developer - has made a dangling promise to construct towering modulated apartment buildings around the Barclay's Center. The New York Times reports that at least 30 percent of the projected 6,400 apartments will be affordable housing for low to middle income residents. However, project plans have been continuously delayed since 2011.
Massive chain businesses promise to erupt around the stadium and threaten small businesses in Brooklyn's surrounding neighborhoods.
Further still, Barclay's gladiatorial arena atmosphere and continuing real-estate construction will create new levels of noise pollution to stain the borough's once low key charm.
One of the presumed public benefits from the Barclays Center is the creation of a barrage full-time jobs for Brooklyn residents. However, according to the Atlantic Yards Report, the Center's job offerings have thus far been reported to be primarily part-time minimum wage positions.
The Local (via the New York Times) has reported that anger over these concerns has incited plans for public protests outside the Center during its opening in September. Given Brooklyn's very active progressive and liberal base, these protests will probably continue for months.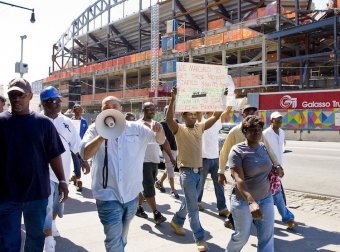 There are, of course, some public benefits surrounding the opening of the Barclays Center. At least for now, te Brooklyn Nets will offer some accessible, inexpensive entertainment.
The Barclays Center is extremely easy to get to by public transportation. It's located at Atlantic Terminal, one of the public transportation hubs in New York City. Eleven subway lines stop at the Terminal, and for those Nets fans who live on Long Island, the railroad stops at the station as well.
The other public benefit of the Barclays Center is that this year, Brooklyn Nets basketball tickets will be on the cheap. According to the New York Daily News, 50% of the tickets will be $55 or under.
The stadium sight lines will be vertical, which means the $15 to $25 nose-bleed seats will suffer minimum visual obstructions.
As for now, the Nets' ticket prices make owner Mikhail Prokhorov look like a public benefactor compared to Madison Square Garden owner James Dolan.
After the Knicks acquired NBA icon Carmelo Anthony in a blockbuster mid-season deal in 2011, Dolan immediately raised ticket prices by on average 49% for the subsequent season. (via the New York Post)
However, these recession-friendly offerings may be short-term. Both Dolan and Prokhorov are private businessmen. Who is to say that the Russian business mogul won't also jack up prices once the Nets have some success? If the Nets become a better basketball squad and the demand for tickets rises, then by economic axiom, so will ticket prices.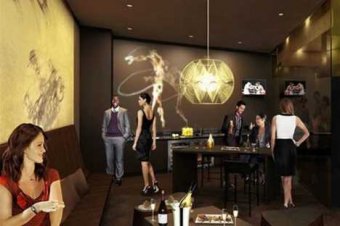 Perhaps profits from the Barclays Center Vault Suites, which the New York Post reports are valued at $550,000 a pop, will offset potential increasing stadium seat prices in the future.
There is also a question of just how vested Barclays Center ownership is into building the Nets into a championship franchise. Yes, Prokhorov has the financial resources to do so. But is the Nets' success at the top of his list?
For instance, here was Prokhorov's perspective from an interview with did with the Russian business newspaper Vedomosti back in 2010 (via www.grantland.com)
"We have a team, we're building the arena, we've hired professional management, we have the option to buy into another large project, the building of an office center. For me, this is a project with explosive profit potential. The capitalization of the team will be $700 million after we move to Brooklyn. It will earn approximately 30 [million]. And the arena will be worth around $1 billion."
In other words, the Brooklyn Nets were at the time projected to represent 10% of its vested interest (at least in the short-run).
The Barclays Center is not a small-market franchise like the Conseco Field House of Indiana or the Chesapeake Energy Arena in Oklahoma City, where basketball the thing.
Will there be enough care, meticulousness, and concern by the Barclays Center brass to give fans a championship product? Thus far, evidence has been to the contrary.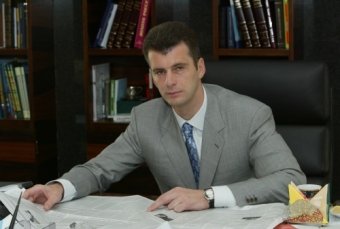 The Nets' hired Billy King General Manager Billy King to run day to day operations. King's past resume prior to joining the Nets was reported by the Daily News rendered his acquisition a questionable choice..
Thus far, King's tenure as the Nets has been pocked with poor decisions. King pulled off one of the worst NBA trades in recent memory, trading the Nets 2012 Draft rights for a remaining 1.5 year contract on a talented, but increasingly injury riddled Gerald Wallace.
Gerald Wallace has already chosen to exercise his 2012 player option. It's possible King's other trade acquisition Deron Williams is looking to do the same. All these sour developments may lead to another poor 2012 season (the Nets were 22-44 in 2011).
Given these already questionable acquisitions, will Billy King make optimal decisions in the summer of 2012 and 2013 free-agent markets? Will the Barclay Center ownership keep a close eye on the Nets developments? Or do they have too many other things in mind?
While contemplating this question, how many free-agents would want to play in an environment saturated by this much acrimony? Do they want to be part of an organization where their interests could be on a lower end of the totem pole than a Barbara Streisand concert?
And just how do Brooklyn residents feel about essentially being told that they are now officially disparate from Knicks fans?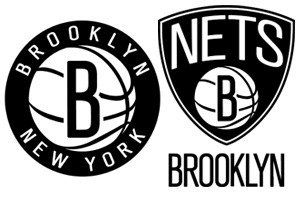 Iconic Brooklyn filmmaker Spike Lee has spent the last twenty years associating the Knicks and Brooklyn as one in the same. From a purely basketball-fan related standpoint, should this association ever have been disrupted?
In any event, progress marches on. Ownership already has hundreds of shows and other sporting events lined. Eventually, high end residential and commercial property (with all the controversy to follow) will tower over brownstone Brooklyn.
Somewhere in the mix, perhaps a terrific basketball squad playing in a trend-setting basketball arena will make up for the sacrifices involved in the Barclays Center's construction. The strengthening of Brooklyn basketball culture, on its own stead, has a dreamlike quality to it.
But then again, so was a Brooklyn (and America) where small businesses and historic residential property once constituted the culture's epicenter.
This article is
What is the duplicate article?
Why is this article offensive?
Where is this article plagiarized from?
Why is this article poorly edited?

Brooklyn Nets: Like this team?