5 NFL Teams Percy Harvin Would Improve Immediately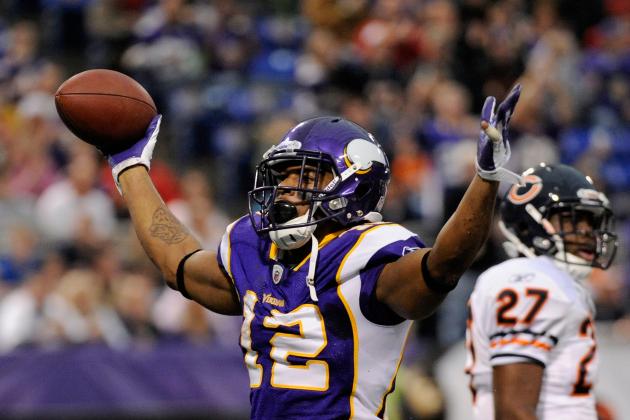 Hannah Foslien/Getty Images
Percy Harvin has expressed interest in getting out of Minnesota.
Update: Harvin participated in full practice Thursday with the Vikings. Harvin is a drama queen isn't he? Look at the guy's last few twitter posts, if you disagree.
Update: Harvin is no longer participating in Vikings MANDATORY Minicamp. Haven't we seen this story before? Star is upset with team. Team displays authority. Player walks. Team is forced to oblige player to get any sort of production from him, be it by trade or answering other demands. Here we go again. Still think he won't be traded?
Sources: Yahoo Sports
The fourth-year wide receiver is upset with the Minnesota Vikings. What caused it? He hasn't yet stated directly, but I'm sure he will.
Regardless of what the reasoning is, Percy Harvin is upset with the situation at hand and has requested a ticket out, as reported by Gregg Rosenthal.
Minnesota will hesitate to oblige him, but when a budding superstar asks for a trade and doesn't receive one, we all know how well that season goes for all parties involved.
Beware fantasy drafters.
Harvin is locked in to his contract for the next couple of years. Harvin signed a five-year deal worth $14.5 million in 2009, but that contract shouldn't deter any team from picking up this talented receiver and return specialist.
In my opinion, I see five places where Harvin could make an impact and would be the most fun to watch—if he is in fact traded somewhere this season.
Begin Slideshow

»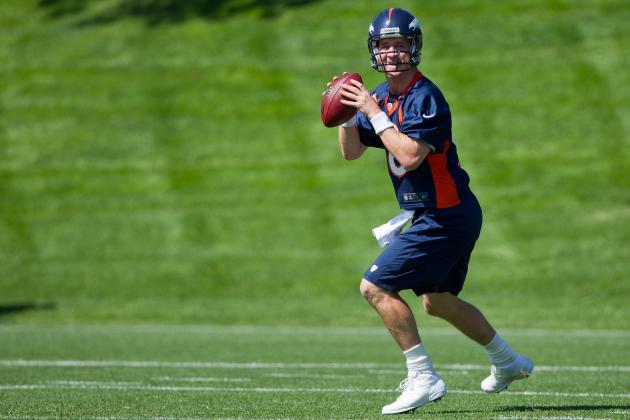 Justin Edmonds/Getty Images
Peyton Manning, enough said.
When the Broncos signed Peyton Manning, their 31st-ranked passing offense got an immediate boost.
The Broncos then went out and snagged for Manning some familiar targets, such as former Colts receiver Brandon Stokley and tight end Jacob Tamme. The Broncos channeled their inner-Patriot and grabbed another TE Joel Dreessen.
With third-year pros Eric Decker and Demaryius Thomas, the Broncos have a strong receiving corp. But which team wouldn't benefit from bringing in an explosive big-play threat like Harvin?
Talk about a game-changer in the AFC West. Manning could sling the ball wherever he wanted in that mile-high air and know that someone would be underneath it somewhere.
Harvin would be a good fit for the Broncos and would have some veteran receivers to show him how to properly act in the NFL.
Could be intriguing, right?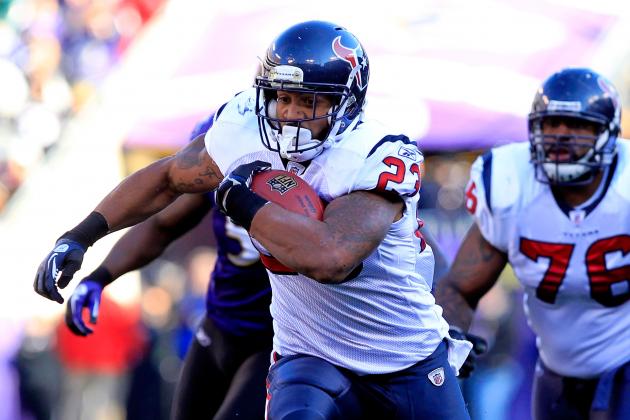 Chris Trotman/Getty Images
Arian Foster runs over competition regardless of how many are in the box, but the addition of Harvin would ease some of the congestion
Matt Schaub's job is pretty easy: hand the ball off to Arian Foster and watch him run.
Now let's say that opposing defenses can't put nine guys in the box (one guy has to cover Andre Johnson and one has to cover Owen Daniels).
Put someone on the other side of the formation from Johnson, or line them up in a twin set with Daniels on the opposite side. Then find me a coverage that could take away all those options—not to mention, you still have Foster in the backfield.
Schaub's job just got significantly more difficult in one respect: There is only one football and so many weapons!
An already-dominant team just got better.
AFC Champs?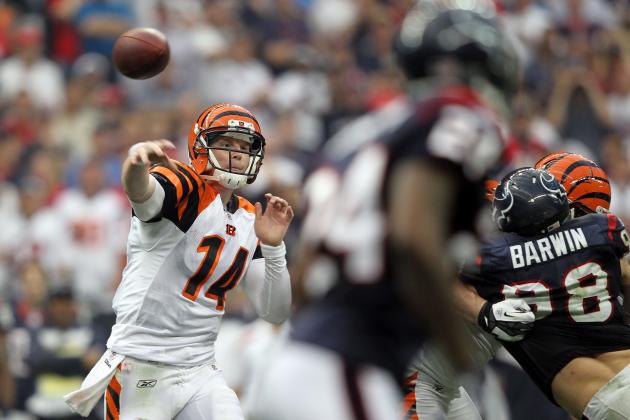 Jamie Squire/Getty Images
Andy Dalton could use another target in his sophomore season
Andy Dalton had one of the best rookie seasons for a quarterback in recent history. He has to worry about that sophomore drop-off though.
One way to ease those fears—add a game-changer like Harvin.
The Bengals have A.J. Green, the former Georgia Bulldog, who caught 65 passes for 1,057 yards as a rookie last season. Green is complemented by tight end Jermaine Gresham and receiver Jerome Simpson.
Again, add Harvin to the mix. Dalton's stock then goes up. The Bengals stock goes up. The AFC North stock goes up.
Look out Ravens?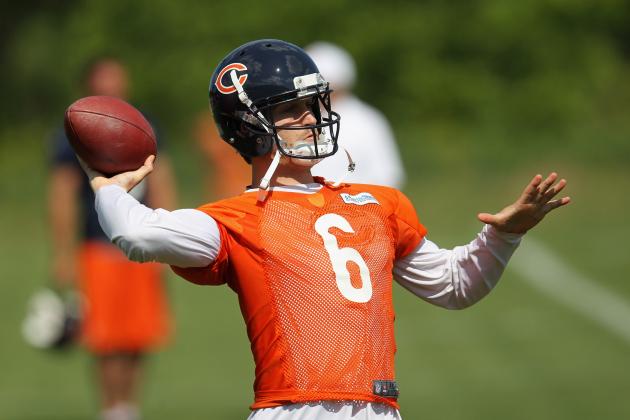 Jonathan Daniel/Getty Images
Cutler looks to improve on a strong 2012 performance (58 percent completetions, 2319 yards, 13 TD, 7 INT).
The Bears collapsed last season when QB Jay Cutler went down with a broken thumb on his throwing hand.
Chicago was 7-3 with Cutler in the huddle and then went 1-5 without him.
The Bears have arguably the best offense surrounding Cutler since he got to the Midway. With Matt Forte, Brandon Marshall, Devin Hester and Johnny Knox (if healthy)...is there really much left to improve?
Defenses and special teams units hate planning for Devin Hester. Put Hester as the deep man and Harvin at upback and watch them run.
Or, if you want to stretch a defense, line up doubles and send those two vertical.
We all know Cutler has a strong arm and loves to throw downfield. Two of the top long threats in the game can aid that. Add the quality hands of Knox and Marshall and Forte out of the back field, match-up issues will abound.
Could the Monsters of the Midway be back? The foundation is there.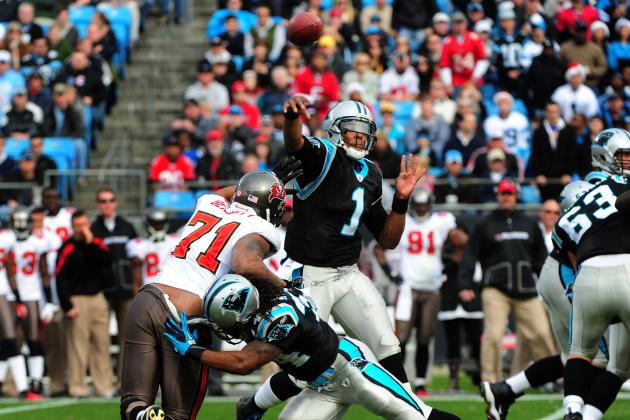 Scott Cunningham/Getty Images
Cam Newton and Percy Harvin on the same field at the same time? Done
Dynamic rookie quarterback Cam Newton has one of the top targets in the game to throw to in Steve Smith (one of my favorite receivers of all time). But Steve Smith isn't going to be the same Steve Smith we saw last season, especially with no one else for Newton to throw to.
Sorry, Jeremy Shockey and Greg Olsen. Yes, you guys are great pass catchers, but tight ends typically have a tough time stretching defenses.
Harvin's 4.39 40-time can do just that.
Defensive game plan checklist:
1) Stop Cam Newton
2) Stop Steve Smith
3) Stop Percy Harvin
4) Keep them out of the red zone so bowling balls DeAngelo Williams and Jonathan Stewart can't get started.
I'm glad I'm not a DC who has to plan against an offense like that.
Carolina, which is improving steadily through the draft, didn't select anyone this year at the WR position who will immediately help the offense. The Panthers did pick receiver Joe Adams (Arkansas) in the fourth round, but his impact will be marginal until he develops.
Adams is 5'11" but ran a 4.55 second 40-yard dash. He's got the tools and will benefit greatly from Smith but he isn't ready, yet.
Harvin is.
We will have to see what becomes of this Harvin situation in Minnesota. The asking price could be steep if the Vikings do decide to trade him. The number of teams that could actually afford Harvin is slim.
It is a certainty, though, that Harvin is a game-changer and will instantly improve whichever team he ends up with.
Is it August yet?