Fact or Fiction: Carolina Panthers Offseason Edition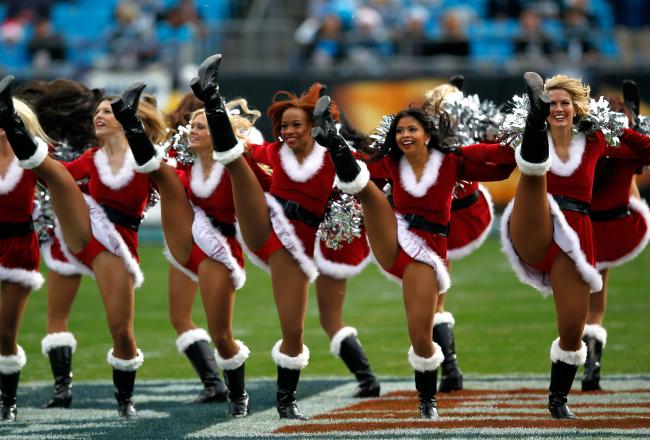 The Panthers aren't asking Santa for a playoff run, they're depending on Cam Newton to drive that sleigh. Is he enough?
Streeter Lecka/Getty Images
The Carolina Panthers have won just eight games over the last two seasons, but have a gigantic feeling of optimism heading into the 2012 season.
Why?
The biggest reason is second-year quarterback Cam Newton. As a rookie, Newton set about re-establishing the record book for first-year passers and brings a unique skill set to the league that's tough to counter.
And the Panthers have more going for them than Newton. Head coach Ron Rivera is in his second season at the help and has worked hard to set the franchise back on course.
Carolina also has a number of players coming off injuries that could terrifically help the cause. Last season was brutal for the Panthers on the injury front. The team won't make excuses, but when the front office has to scour the depths of the waiver wire, and even look at out-of-football options to field an active roster, things tend to get ugly.
With optimism abound, the Panthers have to wonder if the sky really is the limit. Let's answer that question and play a little early fact-or-fiction around the Panthers' 2012 season.
Cam Newton looks to avoid a sophomore slump in 2012.
Andy Lyons/Getty Images
Cam Newton will suffer from a sophomore slump.
Carolina's first-round and the first overall pick in the 2011 draft, Cam Newton burst onto the scene and quickly set a frenetic pace. He started his NFL career with two consecutive 400-yard passing games and was ranked No. 2 in the league in passing yards headed into Week 3.
However, Newton's team was 0-2, and he had thrown more interceptions (4) than touchdowns (3).
Newton would go on to set a rookie mark of 4,051 passing yards and rush for 14 touchdowns. He also ran away with Rookie of the Year honors.
But there's an old cliché warning about a sophomore slump. Will Newton succumb and take a step back in 2012? There are some signs that say it might happen.
Newton excelled because of his ability to keep defenses guessing by running and throwing the ball. On his first trip through the NFC South, he scored five rushing touchdowns. But on his second trip through, he only had one. This could be a sign that defenses started to figure out how to take his legs away from him, especially since his rushing yards and completion percentage were relatively close for the two splits.
But it could also mean that Newton found other ways to score touchdowns. It's true he ran for four less his second time through the division. But he also threw four more touchdown passes and cut back on his interceptions by two.
Just as in his rookie campaign, there will likely be ups and downs for Newton in 2012. However, because of the offseason workout program he was able to enjoy with the team and his new lease on life in regard to his role as a leader on the team, there are going to be more ups than downs.
Don't expect Newton to dramatically build on his rookie season, but don't expect a drop off either.
Verdict: Fiction
Jon Beason will return to form in 2012.
Linebacker Jon Beason ruptured his Achilles tendon in Week 1 of the 2011 season and missed the rest of the year recuperating and rehabbing.
The injury was one of a myriad of injuries to the Carolina defense, but this was the blow that hurt the most.
Beason was a first-round draft pick by the Panthers in 2007 and shined on the field from Day 1. During his rookie season he notched 140 tackles and picked off a pass. In each of his next three seasons he tackled at least 100 ball carriers and played in every one of the team's games.
The 2011 season was Beason's first missed time of his professional career and now the question must be asked as to whether he can bounce back.
Don't worry. He can.
Beason rehabbed like a mad man in the offseason and got back to the playing field by OTAs. He was limited at that time, but got upgraded to full status a few weeks later at Carolina's minicamp.
Once training camp rolls around at the end of July, Beason will look and feel like his pre-injury self. Expect the 27-year-old linebacker to push for the century mark in tackles again in 2012.
Verdict: Fact
Do the Panthers have enough pieces to make a playoff run in 2012?
Bob Levey/Getty Images
The Carolina Panthers will make the playoffs in 2012.
It's been quite some time since a six-win team garnered such enthusiasm and optimism as the Carolina Panthers have this offseason. And why not?
The Panthers finished the 2011 season 4-2 in their final six games and beat a playoff team (Houston) along the way. Momentum is surely on their side.
Also take into account that the team will be guided by a second-year quarterback with a full offseason of training under his belt and it's easy to see why a lot of Panther Nation believes in a playoff run in 2012. Also consider upgrades like free-agent acquisition Mike Tolbert and rookie Luke Kuechly.
But Carolina fans should not head to Vegas to place bets just yet.
To begin with, the Panthers start the season with a brutal four-game stretch against Tampa Bay, New Orleans Saints, the New York Giants and the Atlanta Falcons. Carolina could easily be 1-3 heading into Week 5. Heck, since Tampa Bay is much improved as well, the Panthers could be 0-4.
The 1992 San Diego Chargers are the only team in NFL history to make the playoffs after an 0-4 start, and even if the Panthers win a game in their first four, a playoff run after a 1-3 start is tough.
But the schedule strength isn't the only issue.
Carolina ranked 25th against the run last season and didn't do a lot up front to slow down opposing running backs. Only six teams gave up more passing touchdowns than the Panthers last year, and the team still might trot Captain Munnerlyn out at corner, and he was abused at times in coverage.
The Panthers will be an improved team in 2012, but the playoff bar won't be passed in 2012.
Verdict: Fiction
Steve Smith could put up top NFL numbers if he had help on the other side of the field.
Chris Graythen/Getty Images
Carolina will find a true No. 2 receiver to help take pressure of Steve Smith.
Wide receiver Steve Smith scored seven touchdowns on 79 receptions for 1,394 yards, and he did it despite the fact that Carolina had no threat on the other side of the field to pull the secondary's focus away.
After four straight 1,000-yard receiving seasons from 2005 to 2008, Smith went through two rough years with sub-standard numbers. Smith didn't decline as a receiver. The Panthers just failed to provide a powerful option at quarterback to get him the ball.
The team fixed that issue when it drafted Cam Newton with the first selection in the 2011 draft. Imagine what Smith and Newton could both do if the team found a solid No. 2 option at receiver to help.
Last year's top receiver not named Smith was Legadu Naanee, but he's now in Miami. As the roster sits right now, one or both of Brandon LaFell or David Gettis will have to step up.
There is some talent there with LaFell and Gettis, but can they be top-notch No. 2 options? The Falcons have Julio Jones to complement Roddy White. The Saints have Devery Henderson to go with Marques Colston. Even Tampa Bay brought in Vincent Jackson in the offseason and have Mike Williams on the other side of him.
Carolina just can't offer that kind of partner for Smith. Not yet.
Verdict: Fiction
This article is
What is the duplicate article?
Why is this article offensive?
Where is this article plagiarized from?
Why is this article poorly edited?