NBA Finals 2012: Why the Oklahoma City Thunder Aren't Dead Just Yet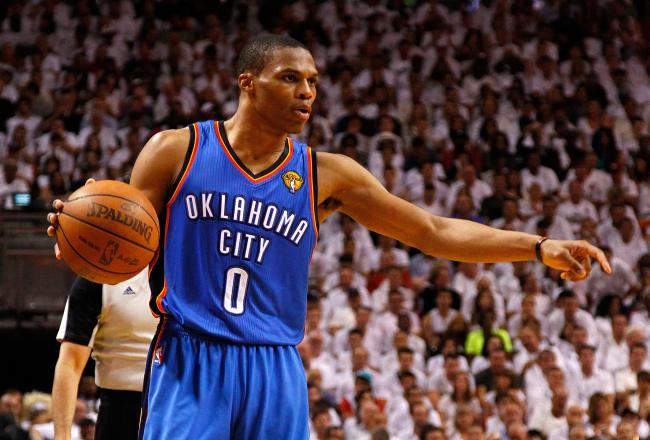 Mike Ehrmann/Getty Images
You don't want to prematurely bury any team before a series is over––especially a team some refer to as the "Zombies."
Many a pundit are sticking their forks in the Oklahoma City Thunder this morning, putting an ostensible crown on LeBron James' receding hairline before things are officially said and done. And it's hard to argue with some of their supporting data. Especially that one about the previous thirty NBA finalists who had a 3-1 series lead, and their 30-0 record.
But even with the Heat on the precipice of a seemingly inevitable title, it would be foolish to declare this series over after Game 4. The Thunder still have a few things working in their favor that nearly everybody is glossing over. And hey, in a year that saw an eight-seed go 16-4 en route to a Stanley Cup, stranger things have definitely happened.
1. The 2-3-2 Finals Format
The NBA Finals deviates from the standard 2-2-1-1-1 format of the previous three rounds, giving the underdog home-court advantage in Game 5 rather than Game 6.
This rule is designed to benefit the underdog (Miami) by letting them play the oft-pivotal Game 5 on their home floor. But with the series 3-1 instead of 2-2, this format could actually work in the Thunder's favor.
If the format was 2-2-1-1-1, the series would probably play out like so: OKC feeds off the home crowd in Game 5, takes the series back to Miami, then loses to a hyper-focused Heat team who doesn't want to go back to Chesapeake Energy Arena for Game 7.
With the 2-3-2 format, the Thunder have a chance to catch the Heat sleeping in Miami rather than in Oklahoma City. That is, the Heat are more likely to take a game for granted with a 3-1 series lead than a 3-2 series lead, even on their home floor.
If the Thunder can catch the Heat sleeping in Game 5, they would need to win two games on their home floor — a floor they're 9-1 on this postseason — to take home the title. That sounds a whole lot easier than winning one on the road and then one at home.
The Thunder's pregame speech(*) before Game 5 is almost guaranteed to be predicated around "Taking This Series Back Home!" And once it's back in OKC, there's no telling what will happen.
(*) Which we'll never actually see, since ABC only shows us LeBron's banal, generic speeches before each game.
2. Russell Westbrook
He made the biggest bone-head play since Chris Webber's timeout-that-wasn't, but before that, Russell Westbrook played the best game of his career. It wasn't just that he was consistently hitting jump shots that he usually only makes in spurts. There was something different about him last night.
He finally realized that nobody in this series can guard him.
LeBron can guard Kevin Durant. There, I said it. Despite Serge Ibaka's lost-in-translation derision of LeBron's defense, he's actually the most capable on-ball defender in the league. And when he wants to (i.e: the fourth quarter) he can physically dominate Durant into poor looks.
But Dwyane Wade cannot, I repeat, cannot guard Westbrook off the bounce. He's too quick, too explosive, too....similar to what Wade was five years ago. Westbrook's success in Game 4 was predicated on some early mid-range jumpers, but even when they decided to cede him that shot, he still got to the rim any time he wanted to.
The Thunder have been looking for answers to the Heat's small lineup. Kendrick Perkins posting up Shane Battier isn't that answer. (Kendrick Perkins posting up Erik Spoelstra wouldn't even be that answer).
Westbrook attacking an unprotected rim is that answer. The Thunder have found something here.
3. The Thunder's Postseason Run
I understand the resonance of that 30-0 stat; trust me, I do. But at its base form, winning three games in a row, two of which would be at home, isn't as hard as every one is making it out to be.
In the past month and a half, the Thunder have won four straight against Dallas (the defending champs); four-of-five against Los Angeles (the two-time defending champs before Dallas); and four straight against San Antonio (winners of three championships in the last nine years).
Long before people were ready to crown LeBron James the 2012 champion, they were ready to anoint the San Antonio Spurs the best team of the decade — maybe more! The Spurs were supposed to be unbeatable. And the Thunder beat them, to steal a phrase from LeBron himself, not once, not twice, not thrice, but four consecutive times.
You'd be well within your rights to say Miami matches up better with OKC than the Spurs did. You'd be wrong, but you'd be well within your rights. The Thunder have been in it right to the final minute in all three of their losses, just as they were with the Spurs. They just haven't been finishing as well. This series is not as mismatched as the Thunder's deficit implies.
It's easy to be a prisoner of the moment, but it's unwise to overlook what we saw from Kevin Durant and Co. over the past month. If anybody is poised to break the curse of the 1-3 NBA Finals hole, it's the 2012 Oklahoma City Thunder.
4. James Harden
There are plenty of negatives to be taken from the first two games in Miami. The combustion of their offense down the stretch; the abysmal play of Kendrick Perkins (and Scott Brooks' incessant obligation to play him); and the defensive disregard of Miami's capable-shooting role players, just to name a few. But more than anything, it's been the disappearance of James Harden, who has shot 2-10 in both games. (In addition to botching a critical breakaway dunk that made him look like the Space Jam aliens had sapped away his talent).
But there's a bright side to be looked upon here. The Thunder led by double digits in the first quarter of Game 4 as well as the third quarter of Game 3. They have found ways to dominate Miami in spurts and they've done it while getting nothing from their third most-important player.
Those leads that they've blown could go from daunting to invulnerable should Harden decide to start playing like the Sixth Man of the Year. Remember, last year's Finals didn't shift until 2011's top Sixth Man, Jason Terry, shot his way out of a funk. Harden could provide the same spark in 2012.
Listen, I'm not saying it will happen. I'm not even saying that I'd feel comfortable going to Vegas and betting on it to happen (even though their +375 odds are tempting).
All I'm saying is that it could happen, and that you'd be wise not to bury Oklahoma City before you're sure they're dead.
Because Zombies have a way of rising from their grave, and haunting the ones who wronged them.
This article is
What is the duplicate article?
Why is this article offensive?
Where is this article plagiarized from?
Why is this article poorly edited?

Oklahoma City Thunder: Like this team?