Spain vs. France: Date, Time, Live Stream, TV Info and Preview
June 20, 2012

Alex Grimm/Getty Images
With the group stage of the 2012 Euro Cup now over, the top eight teams will move on to play each other in the quarterfinals.  Some teams, like Germany, rolled through the group stage and easily qualified for the next round of play.  Other teams, like France, took a less glorified route.
France emerged from the group stage by the skin of their teeth, finishing with only four points.  They are tied with Greece for the fewest points out of the teams that are still alive.  Ukraine and Sweden were breathing down France's neck in Group D with three points each. 
France followed up a 1-1 draw with England with an expected 2-0 victory over Ukraine, only to cap off group play with a disappointing 2-0 loss to Sweden.  They will need to turn things around if they wish to advance to the semifinals.
Standing in France's way is an intimidating Spanish team.  Spain is the top team coming out of Group C with seven points.  They qualified for the quarterfinals with decisive wins over Ireland and Croatia, in addition to a 1-1 draw with the second best team in Group C, Italy.
Spain is the highest scoring team in the 2012 Euro cup with six goals for.  They have also been playing stifling defense, holding their past two opponents scoreless and allowing only one goal against in all of group play.
If France wants to have any chance of pulling off this David versus Goliath story, they better shake off whatever held them back in their embarrassing loss to Sweden.
Where: Donbass Arena, Donetsk
When: 2:45 p.m. EST
Live Stream: ESPN 
Spain's Keys to Victory
Spain needs to play their regular game when they take on France in the quarterfinal.  Spain is the reigning Euro Cup champion and the team needs to play like they are defending their title.  Although it is never safe to overlook an opponent, Spain needs to play this game with the mindset that they are the superior team.  If they play down to France's level, the game will be a long, hard-fought brawl. 
If Spain does not come out strong and put France away early, France may steal a victory and move on to the semifinals.  However, if Spain can play to their full potential, they will dominate the match and send their next-door neighbors home packing.
France's Keys to Victory
The chips may lie in Spain's favor, but that does not mean this game is out of France's reach.  After pedestrian displays in the team's first two games, France got shutout by a winless Sweden team.  Although the team would have much rather gotten a win in their final game of the group stage, the loss may have been a blessing in disguise.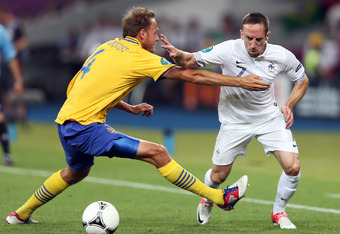 Julian Finney/Getty Images
After tying England, France may have fallen asleep at the wheel upon examining the remaining talent in Group D.  By losing to Sweden, the French were given a wake up call.  If France can improve upon the weaknesses that Sweden exposed, Spain may have a tougher time moving on to the semifinals than expected.
While Spain is clearly the dominant team at this point in time, France can still win this game if they set the tone early in the match.  Winning the small, individual battles will be the key for France to topple Spain.
What's at Stake?
The winner of this game will move on to the 2012 Euro Cup semifinals. 
France is looking to hoist their third ever Henri Delaunay trophy, which goes to the winner of the Euro Cup.  Their previous championship years came in 1984 and 2000.  The French, who are underdogs, may also gain satisfaction from making an unexpected playoff run, even if they fall short of the championship.
In 2008, Spain won their first Euro Cup championship since they hosted the tournament in 1964.  It's safe to assume that Spain is not willing to wait another 44 years for their next championship.  Spain will do everything in their power to repeat as Euro cup champions in 2012, which is bad news for France and any other team Spain may face on the road to the finals.
The Match's Top Scorers
Spain's Cesc Fabregas is a dangerous scoring threat from the midfield position. Fabregas and superstar forward Fernando Torres have each netted two goals in the three games played so far.  Both players will need to be on France's defensive radar for the entire game.
France does not have a multiple goal-scorer in this year's Euro Cup tournament, primarily because the team has only scored three goals in the three games they have played.  However, midfielder Franck Ribery, who had an assist in France's 1-1 draw with England, is an experienced member of the French national team and could emerge as a scoring threat in their match versus Spain.
Preview/Prediction
While this quarterfinal matchup has the potential to be an interesting game, in the end, Spain should be able to advance.  From a fan's perspective, hopefully France can play up to Spain's level, and, at the very least, make this game a competitive matchup.
While Spain may have the defensive prowess and offensive firepower to blow France away, do not expect another 4-0 romping like they had over Ireland.  The level of play rises after the group stage, and only one team will be able to move on to the next round.