Analyzing Whether or Not the Minnesota Vikings Should Trade Percy Harvin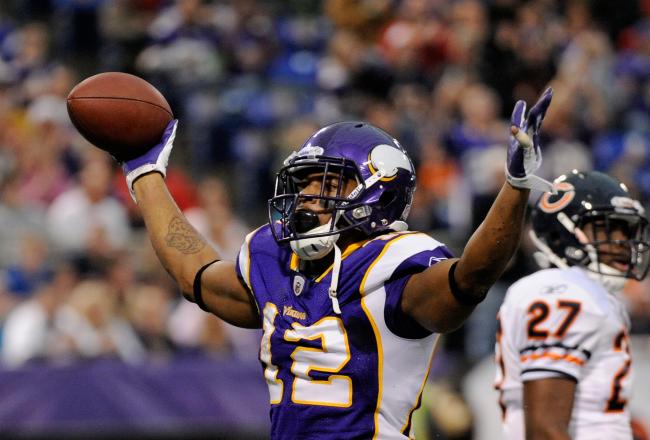 Hannah Foslien/Getty Images
Things degenerated swiftly for the Vikings and Percy Harvin this week, starting with his threat to skip minicamp, then his expression of displeasure with being a Viking, and now, his request for a trade.
Let's take a look at what that might look like, why the Vikings would and wouldn't move him and what could be the rationale for his sudden request.
The Vikings are unlikely to move Harvin cheaply just to move him. While he is expressing his displeasure, he's at minicamp. He's not practicing (the team says due to being cautious about his shoulder), but he's there.
You can argue that he's a distraction given his last two press conferences, but ultimately, he's not pulling a Terrell Owens or Desean Jackson.
So there's no rush to move him, lest he destroy the locker room.
Which means they can wait for the highest bidder—who you can assume is dialing right now to see if they'll part with him.
Would they?
If the Vikings move him, it will be for one or a combination of the following three reasons.
First, because they are rebuilding and they need a guy who believes in the process to be there. You don't need someone who might not care about sticking around for the long-term result of a hard couple of years. All that does is undermine your efforts, and you always run the risk that if things get bad, so will his attitude.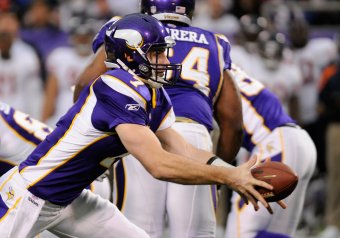 Hannah Foslien/Getty Images
If the attitude goes south, that's when you could end up with a bad locker room.
So they could see this as a long-term danger—that if he doesn't want to be involved in a rebuild or doesn't believe in the direction, he will cause a problem down the road.
Secondly, he's replaceable.
Harvin is a very good wide receiver. It remains to be seen if he is "elite" or even "great."
They just spent money on Jerome Simpson, who they are very high on, and drafted two potentially very good wide receivers in Greg Childs and Jarius Wright.
Harvin would be missed, but they may already have some of the pieces in place to fill his role over the course of a year.
Aside from that, there are a few receivers whom teams might be interested in trading, not counting James Jones, who the Packers would probably not trade to a division rival.
However, guys like Santonio Holmes, Steve Breaston, Louis Murphy and Lavelle Hawkins are all guys who are either very talented or young with upside.
Could Harvin be replaced via trade?
The point is, the team could see Harvin as a very talented player who isn't a shoe-in to reach his potential.
Part of the reason for that is health. Harvin finally was healthy last year, but it was the first year he did so.
It could be that another reason for trading Harvin at his request is because medically he is rarely healthy.
He's a little undersized (5'11", 185 lbs.), and with his style of play, he tends to be dinged up. Add to that his migraine issues, and Harvin is often a good bet to either be out completely or at least slowed down.
The Vikings could look at an often-hurt wide receiver who is complaining and potentially looking for a new pay day and say "no thanks."
All that being said, it's hard to argue that trading Harvin does anything but hurt the team.
Here's why I think they shouldn't trade him unless he really gives them no choice.
While we can downplay his talent if we want, at this point, we've seen enough to know he is a special player—even if he never reached
Whatever they get for him has to be significant. It could be a proven veteran; it could be picks. Whatever it is, they will have to be netting a ton of something to make it worth their while
It can't just be for a retread; it needs to be for something to help rebuilding. As much as they could trade him for one of the players mentioned above, does any of those players really make them better long-term?
The answer is no. This isn't a team which is making a Super Bowl run this year. It's a team building for a run in several years.
Trading for an older veteran or a player with limited upside isn't going to help you get there.
Especially when you are giving up Harvin, who has the third most all-purpose yards over the last few years, behind Ray Rice and Darren Sproles. You don't just replace that production with ease.
Harvin's value goes beyond being an outstanding wide receiver. He carried the ball 51 times last year, and when Adrian Peterson and Toby Gerhart were banged up, Harvin was invaluable carrying the rock.
Of course, he returns kicks as well, helping with the always critical field position battle.
And lest we forget, he is a dangerous receiver. While he isn't cut from the same mold as Andre Johnson, Calvin Johnson or Greg Jennings, Harvin is the type of player who will catch a ball and then add on the yards by the bucketful.
Simply put, there is nobody else on the offense who can do. Jerome Simpson is out for two weeks, and we can't be totally sure what the Vikings have in him, the guy from 2011 or the player who struggled in previous years.
Greg Childs and Jarius Wright are rookies, and while they may evolve into playmakers, it's a little daunting to think they'd have to do it now.
Should Harvin be traded if a compromise cannot be reached?
So you have a young quarterback with some shaky weapons and Adrian Peterson coming back from a severe injury.
You can't let that stand. You need Harvin.
The question is, what would it take?
It appears to be about more than his rookie contract, which has two years and more than $3.5 million (once escalators kick in). Sure, being paid less than Simpson or the other newcomer, John Carlson, has to sting.
However, when talking contract, money comes up. No money has come up.
That said, Harvin is being paid less than a suspended wide receiver (Simpson) and a middling tight end (John Carlson). He has some reason to be dissatisfied contractually.
So it might be a factor, but it's likely not the only one.
Harvin was only on the field for 58 percent of the offensive snaps in 2011, which is shocking considering how little else they had to work with. With his versatility, Harvin draws defenders to him; he should be on the field more.
He has clashed with coaches in the past about playing time (though many of his battles were with former coach Brad Childress). This is clearly a thing with Harvin—and it's a thing current head coach Leslie Frazier can fix.
There's no reason to have Harvin off the field during an offensive series if he's healthy, so stop taking him off the field.
Adam Bettcher/Getty Images
There has been talk that Harvin may be getting some career advice from former Vikings receiver Randy Moss.
In case you've forgotten, Moss' split with the Vikings (and Brad Childress) was acrimonious at best. Between the lack of snaps and Moss' whispering, Harvin may just be tremendously frustrated.
The truth is, there are many reasons Harvin is frustrated. It's up to Frazier and GM Rick Spielman to find out what is going on and fix it.
Sure, the Vikings could trade him (though Spielman says they won't).
They just shouldn't.
Check out the B/R NFC North Facebook page - like us and keep up with everything NFC North on Bleacher Report!
This article is
What is the duplicate article?
Why is this article offensive?
Where is this article plagiarized from?
Why is this article poorly edited?

Minnesota Vikings: Like this team?