5 NFL Rookies Who Could Record 10 or More Sacks in 2012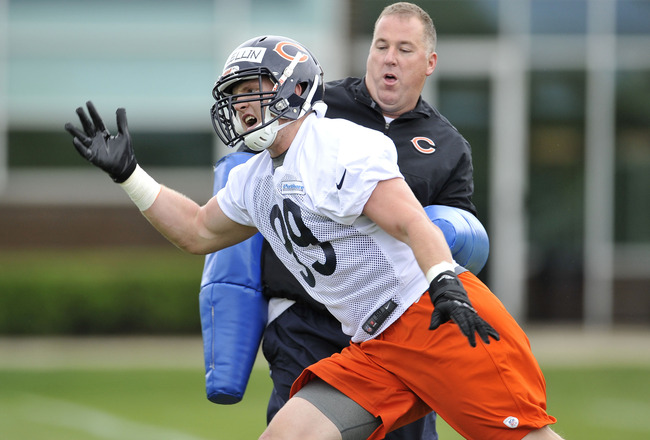 Brian Kersey/Getty Images
Five members of the 2012 NFL draft class have an excellent chance of emulating the achievements of San Francisco 49ers pass rusher Aldon Smith and finishing with 10 or more sacks in their rookie campaign.
Shea McClellin (pictured) will certainly benefit from playing opposite the great Julius Peppers, while Whitney Mercilus is the ideal weapon in the attacking defense of Wade Phillips.
Including these two stud lineman, here are five first-year defenders who have the potential to accomplish this feat.
Chandler Jones, DE/OLB, New England Patriots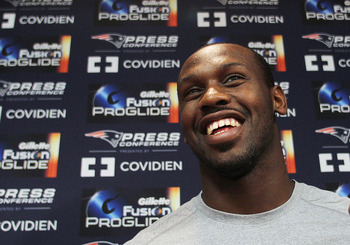 Jim Rogash/Getty Images
As the elephant rusher in Bill Belichick's hybrid schemes, Chandler Jones has an excellent chance to post double-digit sacks in his first pro season. The former Syracuse star has the ideal blend of size, speed and natural athleticism to excel under Belichick's tutelage.
Belichick and defensive coordinator Matt Patricia can teach Jones to combine his raw physical attributes with refined technique and a more expansive array of pass-rush moves. That should allow the 6'5", 247-pounder to be an explosive rusher from a variety of positions.
Jones will receive further support from the pressure generated inside by nose tackle Vince Wilfork, creating plenty of one-on-one matchups for the rookie to exploit.
Shea McClellin, DE, Chicago Bears
Jonathan Daniel/Getty Images
A natural speed rusher, Shea McClellin found an ideal home in a defensive scheme totally reliant on the front four to generate pressure. Playing on the same line with Julius Peppers should present McClellin with plenty of favorable matchups.
The fleet-footed edge rusher will also be helped by defensive tackles Matt Toeaina and Henry Melton. At 6'3", 255 lbs., McClellin has the quickness and explosive first step to win most one-on-one battles.
The Bears turn their front four loose on every down, so expect McClellin to post good numbers in his rookie campaign.
Whitney Mercilus, OLB, Houston Texans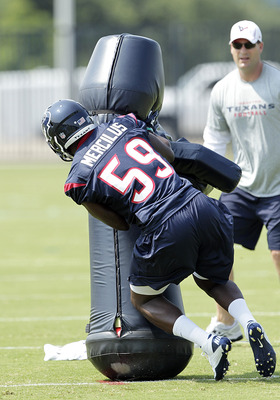 Bob Levey/Getty Images
Pairing the nation's top sack artist at the collegiate level with the blitz-happy Wade Phillips is a dream come true for the Houston Texans. In Phillips' system, Mercilus has arguably the best chance of any rookie to break double figures in sacks.
His length, initial quickness and closing speed makes Mercilus the ideal edge rusher for the team's aggressive 5-2 front. If he had one weakness at Illinois, it was slow read and react skills.
However, Phillips likes his outside linebackers to rush the edge on the vast majority of snaps. Mercilus will be able to stick almost exclusively to what he naturally does best.
Courtney Upshaw, DE/OLB, Baltimore Ravens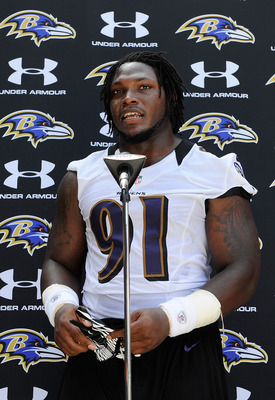 Patrick McDermott/Getty Images
Filling in for the injured Terrell Suggs is a perfect fit for Courtney Upshaw. The former Alabama standout has the size and raw strength to flourish as a hybrid rush end in the Ravens' versatile 3-4 fronts.
While he lacks elite athleticism, Upshaw is an effective brute-force player, with the frame and power to collapse the edge and pressure the pocket. The 6'2", 272-pounder will benefit from being allowed to operate with his hand down as the Ravens continue to alternate between three and four-man lines.
Combined with the presence of Haloti Ngata occupying the middle, the responsibility of being the scheme's chief pass rusher could allow Upshaw to dominate in his rookie year.
Fletcher Cox, DT, Philadelphia Eagles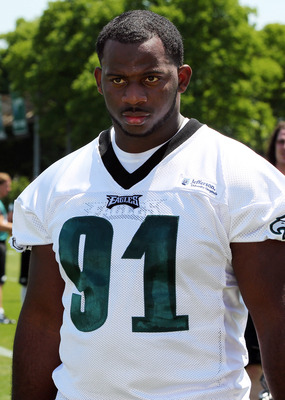 Rich Schultz/Getty Images
If one defensive tackle has the best chance of reaching 10 sacks as a rookie, it has to be Fletcher Cox. The cat-quick interior rusher can thrive in the Philadelphia Eagles' attacking defensive line alignments.
The Eagles utilize wide-9 alignments for the defensive ends, and often employ two 3-techniques at the tackle positions. That's great news for Cox who has the skill set of a natural 3-technique.
At 6'4" and 298 pounds, Cox has outstanding off-the-snap quickness, and is blessed with an exceptional range of movement for his size. Being allowed to attack the guard-tackle gaps in tandem with veteran Cullen Jenkins will see Cox terrorise quarterbacks from day one.
Keep Reading