Jacksonville Jaguars Advanced Stat of the Week: Fourth-Quarter Comebacks
June 20, 2012

Mike Ehrmann/Getty Images
Nothing stirs the passion of NFL fans like an expert drive by a quarterback to win a game.
The fourth-quarter comeback may not sound like an advanced stat, but given how difficult it has been for the statistical community to agree on what constitutes a comeback, it's a topic that merits further examination.
Thanks to the work of Scott Kacsmar, football now has a definition of how fourth-quarter comebacks should be awarded. The result is that completely bogus records like John Elway's utterly mythical 47 comebacks have been exposed and debunked as the fraudulent fabrications of team media guides.
The basic rules for a comeback are:
1. The team has to win the game in which it trailed in the fourth quarter.
2. The offense has to contribute points in the fourth quarter. If a team trails 14-10 and returns an interception for a game-winning touchdown, the quarterback should get no credit for the comeback. It does not matter if the offense put up all the points in the fourth quarter, as long as the offense put up some of the points.
3. A game-winning drive is not the same as a comeback. A great drive with the score tied 17-17 might result in a win, but it's not a comeback.
These rules clarify that it is Dan Marino, followed closely by Peyton Manning and Elway, who leads the all-time comebacks scoreboard.
The 2011 Jaguars didn't have comeback wins or game-winning drives (GWD), so we'll have to go back to 2010. Fortunately, the Jags had some incredible finishes that year.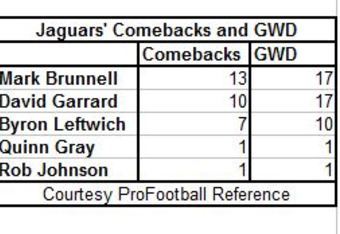 David Garrard put together GWDs in five different games. His late-game heroics beat the Broncos, Colts, Browns, Texans and Raiders.
While his Hail Mary against Houston is the most memorable of all the wins, the only true comeback was the Browns game. Cleveland lead 17-10 to start the fourth quarter and again at 20-17. That means that when Maurice Jones-Drew plunged into the end zone for a 24-20 win, it marked not only a GWD, but a fourth-quarter comeback as well.
Garrard's entire career was one extended heart attack. He only started 76 games, but posted 17 game-winning drives and 10 comebacks. Behind Garrard, the Jaguars were winning a close game in the fourth quarter roughly once a month.
While he never ascended to true elite status in the AFC, it's plain to see how Garrard held onto the starting job for five seasons.
He just kept getting it done when it counted.
(Author's note: I apologize for repeating the intro information here. The way these articles appear, many people don't see them on the AFC South Blog. That means they only see the team-specific piece. For their sake, I repeat the introductions-NID)