Georgia Football: Ranking the 2012 Schedule from Easiest to Toughest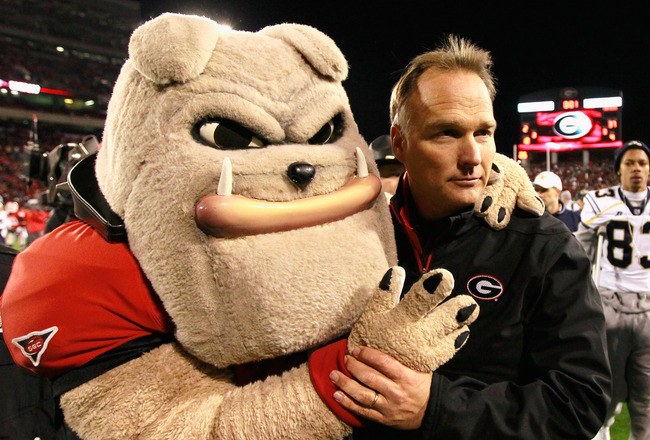 Kevin C. Cox/Getty Images
The Georgia Bulldogs started the 2011 season out rough, but ended up finishing with a 10-4 record and a shot at winning the SEC Championship. This season, Georgia returns 16 starters and hope to build on that success by winning the conference and competing for a shot at the BCS National Championship.
The talent is certainly there on both sides of the ball, and despite being in the SEC, the schedule is extremely weak. Somehow everything is falling into place for this team heading into the 2012 season, but of course the Bulldogs still have to take care of business by getting the job done.
With the season right around the corner, here are the easiest and most difficult games for the Georgia Bulldogs.
12. Vs. Georgia Southern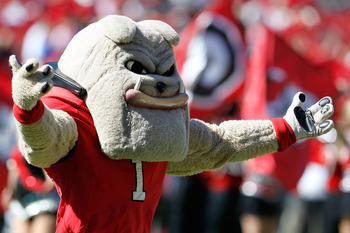 Kevin C. Cox/Getty Images
Last year's record: 11-3
Returning starters: N/A
The only thing these two teams have in common is that they are both located in the state of Georgia. The talent gap between these two teams is off the charts, which means you will see a lot of backups playing in this game for the Bulldogs.
11. Vs. Buffalo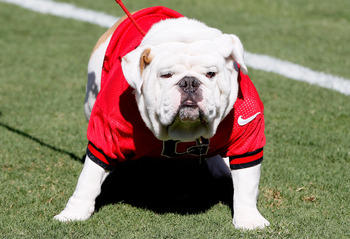 Kevin C. Cox/Getty Images
Last year's record: 3-9
Returning starters: 13
While Buffalo may be a tougher opponent than Georgia Southern, it isn't much of an improvement. The Bulls had one of the worst offenses in the country, the defense allowed nearly 30 points per game and they lost to Connecticut of all teams. This is your typical cupcake team to open up the season with.
10. Vs. Florida Atlantic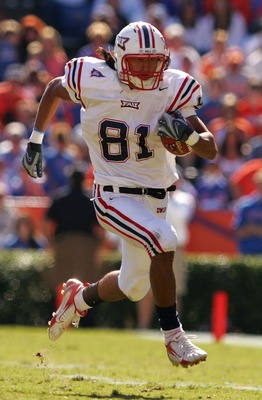 Sam Greenwood/Getty Images
Last year's record: 1-11
Returning starters: 14
Speaking of cupcakes, here is another in Florida Atlantic. When you only win one game in the Sun Belt Conference, there is a serious issue going on. Maybe new head coach Carl Pelini will help continue to build this program, but it will take longer than this season, and the Owls will lose this game by at least five touchdowns.
9. Vs. Ole Miss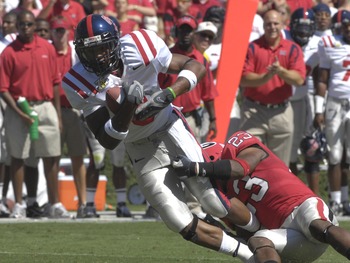 Al Messerschmidt/Getty Images
Last year's record: 2-10
Returning starters: 15
Ole Miss is going through a transition with a new head coach after missing a bowl game for the second consecutive season. Georgia has won nine straight games against the Rebels for a reason. The talent is just not there yet for Mississippi to compete with the best of the best in this conference.
8. At Kentucky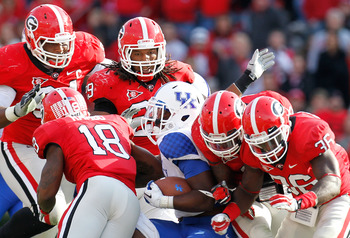 Kevin C. Cox/Getty Images
Last year's record: 5-7
Returning starters: 12
How Georgia only won last year's meeting by nine points, I will never know, but there is no reason to believe that the Bulldogs won't win this year's matchup as well. The Wildcats struggle mightily to score points, and the defense lost key members of the secondary and all of its starting linebackers. This will be another easy victory for Georgia.
7. Vs. Vanderbilt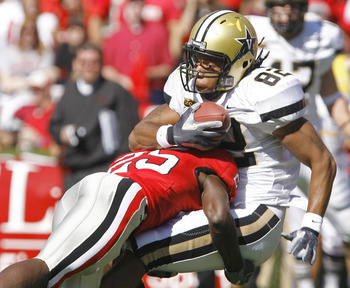 Mike Zarrilli/Getty Images
Last year's record: 6-7
Returning starters: 16
Vanderbilt made huge strides under head coach James Franklin, but there was really nowhere else to go but up when he arrived. The defense was a unit that finished sixth in the SEC last season and returns seven starters from that side of the ball. Last year's matchup was decided by five points, but the Bulldogs have won 16 of the last 17 meetings.
6. At Missouri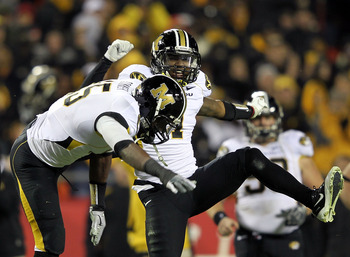 Jamie Squire/Getty Images
Last year's record: 8-5
Returning starters: 11
Nobody knows what to expect from this Missouri team, but Georgia will be the first team to find out. In Week 2, the Bulldogs travel to Faurot Field to take on the Tigers. This is an explosive Missouri team that can put up points in a hurry. It will be even more difficult with several key players on the defensive side of the ball suspended for Georgia. This will be an early test that the Bulldogs must pass.
5. Vs. Tennessee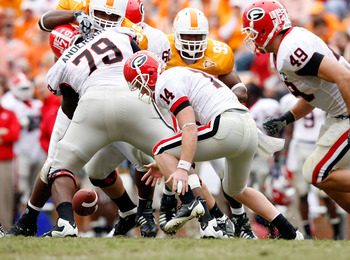 Andy Lyons/Getty Images
Last year's record: 5-7
Returning starters: 18
Tennessee returns the most starters than any other team in the SEC and should begin to turn the corner this season. It is loaded on the offensive side of the ball and will get linebacker Herman Lathers back from injury. I'm not saying Georgia will lose this game, but the Volunteers are a team to pay attention to in 2012, as they can make some serious noise.
4. Vs. Florida (in Jacksonville, FL)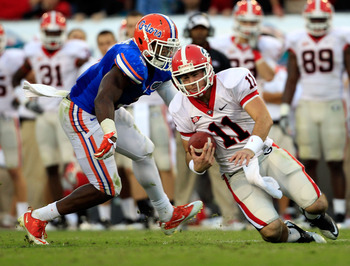 Sam Greenwood/Getty Images
Last year's record: 7-6
Returning starters: 17
Florida enters the 2012 season with a lot of questions on the offensive side of the ball. The defense should remain a solid unit having returned 10 starters from a squad that finished the season ranked eighth in the country. Although Georgia may be the more complete team on paper, the Gators are a team that always plays them close. In the last 10 meetings, eight of them have been decided by less than 14 points.
3. Vs. Georgia Tech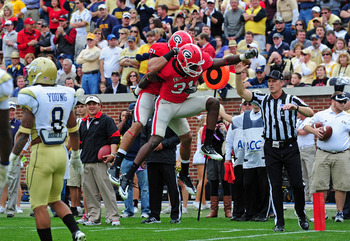 Scott Cunningham/Getty Images
Last year's record: 8-5
Returning starters: 15
Georgia has won 10 of the last 11 meetings against its rival Georgia Tech; however, that doesn't mean that the Yellow Jackets are a team not to pay attention to. They return the second-most starters in the ACC and have a playmaker at the quarterback position in Tevin Washington. The offensive line also remains intact, which will help a team that was the second-best rushing team in the country.
2. At Auburn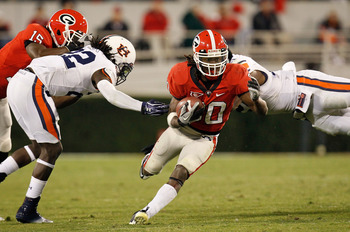 Kevin C. Cox/Getty Images
Last year's record: 8-5
Returning starters: 16
Georgia gave Auburn a 45-7 beatdown last season, but you have to believe that this Tigers team will be better in 2012 with another year under their belt, although they must get production out of the quarterback and the defense must improve greatly. Still, this is a team coached by Gene Chizik, and the game takes place in Jordan-Hare Stadium, two factors that make this game much more difficult than the other sub-par matchups on this schedule.
1. At South Carolina
Kevin C. Cox/Getty Images
Last year's record: 11-2
Returning starters: 13
This is truly a test for this Bulldogs team, the rest of the games could create problems, but they are games that Georgia should win in the end. If we are talking about contenders in the SEC East, it is Georgia and South Carolina. The Gamecocks are extremely strong defensively and will get a healthy Marcus Lattimore added to the backfield on offense. The outcome of this game could determine who goes to the SEC Championship out of the East Division.
If you are a Bulldogs fan, this is the game that you must watch.
Keep Reading

Georgia Bulldogs Football: Like this team?