Why Philadelphia 76ers Must Try and Make a Deal for Dwight Howard
June 22, 2012

Chris Trotman/Getty Images
Now that the high from making the Eastern Conference semifinals has finally subsided, the Philadelphia 76ers are faced with a sobering reality...
Something has to give.
As presently constituted, the Sixers clearly don't have enough firepower to make a concerted effort at an NBA title.
Sure...they have a gritty, young roster that is almost certain to improve over the next several seasons. But the reality is that even if Jrue Holiday, Evan Turner and the other members of the 76ers' core unit each maximizes his potential, the team would still lack that transcendent figure needed to truly become a contender.
Orlando Magic center Dwight Howard is one of those figures and, if you believe the reports, happens to be available this offseason.
Philadelphia was one of the few franchises that Howard didn't openly flirt with last season, but after an impressive postseason showing this spring, the Sixers just might have worked themselves on Howard's list of preferred destinations.
Any theoretical trade doesn't come without a hefty real-life price tag, however. Acquiring Howard almost certainly means parting ways with small forward Andre Iguodala and (at least) one of the 76ers' emerging stars. And of course, no deal should be done unless the Sixers are certain that Howard will agree to a contract extension.
Last summer, Sixers fans would have traded Iguodala in a heartbeat. Now that the team is fresh off of their first playoff series victory in nine years, the chorus of supporters for the team's All-Star swingman is growing by the day.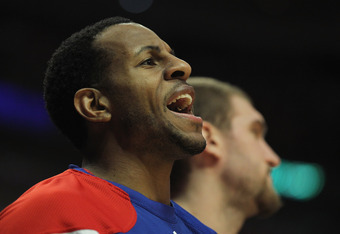 Jonathan Daniel/Getty Images
Iguodala's market value has never been higher, especially in the wake of the rumors that both the Golden State Warriors and Toronto Raptors are possibly interested in trading lottery picks for the 6'6" forward. He's the team's most valuable commodity and would instantly be the leader and the best player for an Orlando Magic team that desperately needs some direction.
With Jameer Nelson's status up in the air, it's doubtful that Orlando does a deal with Philadelphia that doesn't include Holiday. The former first-round pick had a disappointing 2011-12 campaign, but at only 22 years old, the 6'4" point guard still has plenty of untapped talent.
No matter what the particulars are for any trade involving Howard, the Sixers are going to have to relinquish a fair amount of tangible assets (and possibly even a draft pick or two). However, it's a small price to pay for a player who can instantly lift the franchise from mediocrity into the Eastern Conference elite.
Potential is alluring, but Philadelphia's front office can no longer afford to live in a world of possibilities. Ifs and maybes will only serve to set the franchise up for years of disappointment and second-guessing.
Only one "if" matters these days: If the 76ers can pull off a deal for Dwight Howard, then it's something that must be done.