Heat vs. Thunder Game 4: Perception of LeBron's 'Cramp Game' Is Outrageous
June 20, 2012
Mike Ehrmann/Getty Images
With the Miami Heat beating the Oklahoma City Thunder in Game 4 of the 2012 NBA Finals by a score of 104-98, the talk has shifted to LeBron James and the fact that he made late shots while suffering from cramps.
There is no way that the media can justify turning James into a knight in shining armor like they have. James had a leg cramp; that's all.
This wasn't Willis Reed's Game 7 performance with a torn thigh muscle or Michael Jordan's Flu Game; this was a guy dealing with cramps.
As everyone expected, LeBron ate up the media attention and had no problem talking about how much adversity he had to overcome.
The Heat star told ESPN after the team's Game 4 win about his cramps and how being up 3-1 can be a trap if they aren't careful:
It's basically like your body just shut down, your legs shut down on you, there's nothing really you can do about it. I wanted to try to make a play with the limited mobility I had at that time and I was happy I was able to…Of course it's there to think about. If we come out with the mindset that we've come out with during the playoffs we're going to give ourselves a good chance. That's all we can ask for.
What James failed to mention anywhere in that quote was that it was the play of his teammates that saved him on Tuesday night. If it wasn't for the 25 points from both Mario Chalmers and Dwyane Wade, the only thing we would be talking about his how LeBron choked away another chance.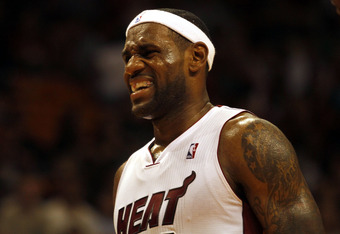 Marc Serota/Getty Images
There is no doubt in anyone's mind that James and the Heat are now close enough to championship gold that they can taste it, but that doesn't mean he needs to be put on any more of a pedestal than he already is.
LeBron is the best player in the NBA and there is no denying that.
What blows my mind is how much praise he is showered with when he plays through a cramp; it's something that happens in every single game in the NBA over the course of a season.
The NBA star has done far more amazing things this postseason alone, yet he is being celebrated as a hero for this.
LeBron had a solid game and is on the brink of getting the championship monkey off his back, but his cramps didn't make this performance more impressive.
Check back for more on the National Basketball Association as it comes, and don't miss Bleacher Report's NBA page to get your fill of all things basketball.