WWE Rumors: John Cena, Brock Lesnar, SmackDown Spoilers and Wednesday's WWE Buzz
June 20, 2012
Michael N. Todaro/Getty Images
Wrestling, like anything else, is all about momentum. WWE has to ride that wave to get fans buzzing about the product, therefore generating ratings, driving house show attendance and pay-per-view buys. 
The latter two are the biggest money makers for WWE right now, though the company seems to devalue pay-per-view. Instead, going the former TNA route, and building angles that pay off on television instead of at the pay show. 
It is difficult to tell just how much momentum WWE has right now, since Raw was basically a show designed to put an end to the John Laurinaitis era. We shall see what is in store next week. 
As you sit waiting patiently for that, here are some news and spoilers to get you through this Wednesday. 
LOIS LANE THINKS SUPERMAN CHEATED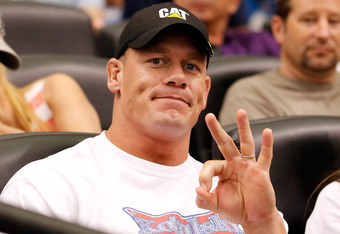 J. Meric/Getty Images
In the ongoing saga of John Cena's divorce, the latest news to come out is that his estranged wife believes that Cena was cheating on her. According to the TMZ report, she has nothing to support her claim, but she feels it. And isn't that enough?
Question on Everybody's Mind: Is it possible Cena isn't perfect?
Our Take: Possible, no. Cena is the most perfect human being that has ever lived. Seriously, though, what purpose does making this public serve her? It's always fun when people bring their private problems out into the open. Not.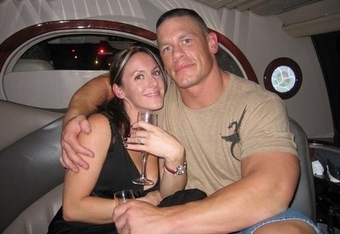 Hype Meter: 2 out of 5 Cenation Hats
Perhaps she does know more about Cena than what has been made public. Maybe there is some hard evidence to support her claim. But to go public with it in this fashion just makes her look petty. 
Deeper Dive
John Cena's Wife Suspects Cena of Cheating (TMZ)
-------------------------------------------------------------
JOHN CENA AND RANDY ORTON AREN'T BFFS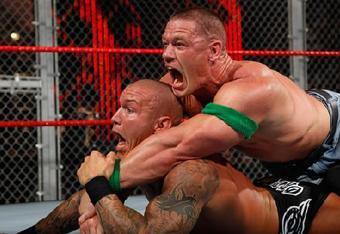 Speaking of people who don't like Cena, Randy Orton has reportedly had issues with the way the leader of the Cenation Army conducts himself. It doesn't help that Cena wanted Orton fired back in 2006, after Orton failed a Wellness test the first time. 
Question on Everybody's Mind: Why does everyone hate Cena?
Our Take: It is easy to see why some of the fans turn on him—he's so disingenuous and hard to take seriously—but perhaps that is the way he acts all the time. It's a good thing women and children like him, or else the world would be caving in on him. 
Hype Meter: 4 out of 5 Real-Life Feuds
This is more interesting to me than anything going on with Cena's marriage. This seems like Cena could feel what Orton was becoming, felt threatened and wanted to protect his spot. Of course, six years later, Cena is in no danger of losing anything, so in some ways he did win. 
Deeper Dive
News on Cena-Orton Rivalry (Figure Four Wrestling h/t NoDQ)
----------------------------------------------------------
BROCK LESNAR'S RETURN BEING ADVERTISED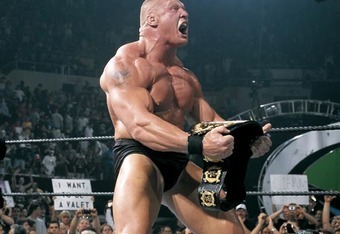 While he might actually appear before this date, as of right now Brock Lesnar is being advertised to appear on the August 13 episode of Raw from Dallas. That is the go-home show for SummerSlam. 
Question on Everybody's Mind: How many shows should Lesnar appear on before SummerSlam?
Our Take: Personally, I would have been in favor of just keeping Lesnar off Raw and letting him show up on the pay-per-view. It builds the fan anticipation for his appearance at SummerSlam, possibly driving more buys. Triple H and Paul Heyman could build the match on Raw with no problems. 
Hype Meter: 5 out of 5 A** Kickers
I am interested to see what happens in this SummerSlam match, just because I am not convinced that Triple H isn't going over. It made no sense for Cena to beat Lesnar at Extreme Rules, yet WWE managed to find a way for it to happen. You really think Triple H is going to tuck his tail between his legs?
Deeper Dive
Lesnar Coming Back (Wrestle Zone)
-------------------------------------------------
****WARNING*****
THE FOLLOWING SECTION CONTAINS SPOILERS FROM THIS WEEK'S SMACKDOWN TAPINGS. IF YOU DON'T WANT TO KNOW WHAT HAPPENED, STOP READING NOW. 
-------------------------------------------------
DOLPH ZIGGLER KEEPS LOSING TO SHEAMUS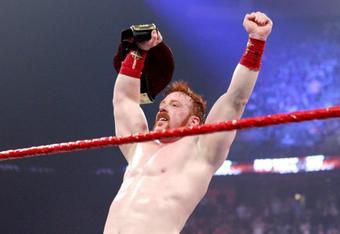 Fans keep harping on Dolph Ziggler being a potentially great main-event player for WWE. Certainly, he has the skills to work a match with anyone in the company. Yet here he is again, losing to Sheamus for the 1,217th straight time. 
Question on Everybody's Mind: Does it mean anything that he's wrestling the world champion?
Our Take: Yes, of course. But at some point, in order for the fans to take you seriously, you have to start getting victories. If WWE plans on building another Sheamus-Ziggler match, Ziggler should actually look like someone who can win. 
Hype Meter: 2 out of 5 Zig Zags
Considering that the match was said to be excellent, I guess it is hard to rail on it too much. It is just frustrating to see WWE keep telling the world that Ziggler is only at a certain level and can't beat any top guys, when we all see how great he is and the potential he has. Let him win, at least once. 
Deeper Dive
Complete SmackDown Spoilers (Wrestle Zone)
-----------------------------------------------------
Check back for more on the WWE as it comes, and check out Bleacher Report's Wrestling Page to get your fill of the WWE. For more WWE talk, check out Ring Rust Radio for all of the hot topics you just can't miss.