NBA Finals: LeBron James and Miami Heat Face No-Win Situation (Until They Win)
June 20, 2012

Despite hitting the go-ahead three-pointer late in Game 4 of the NBA Finals—securing a lead the Miami Heat would not relinquish again—LeBron James will be remembered for standing on the sidelines of a close game while his teammates secured a 3-1 series lead over the Oklahoma City Thunder.
James succumbed to cramping late in the fourth quarter yet still managed to score five of the Heat's final 14 points before pulling himself from the game with a noticeable limp. Mario Chalmers, who had the game of his career, helped Dwyane Wade finish off the key victory in Game 4, setting up the Heat for a chance to win the NBA title at home in Game 5. 
For the first time in his career, LeBron will lace up his shoes before a championship-clinching game for his team. Despite this series being his third trip to the NBA Finals in nine seasons in the league, James has yet to play a game where winning the NBA title is just 48 minutes from becoming reality.
Now that he has that chance in Game 5, one can't help but wonder if James is looking at a no-win situation, until—and maybe even after—he actually wins.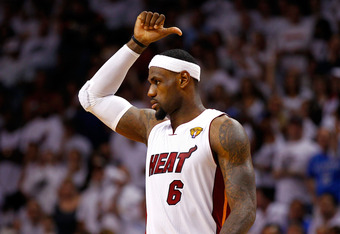 Mike Ehrmann/Getty Images
Yes, it is a little ridiculous to assert that winning the NBA title is a "no-win" situation, but James and the Heat are up three games to one, and despite some pundits picking Kevin Durant and the Thunder to beat Miami in this series, the prevailing sentiment heading into the Finals was that it was James, Wade and Chris Bosh's title to lose. 
Needing just one win in the next three games, it's impossible for the Heat to lose. Isn't it?
The 2-3-2 format of the NBA Finals can be a blessing and a curse for the road team. Winning three straight games at home is almost a necessity, less the Heat be faced with having to win one of two on the road in the loudest building in America. Given the Heat did win one game in Oklahoma City already this series, but that was Game 2, not an elimination Game 6 for the Thunder and certainly not a winner-take-all Game 7. 
After the win in Game 4, Wade told ESPN's Doris Burke, "We've got to come out (in Game 5) focused, with a lot of energy and play the game. Play that game like it's our last—another Game 7—and if we do that, we'll be fine." 
Of course, Game 5 is not a Game 7, so even if the Heat manage to convince themselves it is a must-win, it's really a must-win for the other team, not theirs. That said, Wade is right in suggesting the Heat play the game like it's an elimination game, as the last thing Miami wants is to go on the road and have to win in the Thunder's gym.
The way this season, playoffs and Finals have unfolded, James really is facing a no-win situation. Wade already has a ring. Bosh, for all his world-class talent, has always been the guy who is just along for the ride with two potential Hall of Famers. Really, there is no pressure on Bosh or Wade or Chalmers or Shane Battier or any of the players other than James.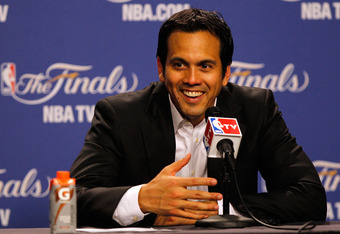 Mike Ehrmann/Getty Images
The only person in the world with a modicum of pressure anywhere near what James will face in Game 5 (and beyond, if necessary) is Heat coach Erik Spoelstra, who will almost certainly be out of a job should Miami fall short of the ultimate prize in back-to-back seasons. Even so, Spoelstra isn't coaching for any historical legacy. He's not calling plays with the pressure of the next shot—of every shot—defining his career. 
Everything James does in this series helps define his career.
James has been lauded for gutting out his performance at the end of Game 4, even after it was obvious his body had seized up to the point he could barely walk down the court.
Let's imagine for a second that was Game 5, not Game 4. As good as James was throughout Game 4—26 points, nine rebounds and 12 assists—the lasting image of his first championship would be standing by the bench while Wade and Chalmers secure the championship. That cannot happen.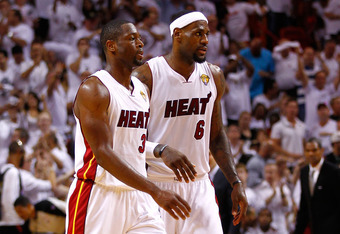 Mike Ehrmann/Getty Images
If the Heat win, Game 5 cannot end how Game 4 ended. James must be on the floor when the final whistle blows and the confetti falls. Or, should the Thunder win Game 5, James must be on the court at the end of the next game or the game after that.
James cannot foul out. He cannot cramp up. He cannot celebrate while someone else makes the clutch plays. He knows that. It's not fair—the pressure put on James, while self-inflicted in many cases, has really never been fair—but nothing about re-writing a legacy has anything to do with fairness.
There is no other option for James than being triumphant in Game 5 with a series-winning shot or, perhaps more apt, a key defensive stop so he can dribble out the clock and hoist the ball—and all that pressure—high into the air for good. 
Game 5 is a no-win situation for James because everyone just expects him to win. The truth is, this series has been as well-played and as hard-fought at any in recent memory. The Finals were a handful of jump shots away from being a 2-2 series, perhaps even a 3-1 lead for the Thunder.
The average margin of victory in the series is just 6.5 points, and each of the last three games—all Heat wins—had the Thunder within one possession with under a minute to play in the game.
Somehow, none of that matters anymore. The Heat have a chance to win the title at home. James has the opportunity to release a decade worth of pressure against a hungry, talented and focused team in the Thunder that knows they can scratch back into the series if they can get back home for Games 6 and 7.
This is a no-win situation for James, until he actually wins—which he will, because he has to. 
If only it were that simple.