NHL Draft 2012: Philadelphia Flyers Who Might Be Traded at the Draft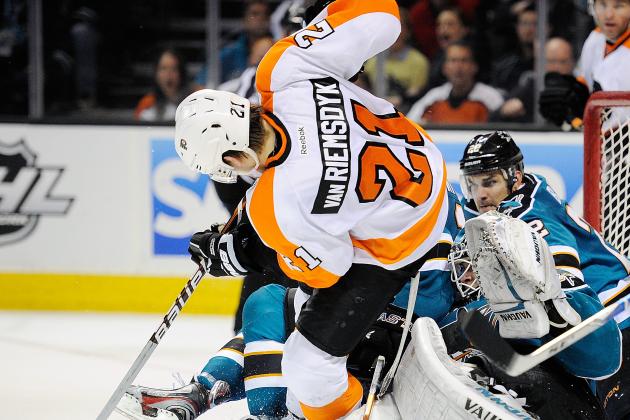 Thearon W. Henderson/Getty Images

The Philadelphia Flyers have a very talented roster of young players, and they might consider trading a few of them in order to pull in a more established veteran or even a superstar player.
The Flyers seemed like a favorite to reach the Stanley Cup Finals after upsetting Sidney Crosby and the Pittsburgh Penguins in the first round of the playoffs, but were quickly eliminated in five rough games by the New Jersey Devils.
It seemed like the Flyers were in need of a few additions this offseason, starting with more depth on defense and a goal-scoring forward.
To get those types of players via trade, they'll need to give up someone currently on the team. Here are five likely trade candidates for the Philadelphia Flyers on draft day.
Begin Slideshow

»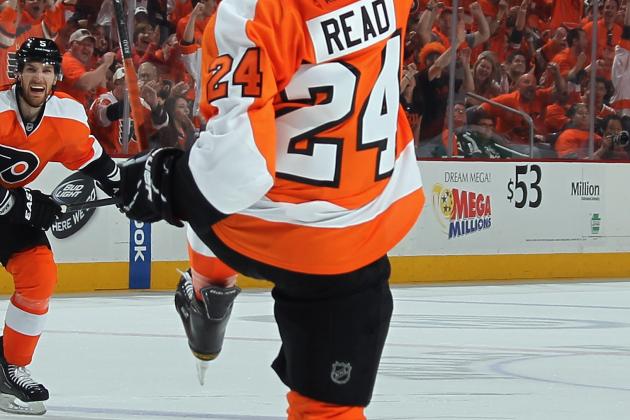 Bruce Bennett/Getty Images

Matt Read came out of nowhere during training camp to win a roster spot at the start of last season, and had a very impressive rookie year.
Read led all rookies in goals with 24, and finished the season with 47 points and a plus/minus of plus-13. Read certainly has upside, and his impressive first year has made him an attractive player for trades.
He played as an excellent two-way forward, spending a good amount of time on the penalty kill and down the stretch of close games.
But for the Flyers, Read is another one of their many young players from last season. At 26, he's pretty old for a rookie, and if the Flyers can work him into a trade instead of one of their other young players, they'd be doing themselves a favor.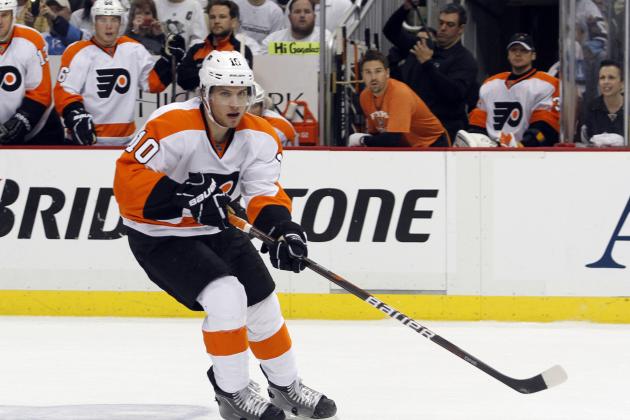 Justin K. Aller/Getty Images

Brayden Schenn was plagued with injuries during his first year with the Philadelphia Flyers, after being acquired as part of the package the Flyers received from Los Angeles in exchange for former captain Mike Richards.
Despite only seeing limited playing time, Schenn showed flashes of offensive skill that has a lot of fans thinking he can grow into a superstar offensive player. He has great puck-handling skills and good play-making abilities.
Maybe more important to Flyers fans, he's not afraid to play physical. He left his mark on the playoffs this year with several big hits against the Pittsburgh Penguins, as well as being involved in post-whistle altercations with Sidney Crosby several times.
Schenn showed a good mix of being able to score and being able to agitate the other team, which is a skill set that's very valuable in the NHL.
The Flyers love Schenn, but if they can bring in a superstar, such as Rick Nash from the Columbus Blue Jackets, they'll trade him.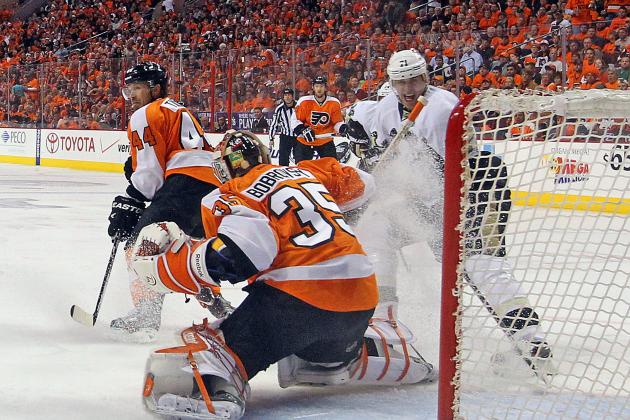 Bruce Bennett/Getty Images

Sergei Bobrovsky looked like he might become the starting goalie of the Philadelphia Flyers two seasons ago. But last summer, the Flyers traded for Ilya Bryzgalov and signed him to a nine-year contract, which pretty much guarantees that Bobrovsky will not be getting a shot at the starting job in Philadelphia.
Bobrovsky, or "Bob" as he is known in Philadelphia, has shown enough to warrant a shot at being a starting goalie somewhere. His career goals against average of 2.73 and save percentage of .909 are respectable for a goalie who's only been in the NHL for two years.
Since Bob has no chance of being the starter, there is a very good chance the Flyers will look to deal him to a team that wants to take a chance on him developing into a No. 1 guy.
Good goalies are hard to find but veterans typically make better back-ups than young players, and the Flyers should be able to find a cheap veteran in free agency, which makes Bob very expandable for the Flyers.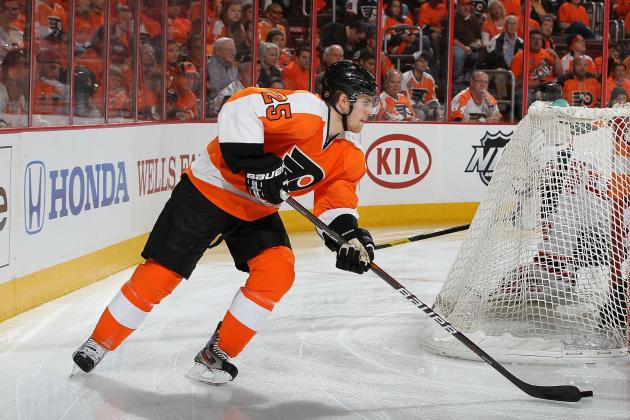 Jim McIsaac/Getty Images

Matt Carle will be an unrestricted free agent this offseason. As of now, chances are that the Flyers make a push to re-sign him before he hits the open market, but if they feel like they can't, or if they trade for another top-six defensemen, Carle's rights could be traded.
Carle is a solid offensive defensemen who had an up-and-down season last year. He saw his plus/minus dip from plus-30 to plus-4, and it really showed how much better playing with Chris Pronger made him look.
The Flyers want and need a better defensemen than Carle, and if they get one, they don't really have a need to re-sign him. That situation is a very real possibility on draft day, and if it happens Carle will probably find himself being traded.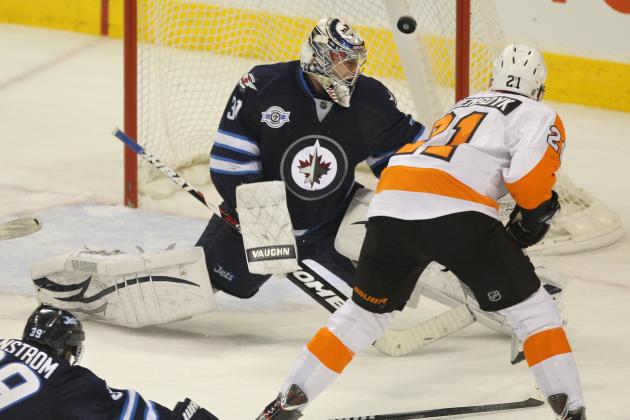 Tom Szczerbowski/Getty Images

James van Riemsdyk, the former No. 2 overall draft pick of the Philadelphia Flyers in 2007, had a very injury-plagued season last year. And while it might be unfair to judge him only three seasons into his career, it's hard for Flyers fans not to compare him to the player who was taken right before him in the draft, Patrick Kane of the Chicago Blackhawks.
JVR has a ton of upside as a strong power forward who's not afraid to play physical and is capable of simply dominating games. But his effort seems lacking sometimes and he hasn't shown much consistency.
His upside is what attracts other teams to him, and JVR has found himself in trade rumors for the past two seasons. Where there's smoke there's fire, and it seems inevitable that at some point, the Flyers will make a deal involving him.
Any trade the Flyers make that involves big name players will involve JVR, and since that's the type of trade the Flyers will be looking to make on draft day, JVR seems like a lock to be traded.