Miami Heat vs Oklahoma City Thunder.
Three-time MVP vs three-time league scoring champion.
It was David Stern's dream scenario, the two premier players going head to head in the NBA Finals. Throughout the year and throughout the playoffs, the discussion of best player in the world has centered around James and Durant.
Plenty of people picked James and some took Durant, and the general consensus was whoever won the matchup between these two superstars would also walk away with this year's Larry O'Brien trophy.
With four games over, it looks like the winner of this matchup is going to win it all, as LeBron James has thoroughly dominated Kevin Durant so far.
With the exception of Game 1 when the Heat walked into the Chesapeake Arena woefully unprepared, LeBron has made Durant look very much like the inferior player. While the stats may show something different, watching the way LeBron controls the game has exposed the holes in Durant's game.
Durant has scored more than LeBron, but he has done little to anything else in this series. This all came to the forefront in Tuesday night's pivotal Game 4. While both players got their points, LeBron was in charge of the game from the start while Durant seemed to go minutes at a time without making any impact.
Perhaps the most telling stat in the game was that the 6'11'' Durant, complete with great hops and a 7'4'' wingspan, could only manage two rebounds, none of which came until the 11:26 mark of the fourth quarter. LeBron, on the other hand, has dominated the boards, averaging over 10 per game in the Finals.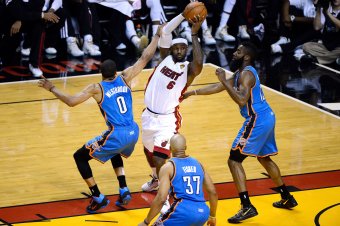 Ronald Martinez/Getty Images
Another aspect of the game in which Durant is failing to make an impact is getting his teammates involved. While Durant has never been the greatest of passers, he showed great potential in the final few games of the San Antonio series, repeatedly setting up Serge Ibaka, Thabo Sefolosha and others for easy, wide-open shots. Unfortunately for him and the Thunder, his ability to make decisive passes has been missing in the Finals, averaging just two assists per game including an 0-fer in Game 3. James, meanwhile, has continually involved his teammate,s culminating in a virtuoso 12-assist performance in Game 4.
Game 4 was a perfect example of how Durant has struggled to be effective when he isn't shooting the basketball and how LeBron can be. With Ibaka and James Harden struggling, Durant failed to provide them with easy looks while LeBron served up gimme's to struggling guards Mario Chalmers and Norris Cole.
Rebounding, getting teammates involved and defense are all important facets of the game in which Durant isn't contributing well enough for the Thunder, while James has been a complete player throughout the Finals. And with Durant barely outscoring James through four games, the matchup which so many thought would be even has turned dramatically in LeBron's favor.
What separated the great players like Jordan, Magic, Duncan and Bird was their ability to affect games in multiple ways. Whether it was through scoring, rebounding, passing or lockdown defense, they did multiple things to ensure victory. LeBron's ability to switch between MJ mode and Magic mode—to be a scorer one quarter and a facilitator the next—is what makes him one of the greatest to lace 'em up. If Durant wants to eventually be in this class, he will have to learn to dominate without scoring all the time.
Durant is only in his fifth year, so it will take him time to fully develop his skill set like LeBron, so it may be unfair to judge him so harshly. But just like any superstar, the spotlight and adulation of being one of the best in the game comes with expectations, expectations that Kevin Durant is not living up to.
I believe that Kevin Durant will someday become the best player in the league, but for the time being, the debate over who is the best player in the world starts at LeBron James.
And it ends there as well.