Washington Football: Why the Huskies Need to Land Michael Hutchings
June 20, 2012

Christian Petersen/Getty Images
Washington football, like their stadium, is undergoing a renovation of their defense and if they are able to recruit a strong D-Line leader like Michael Hutchings, the Huskies new program would have a stronger foundation.
The outside linebacker recently said that he will commit early despite going back and forth this past year, and will announce his decision on July 1.
The four-star recruit from De La Salle High School in Northern California has narrowed down his top four schools to Washington, USC, Oregon and California, although he seems to be favoring USC and Washington.
Hutchings says he grew up a USC fan and is close with some of the Trojan recruits, but he also admits to having a great relationship with Tosh Lupoi.
Lupoi, who is considered to be one of the top recruiters in college football, recently left Cal for Washington just a few moments before National Signing Day. Hutchings mentioned that Lupoi tried to recruit him to Cal, but now that the defensive line coach is a Husky, Hutchings has been looking very seriously at Washington.
At 6'1'' and 210 pounds, Hutchings has a strong lower body and long arms that allow him to physically take down runners sweeping the ends. That said, what really sets him apart is his great lateral movement that allows him to stop the sweep and drop back quickly to knock off wide receivers before they get their routes started.
Combined with his natural football instincts, Hutchings should become a leader for any defense.
Washington's head coach Steve Sarkisian has brought in a new group of faces to lead the Huskies' defensive overhaul. While they may be new to Washington, they are not new to each other.
Justin Wilcox, the new defensive coordinator, was Cal's linebacker coach while Tosh Lupoi was recruiting for Cal, and Washington's new linebacker coach, Peter Sirmon, was Wilcox's former roommate at Oregon.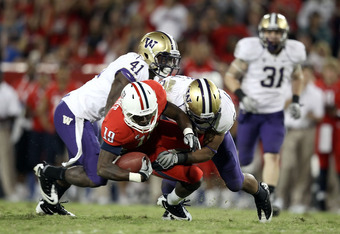 Christian Petersen/Getty Images
With a new yet cohesive defensive coaching staff descending upon Washington's new stadium, results have already been seen on the field.
The defense was dominant during Washington's spring game thanks to Wilcox's new emphasis on the 3-4 formations. The Huskies lack experience on the defensive side, so by applying this new formation, Wilcox is able to add more playmaking opportunities.
If Hutchings commits to Washington on July 1, he will walk right into the Sirmon's linebacker program, which looks to be the strongest on the defensive side. As with any remodel, it is important to build upon immediate success to create a tradition. If Washington lands Hutchings for their 2013 recruiting class, it will benefit the Huskies two-fold.
First, Hutchings will be a great asset on the field as an outside linebacker come Fall 2013. Second, the prestige with Hutchings' name will help to validate Washington's new defense.
Hutchings has already visited his top four schools, he's been heavily recruiting by them and now he just has to call them with his answer. Stay tuned to see what program he picks on July 1, but be sure that if he becomes a Husky, Washington's defense will continue to become one of the best in the Pac-12.