Kansas Basketball: One Thing to Know About Every Incoming 2012 Commit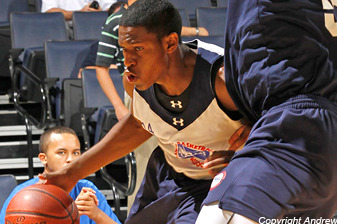 Image from Rivals.com
Bill Self is such a strong recruiter that even a class that's merely respectable by his standards is ranked 10th in the nation by Rivals.com. The Jayhawks' incoming talent may not be ready to fill the shoes of Tyshawn Taylor or Thomas Robinson immediately, but Self has brought in some major pieces to build on for the future.
One of the most promising of these youngsters is swingman Andrew White. Even though the Jayhawks have talented seniors Elijah Johnson and Travis Releford returning on the wings, White has an edge that should earn him a large chunk of playing time next season.
Read on to find out what niche White should be able to fill for KU, along with a quick look at all the other incoming freshmen who will be arriving in Lawrence next season.
Begin Slideshow

»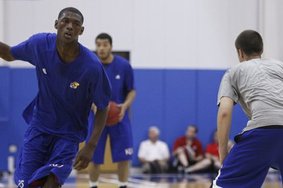 Image from ljworld.com
A very late addition to Bill Self's class, Milton Doyle decommitted from Florida International when Isiah Thomas was fired as that program's head coach in April.
After sorting through some eligibility concerns, Doyle's arrival on the Kansas roster was officially announced two days ago.
Doyle is a 6'4" combo guard who was basically left out of most national recruiting discussions because he missed his entire junior year (and the ensuing summer of AAU ball) due to injury.
However, he put up impressive numbers against tough Chicago competition as a senior, and he could be an absolute steal for Self if he continues developing at that same pace.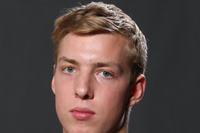 Image from Rivals.com
At 6'9", 240 lbs, there's little question that Zach Peters has the muscle for the Big 12. Some other areas of his game, though, will take time to adjust to the jump in competition at the college level.
Peters is a fine rebounder who will get some points off his power game, but he's unlikely to get enough space to knock down jumpers in the early going against high-major opposition.
After he has a year or two of experience and the game slows down for him, though, don't be surprised if Peters turns out to be another of Bill Self's late-blooming standouts.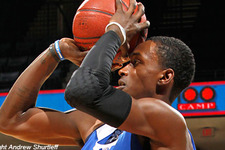 Image from Rivals.com
Anrio Adams is a 6'3" guard with outstanding scoring ability. He needs some work on the defensive end of the floor, but there's no question that he'll be able to produce points in a Jayhawk uniform.
Unfortunately for the three-star prospect, there are still questions about whether he'll be producing those points next season.
Concerns about Adams' academic eligibility have yet to be resolved—even if Adams himself is reportedly optimistic—and as such, he's the only member of Bill Self's 2012 class who has yet to arrive on campus.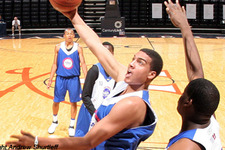 Image from Rivals.com
At 6'8", 220 lbs, Landen Lucas certainly has the frame to be an effective Big 12 post player. Although his quickness and leaping ability aren't particularly impressive, he has the game to contribute sooner rather than later for the Jayhawks.
Lucas has remarkable fundamentals, from footwork to post moves, that aren't always found in a player his age. As he adds muscle to go with his skills, he'll be a valuable reserve for KU.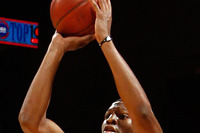 Image from Rivals.com
Kansas didn't have overpowering three-point shooting a season ago, and the departures of Tyshawn Taylor and Conner Teahan only exacerbate the problem.
Even if Elijah Johnson improves as a senior, he'll be grateful for the help he'll get from 4-star swingman Andrew White.
The 6'6" White is a superb outside shooter who also has enough defensive skills to get serious playing time in the early going.
He's established a pattern of major improvement from one season to the next, and if that continues, he could be an impact player in Lawrence very quickly.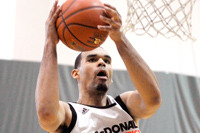 Image from Rivals.com
Let's get one thing out of the way: Perry Ellis is not Thomas Robinson, and expecting him to replace the All-American single-handedly would be both foolish and unfair.
With that caveat, Ellis does look like an outstanding fit for the Jayhawks' 2012-13 roster.
Ellis, rated as high as 24th in the nation (by Rivals.com), is a lanky 6'8" PF who specializes in scoring in the face-up game.
The combination of seven-foot senior Jeff Withey staking out the low post and Ellis attacking from the key will not be a fun one to defend for KU opponents next season.