College Football: Why Michigan State Will Shock Big Ten in 2012
Hunter Martin/Getty Images
It's no surprise—Michigan State is a team on the rise in college football.
Mark Dantonio has the Spartans at their best since Nick Saban was the head coach in East Lansing.
Dantonio has been called the savior of this team ever since he took over the head coaching job in 2006. The team was in shambles at the time after John L. Smith seemingly sunk the team and left Spartan fans scratching their heads game after game.
John L. Smith made just one bowl game in four years as head coach and it was a loss. Dantonio took over and brought the rebuilding squad to a bowl in his first year—their first bowl game since 2003. He has since brought the Spartans to a bowl five times. He has never missed out on postseason play in his five years as head coach.
It's a fact, this team has only gotten better in the past five years. The momentum has definitely shifted in East Lansing since Dantonio took the reigns.
Last year, the Spartans earned their first bowl win since 2001 and beat a solid Georgia team from the SEC that was supposed to outrun the solid, but slightly slower, Spartan defense.
Michigan State is playing at their best level in over 10 years and they are still on the rise. They are coming off two straight 11-win seasons and have been in Big Ten title contention the past few years.
How Will MSU End Up Next Year?
Michigan State will not only shock the Big Ten this year, but they have the talent to shock the entire college football world. For two straight years, the players thought they deserved a BCS bowl, but for the past two years, they have been left out in the cold.
Dantonio's team won't let that happen this year, and that is a promise. Here are a few reasons why they will shock the Big Ten in 2012.
1. The New Quarterback
Andrew Maxwell was highly touted out of high school and could end up being better than the former star quarterback, Kirk Cousins. Maxwell has spent enough time sitting on the bench and studying the X's and O's, inside and out, to realize what he needs to do to succeed.
He was mentored by one of the best quarterbacks in school history and one of the best leaders in college football last year. A mentor like that can only help his skill set and teach him how to become a leader among guys his own age.
Maxwell is a great kid that is an off-the-field presence that Dantonio can be proud of. On the field, he will be just as good. Last year in limited play, Maxwell completed 18 of 26 passes for 171 yards and a touchdown. Although this is a very small sample size, if he can put up numbers like that, but with more yards, game after game, the Spartans could be smelling roses soon enough.
Kirk Irwin/Getty Images
2. The Defense
Defensive coordinator Pat Narduzzi has Michigan State's defense playing scary good. Narduzzi had the defense at the top of almost every category in the conference ranks.
The Spartans were one of only two Big Ten teams to allow less than 300 yards per game last season and topped the conference in that category. They ranked sixth in the entire country in yards allowed per game with 277.4 yards. They were also top 10 in scoring defense in 2011—somewhere they would have never found themselves before Dantonio.
The culture has changed in East Lansing. The Spartans are no longer a soft team that will try to outscore their opponents in order to earn the victory, but they have a good enough defense to play with anyone in the country.
They also have two projected top 20 picks for next year's NFL Draft with defensive end and future superstar WIll Gholston, and also stud cornerback Johnny Adams.
Look out for this young defense that is returning most of the starters from 2011 to be the reasons that they make it to Pasadena in January.
3. The New Receivers and Veteran Running Backs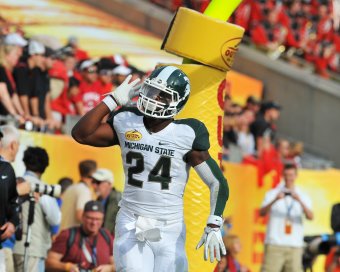 Al Messerschmidt/Getty Images
This is the final category that the Spartans will excel in next season that will earn them the coveted title of "Big Ten Champs".
You may be scratching your head and wondering why I am putting receivers on this list. It may be because of the potential of the young receivers, or it may be because there are so many of them that they are bound to have a couple players excel.
This is the youngest and most unproven position on the team, but it is also the one with the most potential.
Tennessee transfer DeAnthony Arnett highlights the cast and could be a dominant down-the-field threat for Maxwell to throw to. Bennie Fowler and Tony Lippett have been waiting for their turn while they saw receivers such as BJ Cunningham and Keshawn Martin develop NFL talent.
These young receivers could be some of the best in the Big Ten, and even the incoming freshmen could make an immediate impact.
The running backs are solid and plentiful. Le'Veon Bell is the clear starter because of Edwin Baker's early departure to the NFL. Nevertheless, Bell would have started even with Baker still on the team.
Bell rushed for nearly 1,000 yards last season while only starting in half the games. He also finished the season with 13 rushing touchdowns, which was good for fifth in the Big Ten. He will surely be one of the top three running backs in the Big Ten this season, and he is also considered one of many preseason Heisman candidates.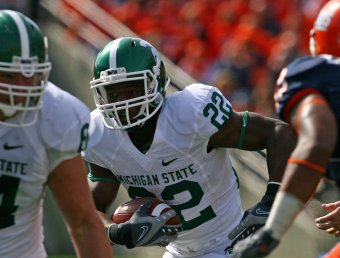 Jonathan Daniel/Getty Images
Larry Caper and Nick Hill are great complimentary backs for the powerful and elusive Bell. Larry Caper started five games as a freshman in 2009 and saw his playing time reduced drastically because of the solid play of Edwin Baker and then Le'Veon Bell. He finds himself as the backup this year and could experience more playing time.
Nick Hill is the kickoff returner and he is one of the best in the Big Ten. He finished the season with 999 return yards, good for second-most in MSU single-season history. The quick, shifty running back is entering into his sophomore year and could improve on his return numbers this season.
If he does, the Spartans won't even need to play offense, because Hill could find himself in the end zone consistently.
The Spartans are a rising team, and for the recent successful seasons they've had, it shouldn't be considered a shock when they do well. This is the case, unfortunately, and the Spartans could be shocking the entire country next season, not just the Big Ten.
This article is
What is the duplicate article?
Why is this article offensive?
Where is this article plagiarized from?
Why is this article poorly edited?

Michigan State Football: Like this team?