Euro 2012: Eliminated All-Stars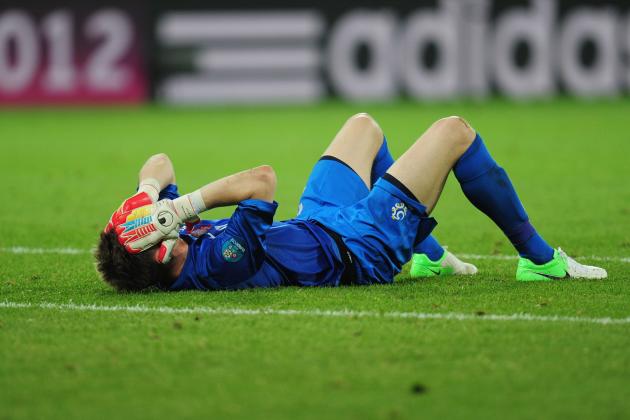 Jamie McDonald/Getty Images

Onward, we march!
The Euros are now in their knockout stage and while some of the matches have the potential to go down as some of the best matches in history, there were a lot of good squads that are out due to their lack of fortune (See: Russia).
Out of the eliminated squads, there were some players that took advantage of this short run to make a name for themselves and might be object of transfer speculations in the window that approaches.
Let's take a look at the best 11 players that are out of the Euros.
Begin Slideshow

»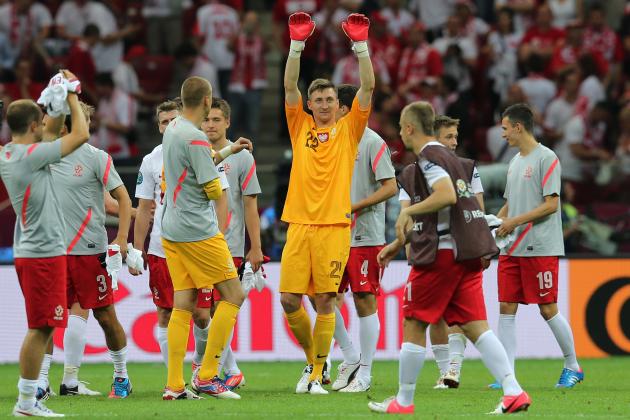 Alex Grimm/Getty Images

The man, the legend, the myth.
Of course I am exaggerating but, what this guy has done will be remembered for years to come.
Tyton isn't even at the top of the pecking order in his club, PSV Eindhoven, but after coming into a match and saving a penalty immediately after, he might have garnered enough punch to surpass Andreas Isaksson for the starting gig.
All in all, there is no other goalie in this tournament that had his stocks increased as much as Tyton.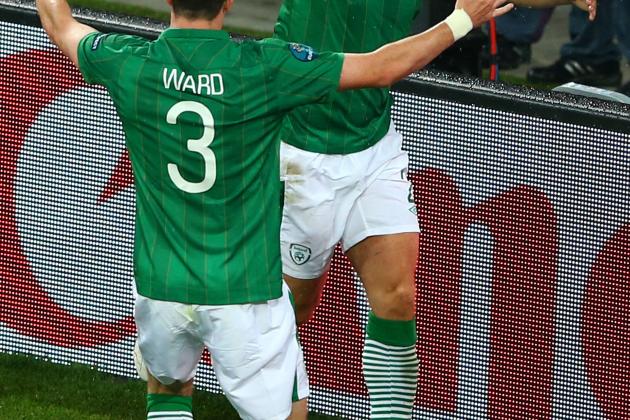 Clive Mason/Getty Images

Despite putting a show on the stands, the Irish had a mediocre finish in the group stage. I, for one, had great expectations for this squad despite being on the same group as the last two world champions.
To say that Ireland fell short of the expectations is an understatement.
Their only bright spot was Sean St Ledger's outing throughout the whole tournament. Showing good positioning in corner kicks, he scored the only Irish goal in the tournament. Also, he was charged with the toughest assignments on back end and performed decently against them.
St Ledger might be a good, cheap addition for teams that need experience and heart in their back end.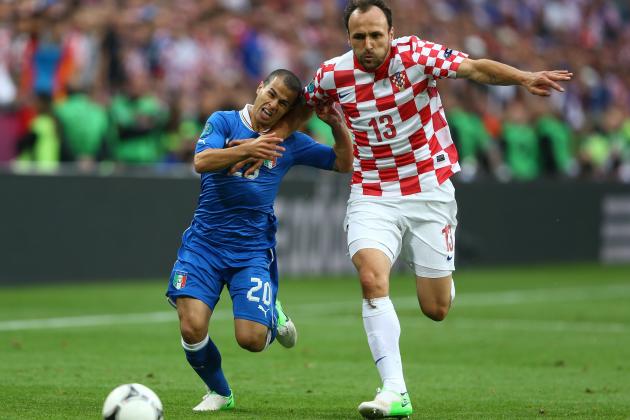 Clive Mason/Getty Images

Gordon Schildenfeld had a good tournament for Croatia and might have had the opportunity to continue putting his stock on the rise if not for a poor showing by the linesman, but this is just my opinion.
Composing a sound defensive system orchestrated by Slaven Bilic, Schildenfeld came into the Euros as one of the lesser known players, but his sound outing was one of the best points for a solid Croatian defensive operation.
Schildenfeld's no-nonsense approach might make a solid addition for a mid-table team in the Italian, German and French leagues. Albeit being 27, Schildenfeld's good position and simple play are a cheap option for teams that need to bolster their defensive corps.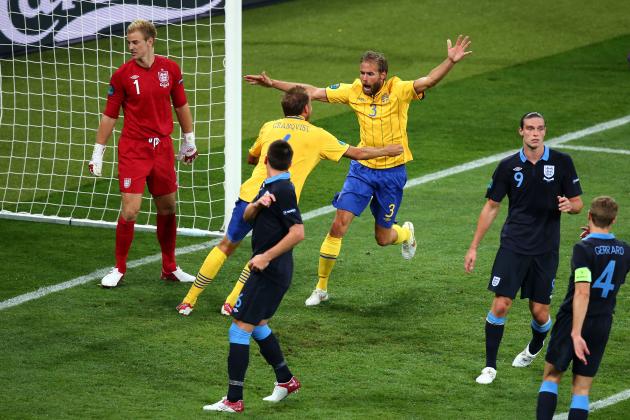 Martin Rose/Getty Images

Olof Mellberg is 34. While most center-backs of this age are relegated to a leadership and mentoring role in their clubs, Mellberg reinvented himself and he always seems to be heavily relied upon whether playing for Sweden or in the clubs he's went to.
The Olympiacos player provides very sound defending and some scoring. Mellberg is always a threat on corners despite having scored a ridiculously small number of goals throughout his career.
Despite having been outwit by Andriy Shevchenko in the first game, Mellberg redeemed himself by scoring against England. The veteran might be on the twilight of is career, but he be a solid addition for a team like FC Porto or even Ajax.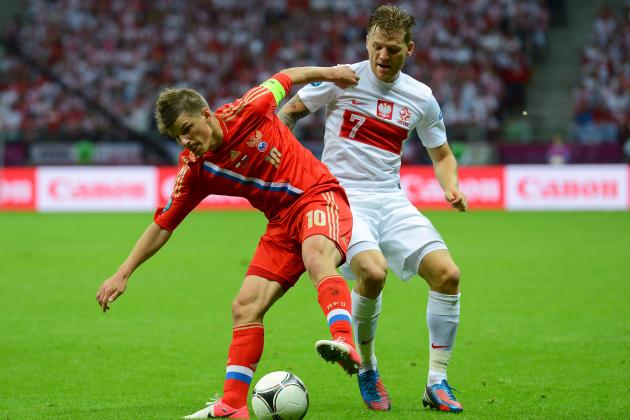 Shaun Botterill/Getty Images

Eugen Polanski is part of Mainz 05 side that has been very intriguing in the Bundesliga for the better part of two years now.
A very reliable defensive midfield, with an excellent takeaway, Polanski took ownership of the Polish defensive midfield not only because of the reasons listed above, but because of his ability to pass and quickness with the ball.
Polanski, along with Kuba, showed that this Polish team is on the right track for a nice campaign in the next World Cup.
A key part of Thomas Tuchel's quick midfield, Eugen Polanski might be an intriguing addition for teams that play on less physical leagues. He is the type of player that can take over a team in a peripheral league (Belgium, Eastern European leagues and etc.)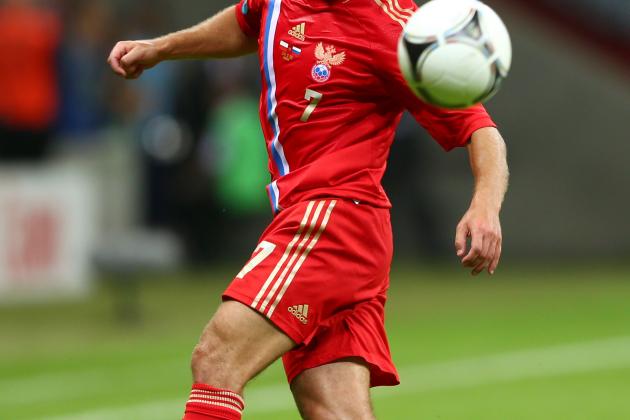 Michael Steele/Getty Images

Igor Denisov, the youngest leg of the Russian midfield troika, has been playing a very good defensive in Zenit St. Petersburg for years on end now.
Denisov, along with Roman Shirokov and Konstantin Zyryanov was part of the Zenit team that won the UEFA Cup, but lost to Barcelona in the UEFA Supercup.
Denisov is a simple player that is not ashamed in making the simple play. While he lacks pace and sometimes goes unnoticed in matches, Denisov is a key player for both nation and club.
Denisov is an enigmatic player that, in my mind, couldn't hold a job in a league better than his own but, sometimes, like in the game against the Czech Republic, he seems to be good enough to be a squad player in one of the better leagues of Europe.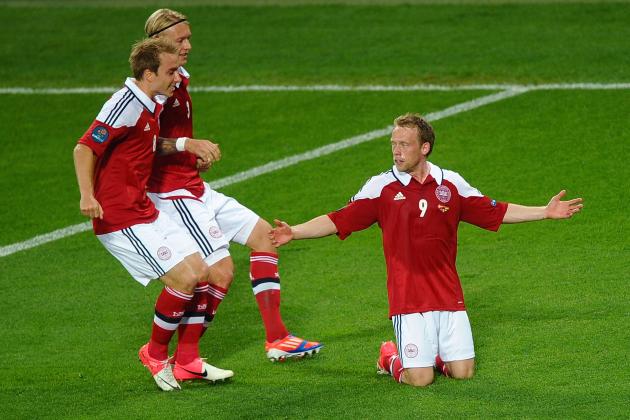 Laurence Griffiths/Getty Images

Michael Krohn-Dehli might have had the best three games he has ever had being rewarded with two goals, but he alone wasn't able to take Denmark past Germany and Portugal.
Krohn-Dehli, after a long time in the Eredivisie, he seems rejuvenated after returning home and playing in Brondby.
Krohn-Dehli isn't the same anymore and I believe he's on the downward part of his career. I predict he's going to get lesser roles in teams, much like Dennis Rommedahl, until he retires.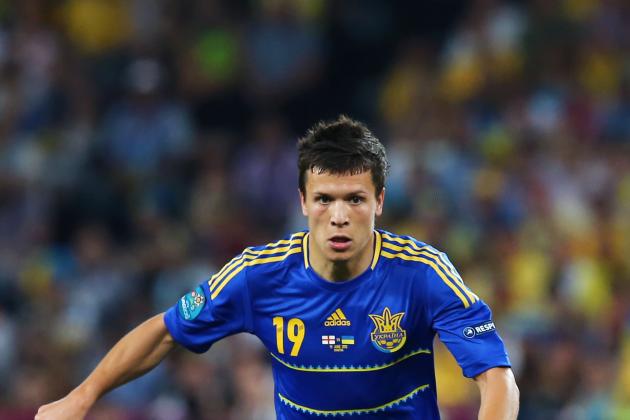 Martin Rose/Getty Images

Yevhen Konoplyanka was an integral part of the Ukrainian midfield during this tournament. While he showed some promise with his pace and vertical football, Konoplyanka, most times, opted to for the long-distance shot rather than passing the ball to a better-positioned teammate.
Konoplyanka still needs some maturity, but he was a good tactical player for Oleg Blokhin.
If I were a the manager for mid-table team or in a peripheral league, I would enquire for his cost. Konoplyanka should be cheap enough to a profitable addition.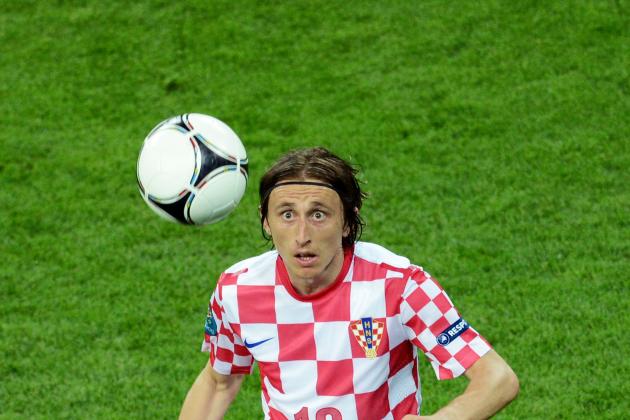 Jasper Juinen/Getty Images

Luka Modric took the world by storm during the last Euros, but he took on a secondary role as Mario Mandzukic stole the show for Croatia.
Luka Modric still has a lot of potential to make Croatia a challenger at least in the Euros.
Enough has been said about Modric everywhere for the last few years or so. His stock didn't necessarily go up or go down during this championship. He could still be a good addition for an elite team in any league.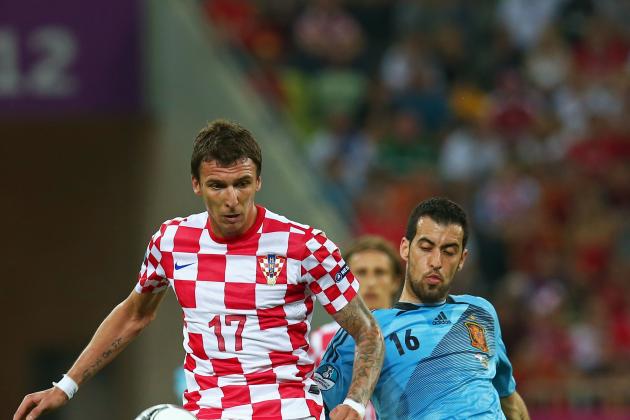 Alex Grimm/Getty Images

Mario Mandzukic, was arguably, the biggest threat in the group stage of this year's tournament. The tall forward wasn't the prototypical Jan Koller-type of a tall forward. He scored, he was active every time Croatia had the ball on offense. Mandzukic almost singlehandedly took Croatia to the knockout stages of the competion.
Mandzukic is one of two VfB Wolfsfburg's player that lit it up in the group stage (the other is Czech Petr Jiracek). Wolfsburg hired him to replace Edin Dzeko's production, but Mandzukic isn't that great. He reminds me of Mateja Kezman. He is player that needs to play in a non-elite league so that his confidence is bolstered.
Jamie McDonald/Getty Images

Robert Lewandowski picked up where Lucas Barrios left off in Borussia Dortmund and lit up nets all along last season in the Bundesliga.
For Poland, Lewandowski was left mostly forgotten in the front except for the rare company of fellow teammate in Dortmund, Jakub Blaszczykowski. Lewandowski was able to have chances despite being forsaken up front. His goals gave the Polish squad and people hope to go the next stage, but hope wasn't enough.
Dortmund didn't feel the absence of Nuri Sahin because Shinji Kagawa stepped up to the plate. Now that Kagawa is gone, I believe that Lewandowski's production will decrease. He might be a good addition for a mid-table team in an elite league.