Can Cincinnati Reds' Joey Votto Hit .400?
June 20, 2012

Jim McIsaac/Getty Images
This article was aided by Martin Manley, formerly of the Kansas City Star and current director of Sports In Review.
On September 19, 1980, George Brett of the Kansas City Royals was hitting .3995 (.400). Ted Williams is the last to hit above .400 (1941, .406). Since Williams, Brett challenged .400 the latest into a season. So, why should Joey Votto have a shot?
SI.com wrote that Brett was only hitting .337 at the All-Star break. But in July, Brett caught fire—hitting a torrid .495 for the month and .430 in August. What makes this feat even more incredible is the fact that Brett had torn ligaments in his ankle.
Brett went 14-for-46 (.304) in his final 13 games and ended the season with a .390 average, just ten points shy of the magic number of .400.
Since Brett's run, no player has really posed a significant challenge to the record. Chipper Jones, in 2008, was at the .400 mark as late as June 18. Carney Lansford was hitting .402 on June 6, 1988 and John Olerud was hitting .400 on Aug. 2, 1993. But no one has gone as deep as Brett.
All-in-all, 14 players since Brett have been at or above .400 in June or later but no one has seriously threatened the mark. Maybe Tony Gwynn in 1994 could have challenged the figure. He was at .394 before the strike destroyed the rest of the season and he was at .402 as late as July 14, 1997.
Could Cincinnati's Joey Votto be the next Brett and challenge Williams? Votto had two more hits yesterday including a home run. He had three hits Sunday and he's hit in 22 of his last 23 games. He's hot!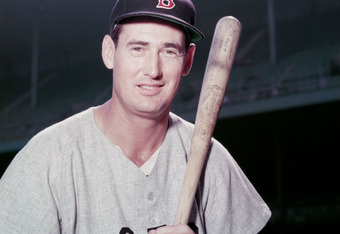 Getty Images/Getty Images
In fact, over those 23 games, he's batting exactly .500 (41/82). This type of hitting is definitely unsustainable but what it shows is that he has the ability to get hot, extremely hot, for long periods of time. Brett hit .495 for July in 1980 so anyone who will challenge .400 will have to have the ability to hit way above .400 for a long sustainable period of time and it appears Votto can.
Another point. Anyone who challenges Williams will have to have numbers that rival the legends. Jayson Stark of ESPN writes,
The Human Astounding fact, Joey Votto, went into the weekend on a pace
for 201 hits and an incredible 136 walks. If he can keep that up, he'll be in
ridiculously rarified territory — because only one player in history has ever
drawn that many walks in a 200-hit season. And I'm betting you've heard of
him:

Babe Ruth, 1923: 170 walks, 205 hits
Babe Ruth, 1921: 145 walks, 204 hits
Babe Ruth, 1924: 142 walks, 200 hits

That was before the weekend. As of Monday, Votto is on pace for 206 hits and 135 walks.
Stark also points out,
But suppose Votto slides to "only" 120 walks. Still almost equally amazing. Just two other players since 1900, besides the Bambino, even walked that many times in a 200-hit season. One was Ruth's tag-team partner, Lou Gehrig (130 in 1936, then 127 the next year). The other was Wade Boggs (125 in 1988). And that's it. The only NL players since 1900 who ever topped 105 walks in a 200-hit season: Todd Helton (111 in 2003) and Stan Musial (107 in 1949). Un-be-friggin'-lievable.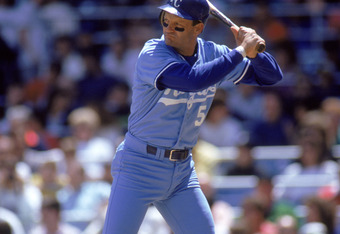 Scott Halleran/Getty Images
How often do modern day baseball players get compared to Babe Ruth? It is clear that Votto is not just a player who happens to get hot, like Tony Fernandez in 1999 who was hitting .400 on June 28 or Andres Galarraga of the Colorado Rockies who was hitting .400 on July 5th in 1993. Both were solid players but certainly not Ruthian.
Votto has already won an MVP and his skills are so respected that the
Cincinnati Reds added 10 years and 225 million dollars to his current contract.
It is clear that Votto is demonstrating skills that could someday lead him to Cooperstown.
Baseball GM's definitely rate Votto as one of the best players in the league, but could he be the next to challenge .400? As of June 25, 2012, Votto is hitting .368, 31 points higher than Brett was at the All-Star Break of 1980.
Like any great baseball player, Votto is a hard worker. Paul Daugherty, writing for SI.com, wrote in 2010,
Votto works hard — and alone. He studies video as much as any Red. His
off-season work on his defense was inspired by Albert Pujols' success playing
the position. Pujols played third base and the outfield the first four years of
his major league career. Two years ago, Votto's game in the field was shaky
enough that when the Reds took University of Miami first baseman Yonder
Alonso in the first round of the June amateur draft, they figured they'd have to find somewhere else to put Votto. Now, their wonders are about Alonso.
Asked about his work ethic, Votto said, "I pay attention to my game and the
flaws I have (and) I do my best to fill in those holes. I'm very diligent and
consistent in my work. I haven't given in since I signed in 2002. It's 2010. For
eight years, I've stayed focused. That's probably the biggest element of my
success."
Joey Votto seems to have all the ingredients to challenge greatness. He works hard, is in rarified air as far as statistics and is getting better and better. With this in place, can he hit .400? We will see as the season unfolds.