San Francisco 49ers: 5 Things That Could Go Wrong in 2012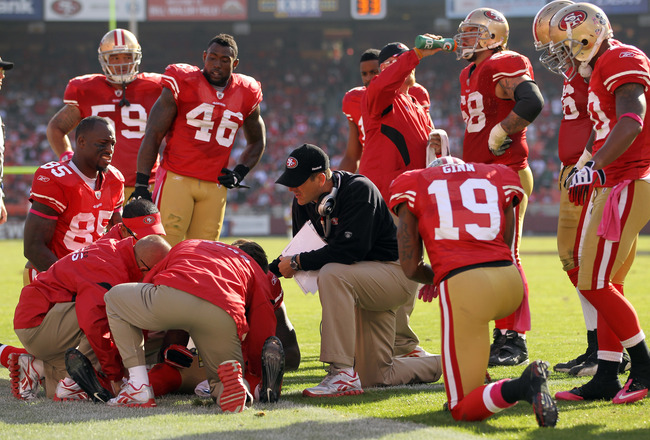 Ezra Shaw/Getty Images
Since the arrival of Jim Harbaugh and co., the 49ers' stock has been on a steady ascension that has a lot of folks saying, "Next stop, Super Bowl."
And why wouldn't they? The 49ers were awfully close in 2011, a league year handicapped by an extensive lockout. Regardless of the situation, the Niners banded together, posted a 13-3 regular-season record and made it to the NFC championship.
With another strong, methodical offseason underway, the 49ers are expected to be that much better this year.
However, even as one of the notable, heavy favorites entering the 2012 NFL season, plenty could still go wrong for the San Francisco 49ers. In the following slides, we will break down five possible situations that could plague the 49ers' chances of winning big this coming season.
Getting Bit by the Injury Bug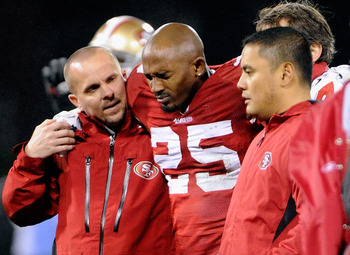 Thearon W. Henderson/Getty Images
Kansas City was bit by the injury bug bad last year. To start the season, the Chiefs lost starters Tony Moeaki, Eric Berry and Jamaal Charles in three consecutive weeks, beginning with the preseason. They also lost starting quarterback Matt Cassel in Week 10.
This happens to a team every season.
Outside of Josh Morgan and a brief absence from Patrick Willis, which wasn't detrimental to the team's success, the 49ers remained relatively healthy in 2011. Even though San Francisco has pretty good depth, if the wrong guy goes down, it could spell trouble for the entire team.
The biggest immediate loss the 49ers could probably face would be Justin Smith. It would affect team morale, and the intangibles he brings are irreplaceable.
Aldon Smith also fills a role on defense that would not exist if he were not present. In his first year as a starter, he will be marked by offensive linemen and blocking backs. It seems that outside rushers get hurt all the time, which makes sense—they play a high-torque, all-go, all-the-time position. Losing the team's up-and-coming sack artist could impact a lot of things San Francisco likes to do on defense.
Without question, losing either Dashon Goldson or Donte Whitner would also really hurt the 49ers secondary and ultimately the defense as a whole.
On the offensive side of the ball,—considering the depth—losing either a starting tackle or Vernon Davis for an extended period of time would ruin a great opportunity for San Francisco as it looks to become a top offense in 2012.
The new-and-improved, turnover-free Alex Smith will also have a target on his back this coming season.
Randy Moss Breaks Down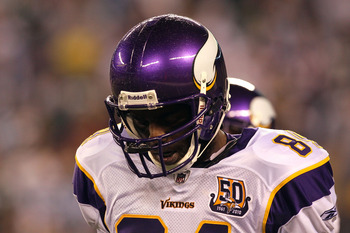 Jim McIsaac/Getty Images
While most of you are aware that I don't personally believe this will happen, it very well could.
Randy Moss, however great, is as unpredictable as we've seen from a professional athlete. And while he has looked great according to every virtual source, the time to find out if he has quit in him has not yet come.
At the very earliest, the 49ers have to be a couple weeks into the 2012 regular season—something needs to trigger this character flaw.
If Moss and the 49ers went down 0-2 to start the season against two long-time division rivals of Moss' (Green Bay and Detroit), he might become edgy. Especially if Alex Smith has a slightly bumpy start, which could happen against both of these teams; they are both playoff contenders.
If Smith was misfiring or if the offensive line was having protection issues, leading to general inefficiency on offense, Moss might shut down.
It can happen anytime down the line as well. It's a legitimate concern. If Moss does not work out, the 49ers would not be as good as they could've been with him on the right track.
San Francisco would also not be able to afford an injury at the position if he were to depart.
Under-Qualification at the Right Guard Position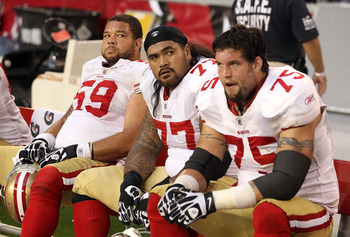 Christian Petersen/Getty Images
There's the slight possibility that the 49ers discover they didn't give the right guard position the respect it deserved. Even though it was arguably tied as the 49ers' biggest offseason need, it went neglected in free agency, and San Francisco waited until Round 3 in the 2012 NFL Draft to select someone on the offensive line.
And while it's awfully difficult to imagine a worse scenario than a starting Chilo Rachal, anything can happen. If there is a gaping hole in the line, it will affect both the run game and the passing attack.
And, like I said regarding issues in protection, if they're present, Moss could be history.
The hope is that Alex Boone is as capable as the 49ers staff has made him out to be, and if not him, then one of the three offensive linemen (Daniel Kilgore, Joe Looney and Jason Slowey) they selected in the past two drafts.
One thing is for certain: San Francisco does not want to be figuring this out midseason.
The Schedule Takes a Bad Bounce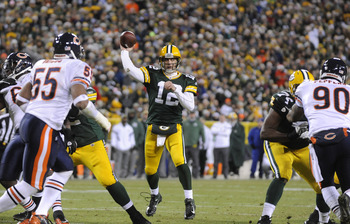 David Banks/Getty Images
In 2012, the San Francisco 49ers will be facing off against the AFC North and AFC East, with a pit stop at the defending Super Bowl champion New York Giants. The 49ers also have road games against the top three offensive units in all of the NFL: the Green Bay Packers, New Orleans Saints and New England Patriots.
And even the games deemed "not difficult" could still go any which way. Will the Dolphins sneak one out against San Francisco? I think the Chicago Bears are going to give the Niners a hard time in mid-November on Monday Night Football.
Just as I prefaced in the previous slide, the 49ers could easily start out 0-2. These games are also going to be more personal in 2012. We know Aaron Rodgers and Jim Schwartz are out to prove something to the 49ers when they face off this season, so it's really anyone's game.
And getting beat early in the season is rough because often it snowballs and there is no full recovery. Take a look at a very talented Philadelphia Eagles team in 2011—another team that received a lot of hype going in—that couldn't seem to get it right until the back half of the season.
The other problem with losing games early is that the schematic is now available to the league. Once you lose, it's all on film, and your weaknesses will be pinpointed and exploited.
The Hand of Fate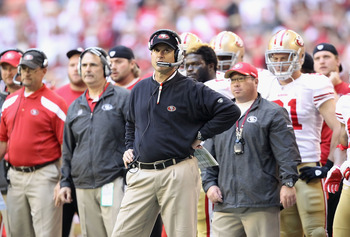 Christian Petersen/Getty Images
And finally, there's luck.
To go far in the NFL, you have to have a bit of luck on your side. We've seen it year after year; the way things fall into place for teams at crucial times during the season seems like destiny.
It's luck that keeps guys healthy, makes sure field goals don't randomly sail right and keeps referees at bay; the Niners will need a bit of that if they want to make this year a championship year.
What stinks about luck is that it's not something that one can work to attain, or else the 49ers would have it in spades. What is supposed to happen for the Niners will happen for them, one way or the other.
But, in the meantime, San Francisco is becoming one of the league's better ball clubs, so if luck does decide to grace it with its presence, the Niners will be ready to pounce.
Keep Reading

San Francisco 49ers: Like this team?