NFL Minicamp Stories We're Sick of Already
June 20, 2012

Jeff Gross/Getty Images
Things are slow—intermission of the offseason slow—right now in the NFL. The draft is over, OTAs too, and training camp is still weeks away. Yet here we are, the middle of June, bombarded with stories from every direction and every team of every division.
Such is the life of an NFL fan. A full-time, year-long job.
Some stories fascinate, some don't, and others begin as fascinating but—like a song played out on the radio—quickly lose their luster.
Here are the stories that have followed that very pattern. 
"Tim Tebow vs. Mark Sanchez"
Tebowmania extends well beyond the gridiron. The media-birthed "quarterback controversy" in New York is just the beginning. And should be the end. 
It seems like every thing this guy does is breaking news. No, I do not care that Tim Tebow just ate a hamburger. Medium rare, American cheese—of course—and ketchup, no mustard. Or that he ties his tie in a double Windsor knot.  
Unless Tebow and Lolo Jones hook up for some reality TV series, or Tebow is finally entrenched as the Jets starting quarterback, I do not want to hear another peep. 
Or see this.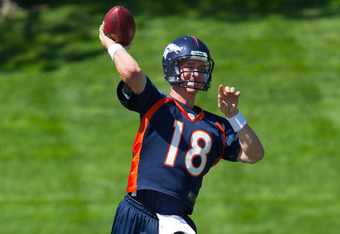 Justin Edmonds/Getty Images
"Peyton Manning Throwing Well"
Manning apparently looks great throwing the ball without pads or three-hundred-pound linemen chasing and pile-driving him into the turf. Whoop-dee-doo.  
Here's the thing, his arm is not the concern. It's his neck, three surgeries later and a year removed from contact football.
The NFL is not two-hand touch and this Manning story is nothing until he takes that first—or first five—big hits. 
"The Ravens Have No Chance Without Terrell Suggs"
So Suggs decided to lace up some Jordans, play pickup basketball—a common offseason ritual of his—and tore his Achilles tendon in the process.
To quote and slightly edit the words of a wise man: "Stuff happens."
Defenders with Suggs' game-changing talent are few and far between, but to say the Ravens are now doomed is a bit dramatic. The three-headed monster of Paul Kruger-Courtney Upshaw-Sergio Kindle is ready to step up and make a major impact.
No need to panic.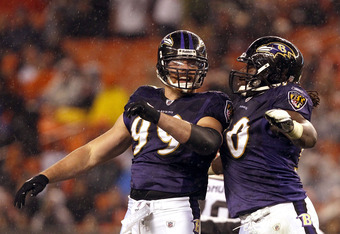 Matt Sullivan/Getty Images
"Randy Moss is Back"
Back where exactly? The NFL? 
Technically, yes. After a brief, one-year retirement, Moss is unretired and a member of the San Francisco 49ers receiving corps. 
Much like Peyton Manning, he looks great without pads, running routes. He's been fluid and fast with reliable hands. 
The cornerback: Casper. 
Even against actual corners in practice, the praise is plentiful but premature. 
This story is stuck in Chapter 1 until the regular season begins. How often the ball is thrown Moss' way and the amount of Alex Smith misfires will pen the remaining chapters.    
Drew Brees' Contract Situation
The New Orleans Saints can't escape the headlines these days. And usually for the worst reasons. "Bountygate," suspensions and the release of Gregg Williams' audio tape have cast a dark shadow over a once-proud franchise.
But those aren't the stories we're sick of. Those are important, trivial matters to be discussed, debated over a beverage or two of your choice. 
Brees' contract situation, however, is not.  
Let's just go ahead and assume the inevitable: Brees is staying.
There. A lot of time and ink was just saved.  
"Terrell Owens Taking his Talents to..."
Cut from the AFL, Owens is shopping his services to teams across the NFL. A used sock on eBay is drawing more interest. 
This should not be a story. No team will acquire Owens and his diva act. The number 38—Owens' age—doesn't help either. 
End of story. 
Oh, and don't even get me started on his "frenemy" Chad Ochocinco.