Boston Celtics: 10 Reasons the C's Are Now Officially Rajon Rondo's Team
Mike Ehrmann/Getty Images

For far too long, elite point guard Rajon Rondo has been hidden behind the Paul Pierce and the Big Three.
In what now undoubtedly has to be the Big Four in Beantown, Rondo has been and is the leader of this championship-contending team.
Whether it's his jaw-dropping production, toughness or sheer will to win, Rondo is one of the more prominent leaders the game has to offer.
Not to mention, a questionable future for the Big Three in Boston gives Rondo all the more room to grow as the leader of this franchise.
These are the 10 reasons why the Boston Celtics are now officially Rajon Rondo's squad.
Begin Slideshow

»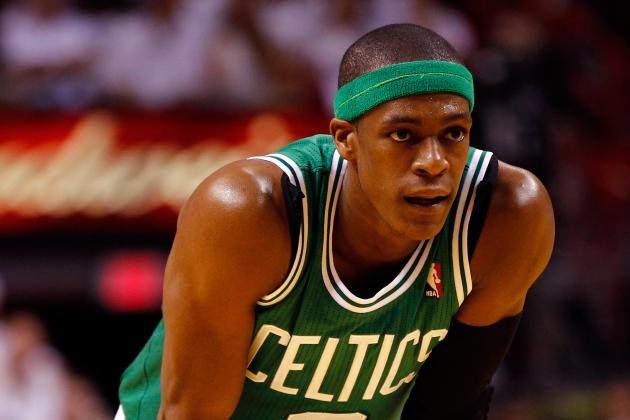 Mike Ehrmann/Getty Images

Championship-contending teams are regularly lifted by a younger superstar, and Rajon Rondo has been and will continue to be that particular player for the Boston Celtics in the future.
This season was easily his most memorable, carrying what was an older, injury-ridden bunch to a 3-2 lead in the Eastern Conference Finals against a heavily favored Miami Heat team.
At just 26 years of age and five years in the league, there is no question Ainge has to be fond of Rondo's future with the team.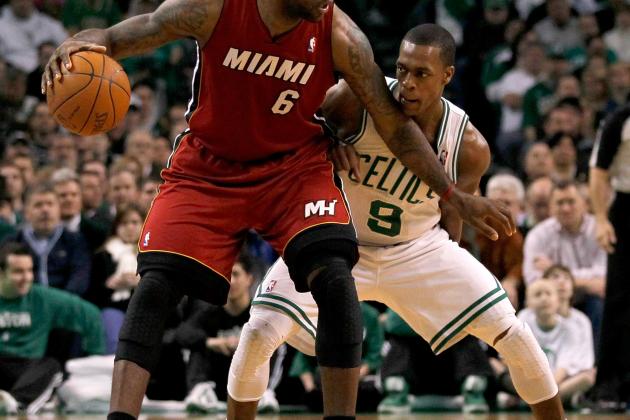 Jim Rogash/Getty Images

Since LeBron James' days in Cleveland, Rondo has taken been willing to take him on defensively at times in both the regular season and the postseason.
In spite of a major size disadvantage against James, it is clear Rondo is both fearless and willing to do what it takes to put his team on his back when they need him to.
Rondo will not shut down a player like James, as the move is more symbolic of his courage and will to win than anything else.
Going forward, it is challenges like covering James that will continue to separate Rondo from other league-elite point guards. It is that type of attitude that a leader like Rondo possesses.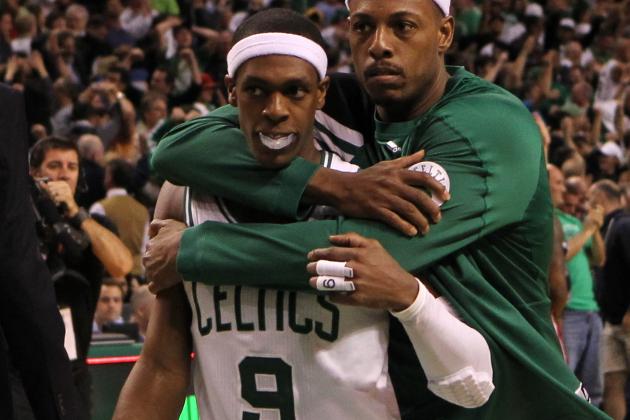 Jim Rogash/Getty Images

Although Danny Ainge could well re-sign Kevin Garnett and Ray Allen this offseason, Paul Pierce and Rajon Rondo are currently the only two superstars signed to the team next season.
If the Celtics are to fail to re-sign either player, Rondo could well be the only other superstar left on this team besides Pierce.
The Truth has been as proficient a Celtic as any in team history offensively, yet his injuries have become a factor over the last couple of seasons.
Rondo could well be in a situation where he suddenly is the main focus of an opponent's game plan and will have to make the proper adjustments next season.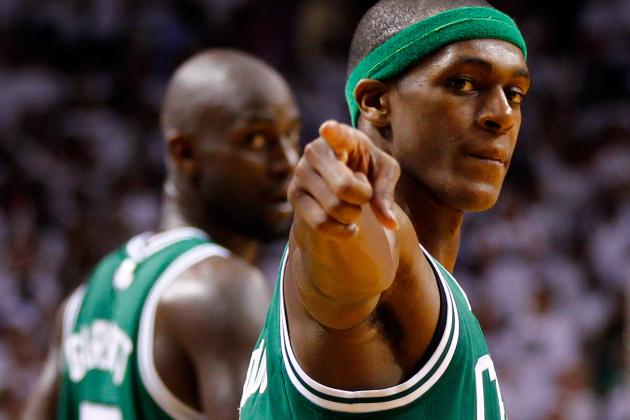 Mike Ehrmann/Getty Images

Down 2-0 to a Heat team said to take out the Celtics with ease in the Eastern Conference Finals, it was easy for this older team to give up and turn the other cheek.
Yet Rondo was not only aggressive and outspoken against the Miami Heat, but he backed it up by leading his Celtics to three consecutive wins to take a 3-2 series lead.
After calling out the Heat for complaining and looking for calls, Rondo boasted some especially solid play.
In the three wins, Rondo racked up a whopping 38 assists and had just 10 turnovers.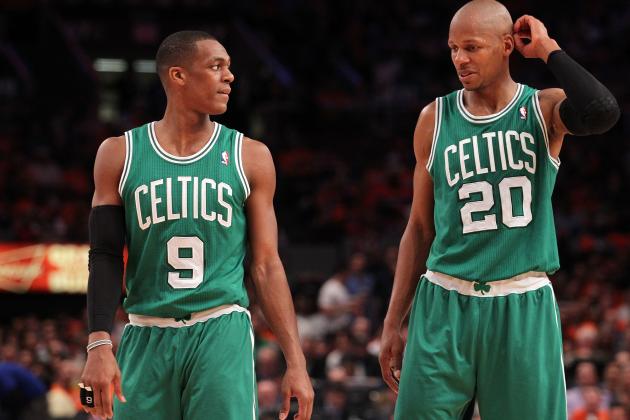 Nick Laham/Getty Images

If there's anyone who knows Ray Allen's sweet-spot on the three-point line, Paul Pierce's prime spot on the low block or the moment Garnett is ready for an alley-oop, it's Rajon Rondo.
A significant reason behind the Big Three not losing much of an edge in their production is in Rondo's ability to give them the ball exactly where these talents can be most effective.
This is not to take away from the offense Garnett, Allen and Pierce bring to the table, yet Rondo's play is undoubtedly the outright reason they are able to produce as effectively as they are.
His 11.9 assists per game in the postseason are a major indicator of how well this talent distributes the rock to his star teammates.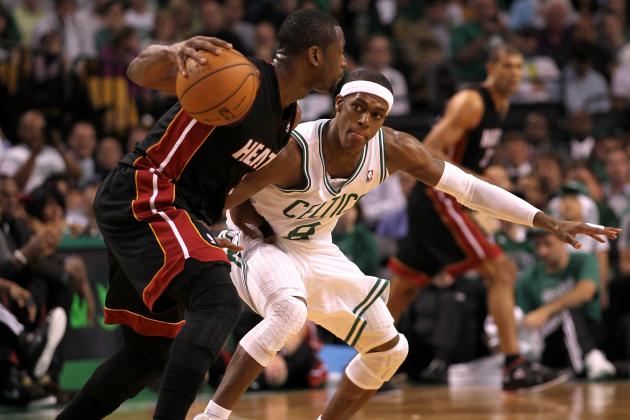 Jim Rogash/Getty Images

There is no secret to why Rajon Rondo was the only player with multiple triple-doubles and five more of them than any other player in the league this season.
With six in the regular season, four in the playoffs and a playoff-high 14 double-doubles as well, Rondo exemplifies the importance of standing out in each area of a basketball game.
He can steal, rebound, pass, score and defend, qualities many players boast no more than a couple of.
His extra effort in these many facets of the game put Rondo in a different class at the point guard spot, and it will be these efforts that continue to add value to his role as a leader.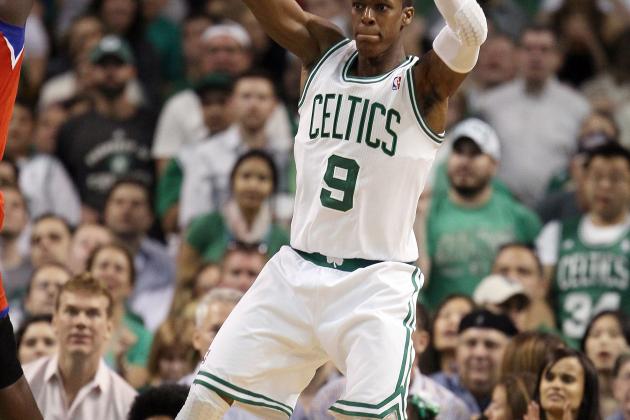 Elsa/Getty Images

A league- and career-high 11.7 assists per contest and a postseason-best 11.9 a game put Rondo in a special class of point guards in this league.
The prowess he possesses in distributing the basketball and getting teammates in shooting rhythm is simply unmatched.
It is a quality that will bode well for Rondo going forward as a leader of this team, as he will have to continue to help improve the offense of players like Jeff Green and Avery Bradley with his passing skill.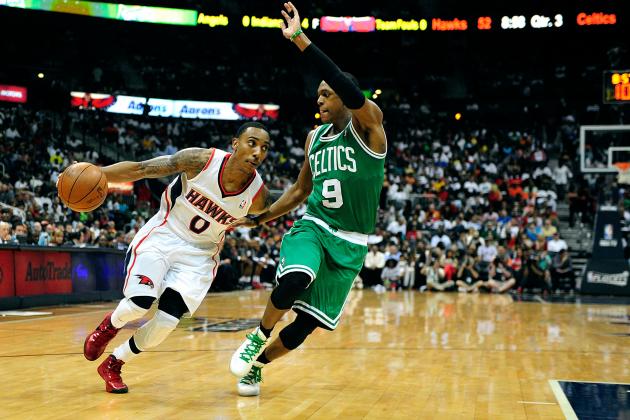 Grant Halverson/Getty Images

Rajon Rondo is an offensive threat with his smart passes and tough scoring, but a lot of his impact is truly felt defensively.
On a team that prides itself on the defensive end of the floor under Doc Rivers, Rondo is just the type of point guard Rivers needs to run the system.
Rondo may cheat on some entry passes and commit reach-in fouls, but his intensity defensively is what makes him such an integral point guard for this team.
It is his defensive style that makes him such a unique fit for this ballclub.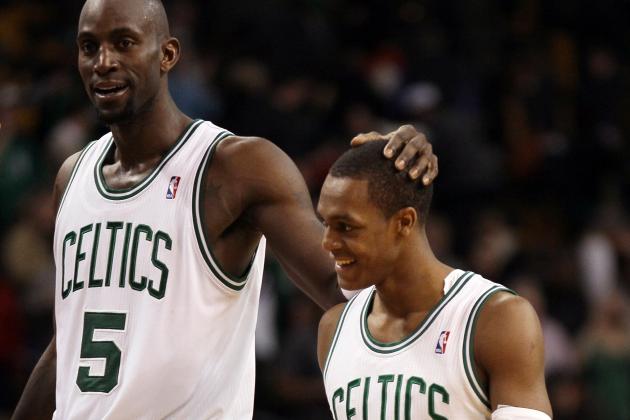 Elsa/Getty Images

Doc Rivers has made it clear that there is one main leader of this Boston Celtics team, and that guy is Rajon Rondo.
In Jeff Zillgitt's USA Today piece, Rivers was quoted as saying Rondo's play has been integral each of the last several seasons.
"I look at this team and last year's team, and last year we would've been out of the playoffs," Rivers said. "I think they understand Rondo is the leader of this team, and everyone follows Rondo."
Rivers believes this is the player of this team's future, and he has made that clear from the beginning.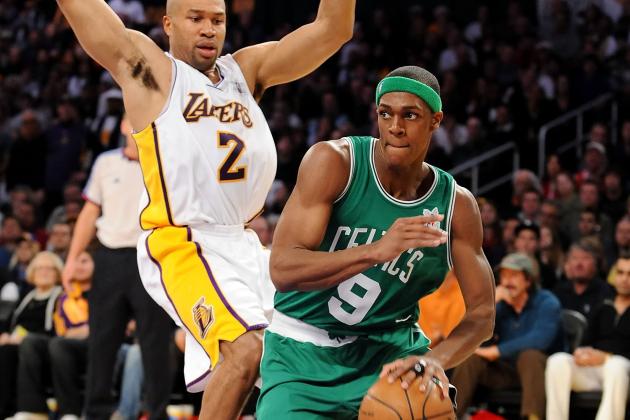 Lisa Blumenfeld/Getty Images

Unlike the Russell Westbrooks, Chris Pauls and Derrick Roses of the league, Rajon Rondo can say he's been there, done that.
The 2008 NBA championship run was one in which Rondo was a major contributor for these Celtics.
Whether it was his near triple-double averages in the Atlanta Hawks series or impressive play against LeBron James and the Cavaliers, Rondo was beginning the process of blossoming into an NBA-elite point guard.
Finding a star point guard with 92 playoff games and a ring under his belt at age 26 is unheard of in today's game.