Why the Pittsburgh Pirates' Long Rebuilding Plan Was Well Worth the Wait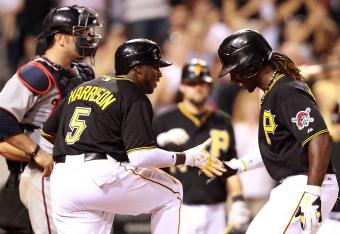 Jared Wickerham/Getty Images
When Neal Huntington accepted an offer to become the Pittsburgh Pirates' General Manager prior to the 2008 season, he took over a team that was coming off its 15th consecutive losing season. He also took over a team that had yet to truly begin rebuilding.
Under previous regimes, the Pirates had been somewhat competitive, but never truly good enough to contend. When veterans were traded, the return was often less about prospects than financial relief, with the Bucs acquiring very little elite talent.
So Huntington set out to blow everything up. Despite a better-than-expected 2008 performance that left the Pirates at 50-58 at the end of the July, the Bucs dealt batting leaders Jason Bay and Xavier Nady to the Red Sox and Yankees, respectively, for eight combined prospects. Five years later, the rebuilding of the Pittsburgh Pirates had finally begun.
Four years of (often unpopular) trades and aggressive drafting later, the Pirates find themselves decidedly on the upswing. Following a 2011 season that saw the Pirates in first place as far along in the summer as late July, the Bucs are once again in the thick of things in early 2012 after starting the season 35-31.
More importantly, the Pirates have the pieces in place to potentially grow this team into a perennial contender.
Small-market baseball teams require at least two core elements in order to contend for sustained periods of time: high-ceiling talent and organizational depth. Good luck is probably a third element, and one that is clearly beyond the Pirates' control. But Huntington's rebuilding plan has given his team a pretty good grasp on the first two and the ability to benefit from the third.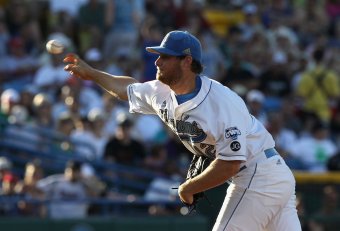 Christian Petersen/Getty Images
The Pirates Have Amassed an Impressive Collection of High-Ceiling Talent

High-ceiling talent is something the Pirates have consistently lacked during their 19-year losing streak. Aside from Brian Giles, it's hard to remember a truly elite player donning the Black and Gold in between the respective eras of Barry Bonds and Andrew McCutchen.
Sure, the Bucs had prospects with high ceilings pass through their system, but never enough at one time to guard against the inevitable flame-outs.
Until now, that is, as suddenly the Pirates' farm system is oozing with this type of talent.
Assuming the Bucs sign 2012 first-round pick Mark Appel, they will have four potential aces in the minor leagues (2011 No. 1 overall pick Gerrit Cole, 2010 No. 2 overall pick Jameson Taillon, Appel, and 2010 international signee Luis Heredia). There may not be another team that can currently make this claim.
While pitching is by far the current strength of the Pirates' organization, the Bucs have plenty of high-ceiling hitters as well. In addition to McCutchen and power-hitting third baseman Pedro Alvarez at the major-league level, the farm system contains potential studs in international signees Starling Marte and Alen Hanson as well as 2011 draft pick Josh Bell, whom the Pirates paid five million dollars in order to persuade him to forego a commitment to the University of Texas.
Some of these players may not appear to be the best example of the Pirates' organizational success.
Alvarez, for example, has largely struggled since his strong major league debut in 2010. Yet this is exactly why it is so critical to have a large collection of high-ceiling players—you know not all of them will succeed. But the more players with elite talent who are in an organization, the greater the likelihood is that a couple of them will develop into stars.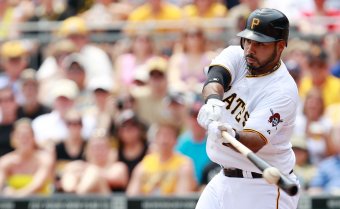 Jared Wickerham/Getty Images
For every Pedro Alvarez and Stetson Allie there is an Andrew McCuchen, a player who lives up to his vast potential and can anchor a team for several years. If the Pirates' four potential aces turn into two, and their four potential superstar hitters turn into two (keeping in mind that McCutchen is already well on his way), they will already be well ahead of the pack.
The Pirates are Establishing Sufficient Depth to Support Their Stars
Young stars go a long away towards helping small-market teams contend, but in order to achieve sustained success home-grown, cost-controlled depth is a must. This is an area where the Pirates have been lacking in recent years, as they have been forced to turn to sub-par veteran free agents to fill (or fail to fill) holes in their line-up.
The Bucs look to be on their way to making this dependency a relic of the past as well.
Their pitching depth is superb, with prospects like Jeff Locke, Rudy Owens, and Kyle McPherson waiting their turn in addition to a bevy of recent high school draftees. Throw in 2012 breakout player James McDonald, and the Pirates should have no trouble filling the No. 3-5 slots in their rotation over the next several years.
Hitting depth has been the primary concern regarding the Pirates' farm system, but they are quickly improving in this area as well. Players like Robbie Grossman, Alex Dickerson and Barrett Barnes are becoming much more commonplace in the Bucs' organization, and suddenly the Pirates are 2-3 deep with legitimate prospects at several positions.
While this remains the Pirates' greatest organizational weakness, it is no longer their achilles heel.
When will the Pirates end their streak of consecutive losing seasons?
A Miracle is No Longer Needed

The most critical thing that underlines the Pirates' bright future, the true reason the Bucs can contend for much of the next decade, is that they no longer will need everything to break just right for them in order to be successful.
Mark Appel may never find that extra gear and could instead develop into a No. 4 starter, but the Pirates could survive that because they are not depending on him as their one potential ace. Robbie Grossman may never become an average regular; the Bucs have guys like Barrett Barnes, Mel Rojas Jr. and Gregory Polanco who all have the potential to step up.
Suddenly, the odds aren't stacked against the Pirates.
They can afford a few mishaps or unexpected disappointments and still field a team with several potential franchise cornerstones. They have the chips in place to compete not just for a .500 record in the near-term, but for the playoffs and a World Series in the long-term.
As a Pirate fan who wants to see this team not just record a winning season, but truly contend, it's well worth the wait.
This article is
What is the duplicate article?
Why is this article offensive?
Where is this article plagiarized from?
Why is this article poorly edited?

Pittsburgh Pirates: Like this team?