Euro 2012: How Greece Can Upset Germany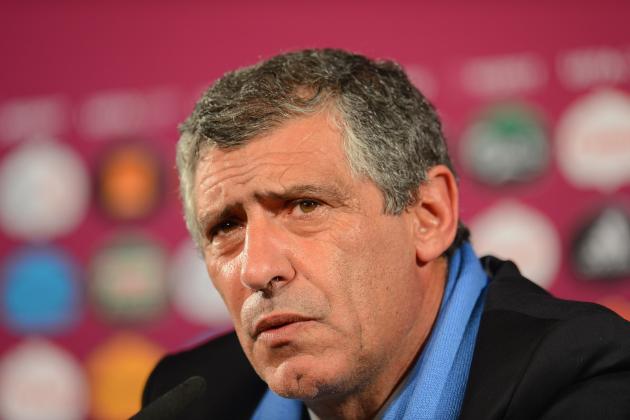 Handout/Getty Images

Shocking the world is what was said when Greece won the Euro 2004 tournament.
The 150-1 underdogs beat tournament favorites France, Czech Republic and Portugal to win it all back in 2004. Now Greece is back in the quarterfinals, where it can pull off what will be the biggest upset of the tournament if they beat Germany on Friday.
No one is giving Greece any realistic chance of beating Germany. According to Skybet.com, Greece is a 9/1 underdog to beat Germany on Friday and has a 50/1 chance of winning it all.
Even though all the book makers are giving Greece no shot at beating Germany, coach Fernando Santos has showed that with effort and a strong game plan, anything is possible on the field.
With that said, here is how Greece can pull the biggest upset in Euro 2012 with a win on Friday.
Begin Slideshow

»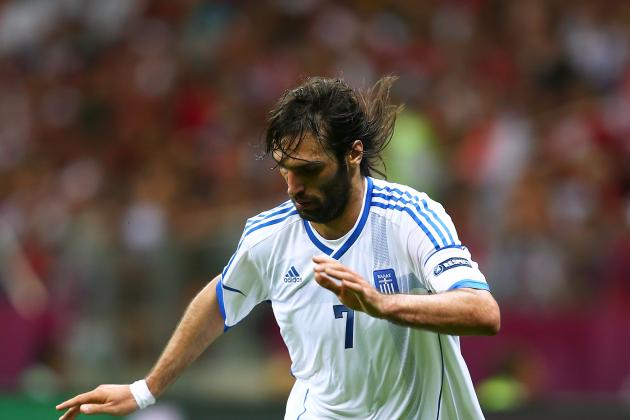 Michael Steele/Getty Images

Georgios Samaras was finally the player that everyone envisioned him to be against Russia. He was using his height to win headers offensively and defensively. He was aggressive with the ball, attacking the Russian defense all over the field.
Samaras was helping out his defense, slowing the Russian attack in the midfield and allowing his teammates to set up their defense. Georgios was the outlet to spring the counter attack, and when not pressing the Russian defense he dribbled in and around everyone, giving his team time to rest. The only thing missing from Georgios' game vs. the Russians was a goal.
Greece will need another performance like this if they expect to pull an upset. Samaras must attack when giving the ball along the right side of the German defense. If Samaras becomes the viable offensive threat he was against Russia, Greece will be able to find some open space in the midfield for whomever replaces Georgios Karagounis.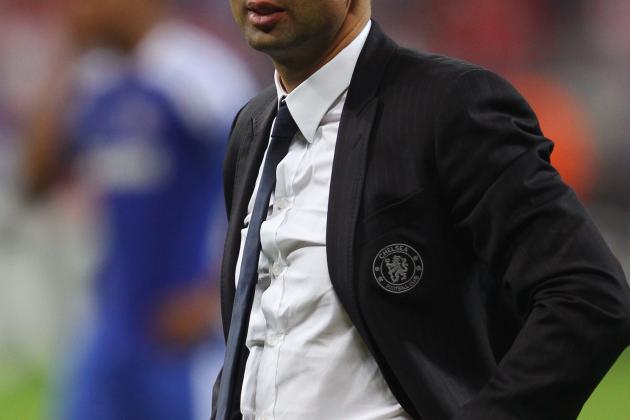 Alex Livesey/Getty Images

Down four starters due to suspension or injury, Roberto Di Mateo relied on his defense to win him the game. The plan was simple: congest the midfield with as many players as possible, slow down the Munich attack and force them to beat you from outside, and allow Munich to control the possession and force them to beat you with after a long build up.
Greece can do the same thing Chelsea did to Germany. Greece has two very good center backs in Kyriakos Papadopoulos and Sokratis Papasthopoulos. Both are physical and aggressive in defense. Add in defensive midfielders Kostas Katsouranis and Giannis Maniatis and the field will be congested even more.
Germany has struggled so far in this tournament when forced to slowly build an attack. They seem to be missing that final pass to create a scoring chance. Greece is very good at defending, especially when defending a lead. Everyone will be back on defense congesting things even more.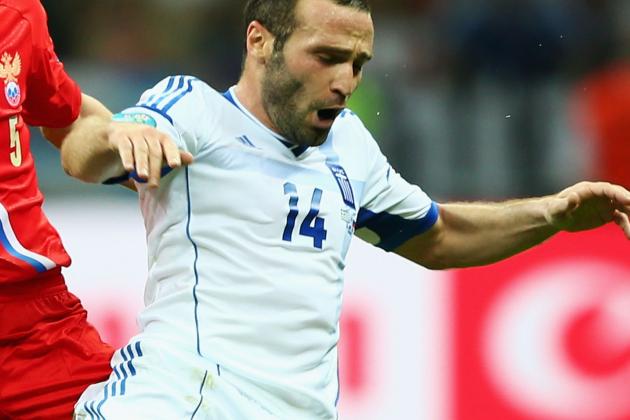 Michael Steele/Getty Images

After Portugal hit the crossbar against Germany off a set piece and Denmark scored off one, Germany has a weakness that Greece can exploit.
Greece scores most of its goals off set pieces. With the game going to be slowed down, Greece can use players like Samaras, Papastathopoulos and Katsouranis to free up players like Salpagidis and Torosidis, who are always buzzing around the net looking to pounce on a free ball.
Even missing Georgios Karagounis due to suspension, Greece still has two reliable free-kick takers in Georgios Tzavellas and Tzavellas, who nearly put the game out of reach against Russia by slamming the corner post with a free kick.
With the addition of either Georgios Fotakis or Sotiris Ninis, Greece have yet another option on the ball.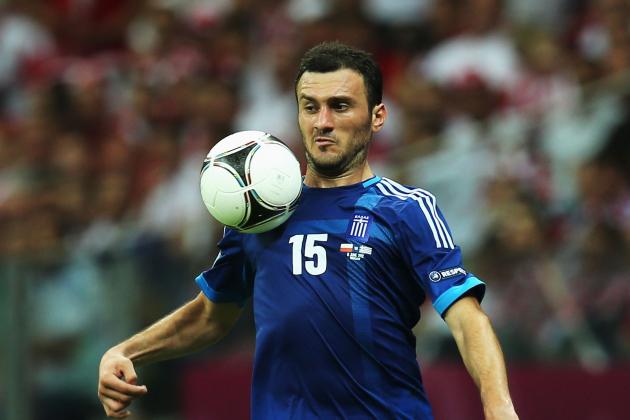 Alex Grimm/Getty Images

If Greece is going to have any success offensively, they will need a big contribution from Vasilis Torosidis.
Torosidis is having a fine tournament so far. His over-lapping runs against Russia led to Greece getting an early scoring chance. His ability to play midfield makes him no stranger to scoring goals or finding the open man.
Vasilis will move up and join the rush with Giannis Maniatis, filling in for him on the defensive side. Torosidis has scored several important goals for Greece in the past including the game winner against Nigeria in the World Cup back in 2010.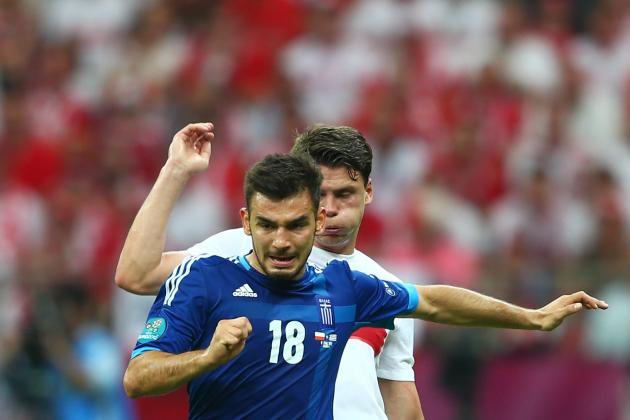 Michael Steele/Getty Images

Can the real Sotiris Ninis please stand up?
If Greece gets the Ninis that played against Poland in the first game, the Greeks are in trouble. If Greece gets the wonder kid that made a name for himself against Germany back in 2007 in the U-19 European Championships, Greece could shock the world.
Pananthaniakos fans have waited patiently for Ninis to develop into a star. He always showed flashes of his talent and ability to put his team on his shoulders and lead them to victory. Unfortunately, it hasn't happened as frequently as they would like.
For Greece to get an upset, Ninis will need to be at his best and move back to the middle—a more natural position where he can excel. As creative a midfielder as they come, Ninis has enough talent around him to where he doesn't have to be the focus on offense.
Georgios Fotakis, who was denied a goal vs. Czech Republic on an "offside" call, is Greece's other option in midfield to replace Georgios Karagounis. Fotakis is another veteran coach Fernando Santos can call upon to play any role.
Georgios scored the goal that got Greece into the 2012 European Championship vs. Malta in their last qualifier. An adept free-kick taker, Fotakis can simply slide into the role that Georgios Karagounis vacated with his suspension.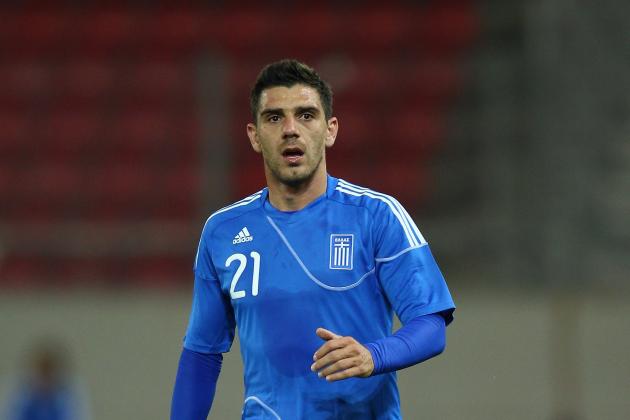 Julian Finney/Getty Images

When asked his prediction of the upcoming game vs. Germany, Kostas Katsouranis jokingly said, via ekathimerini.com:
We will advance in the penalties against Germany, we will score all spot kicks there, that's why we missed them in the previous games.
Greece's coach Fernando Santos has got his team believing that they can advance and shows in the players.
While everyone will expect Germany to thrash Greece and walk into the semifinal round, it's not going to be that easy for Germany. Greece will make them earn it. Don't look for a pretty game. Look for Greece to slow it down and force Germany to beat them after a long build up.
Greece will never give up. They will fight Germany from the opening whistle. Greece's center backs have a slight edge in this match up knowing the German star's tendencies by playing with and against them all season long in the Bundsaliga. If the back line hold up, I won't be shocked if Greece take this game to extra time.
I'll go with Germany to beat Greece 1-0 in extra time.