Andy Murray: Experts Weigh in on His Wimbledon Championship Chances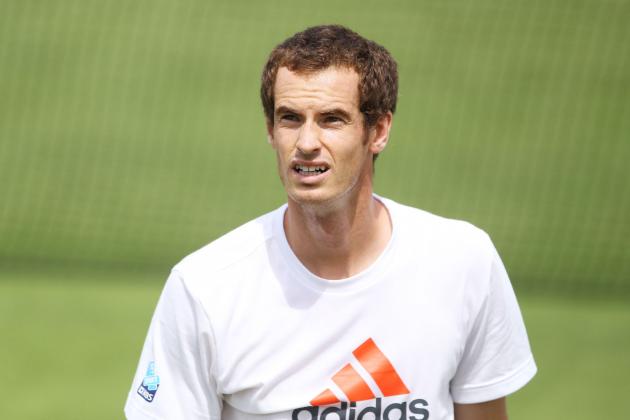 Dan Kitwood/Getty Images

It has been 76 years since a British male won at Wimbledon, and in that time, there have been a series of pros who the British public has pinned their collective hope on.
Andy Murray is the current great hope for Britons, yet his inability to win at Wimbledon has been both disappointing and perplexing to fans. He has lost at Wimbledon six times, with three of those defeats at the hands at Rafael Nadal, and in the past three years he has lost in the semi-finals.
Murray is not only the Brit with the most likely chance of winning at Wimbledon, he is also perhaps the most likely of any competitor to defeat the Big Three: Nadal, Roger Federer, and Novak Djokovic. Djokovic or Nadal have won all of the last nine Grand Slam tournaments, and the Big Three have won 28 or the 29 past majors, going back to Nadal's victory in the 2005 French Open.
Few expect this year to be any different: in an ESPN.com poll of 11 experts who were each asked to predict the tournament winner, Nadal and Federer each got four votes, with Djokovic earning three.
It is quite possible that tennis fans will have to wait until the Big Three hit their inevitable declines before other competitors begin to collect hardware. Yet if someone is going to provide an upset, Murray, with his home court advantage and mentorship of newly hired coach Ivan Lendl, might just be the man to do it.
Here we look at what several tennis experts have to say about Andy Murray's chances at Wimbledon.
Begin Slideshow

»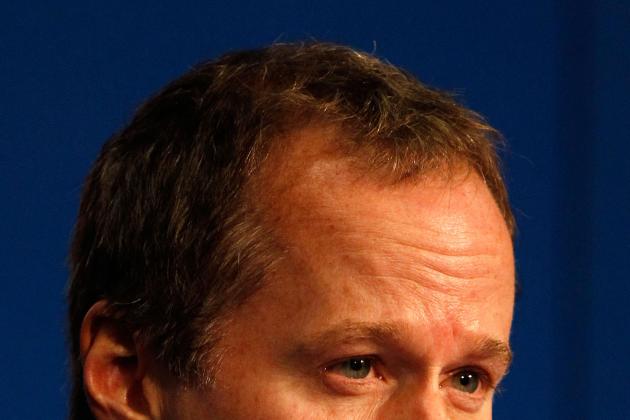 Matthew Stockman/Getty Images

In a recent ESPN chat, former Davis Cup captain and tennis analyst Patrick McEnroe expressed skepticism regarding Murray's chances of winning at Wimbledon this year, comparing him to a golfer who has been unable to win his first major. He stated:
"It's a large assumption to think he will win one. It's getting harder and harder every year just because the other players are getting better and better and he is getting older. It's like Sergio Garcia. Remember when he was always on the verge of winning?"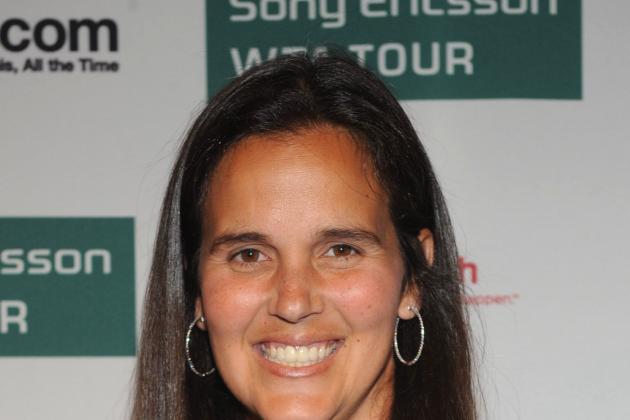 Brad Barket/Getty Images

In the same ESPN chat in which Patrick McEnroe expressed doubt regarding Murray's chances, tennis analyst Mary Joe Fernandez was far more optimistic than her co-host, writing:
"I predicted at Australia he would win Wimbledon. He plays well on the grass. He doesn't have a lot of pressure on him right now so that could help."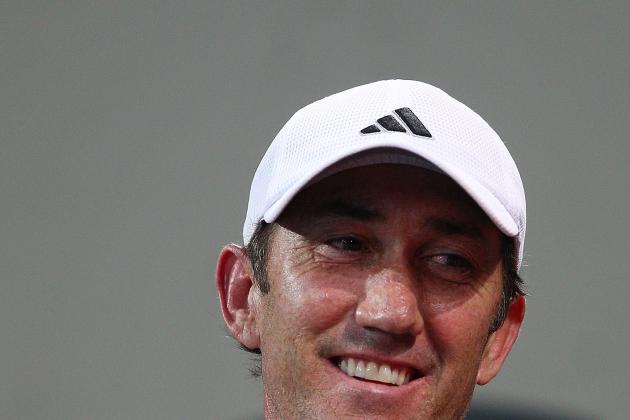 Chris Hyde/Getty Images

Tennis coach and analyst Darren Cahill isn't ready to predict a victory by someone other than the Big Three, but he believes that if someone else is going to win at Wimbledon, Andy Murray has the best chance.
"Murray does have the best chance, but realistically you can't really back Murray to win one of these things until he does.

You don't make four semis or better last year without being good enough to do it at the Slams. And I feel like the other big factor Murray has going for him is he still has that number four seeding, which is huge because that means he has to go through two of those guys. Everybody else has to go through three of those guys."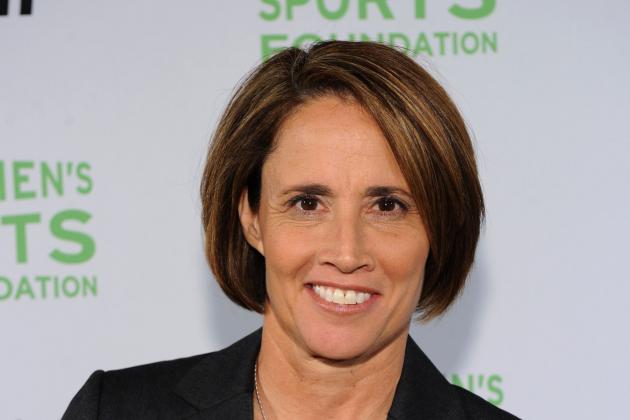 Bryan Bedder/Getty Images

Former tennis pro and current analyst Mary Carillo believes that Murray's sole barrier to winning at Wimbledon is his mental game. She wrote:
"Murray's issues aren't technical; his strokes are fine, and so is his fitness...

In his two Grand Slam finals, it wasn't his strokes...

Like Lendl against McEnroe in 1984, Murray may have to make that breakthrough before he wins the big one, in order to win the big one. It will be harder for him because the three guys ahead of him don't tend to melt down—he will have to bear them on his own…except, perhaps, with the help of Ivan (Lendl)."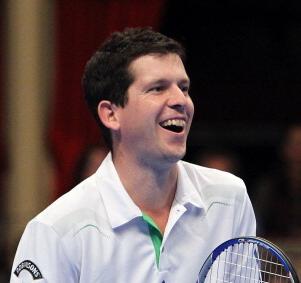 Jan Kruger/Getty Images

Former Wimbledon semi-finalist Tim Henman is a believer in Andy Murray's ability to win Wimbledon, saying that his physical play is fine, but worries about his mental approach.
"The biggest challenge for Murray is dealing with adversity. When he is playing well and everything is going well, he can win everything. He's that good. When things aren't going well, his challenge is not to get frustrated."
Mike Hewitt/Getty Images

Novak Djokovic is obviously hoping for a championship after his loss to Rafael Nadal at the French Open, but while many experts expect that a Djokovic final would likely be against Nadal or Roger Federer, Djokovic is not ready to count out Andy Murray.
"Andy's chances are always strong. Maybe the media is too hard on him for not winning a grand slam, but he's a quality player.

He's an all-round player who can play on all different types of surfaces. He's been in the semi-finals of Wimbledon three times, he just needs a little bit of luck and a good day when he plays big matches."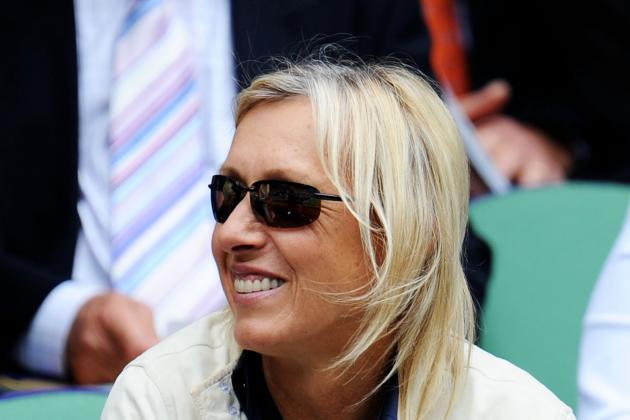 Clive Mason/Getty Images

Martina Navratilova believes Murray is one of the best players in the world, but that he's not at the level of Nadal, Djokovic, and Federer. She recently said (via The Daily Mail):
"I see it as a top three. Andy is not in the mix.

I mean he gets to the semi-finals. He's been to a couple of finals but Djokovic, Nadal and Federer are head and shoulders above everybody else. Those guys are just playing on another level...

He was closer to it last year. At the Australian Open I thought Andy played very well, and Ivan Lendl has made a big difference in his game, and an even bigger one in his attitude. He was head and shoulders above where he was before, with his attitude and his composure on the court, and he played so much better because of it.

Does he have a Grand Slam in him? Absolutely. But he is coming up against very good guys. I just do not know if it can happen now because Nadal and Djokovic are just playing better, no matter how good his attitude is, they are just playing better. It is a bigger gulf for him than it was for Tim Henman."
Unsurprisingly, Ladbrokes, the largest British gambling site, has Djokovic, Nadal, and Federer as the clear favorites to win at Wimbledon, with Federer offering the best payout of the three at 9/2. The only remaining competitor at better than 25/1 odds is Andy Murray at 8/1.
Part of Murray's odds are surely due to some Brits wanting to bet on the local favorite to win. Still, these odds demonstrate that for those who are willing to put their money on the line, the belief is that Andy Murray offers the best chance of anyone to defeat the Big Three.