NBA Finals 2012: Down 3-1 After Loss to the Heat, Can Thunder Come Back?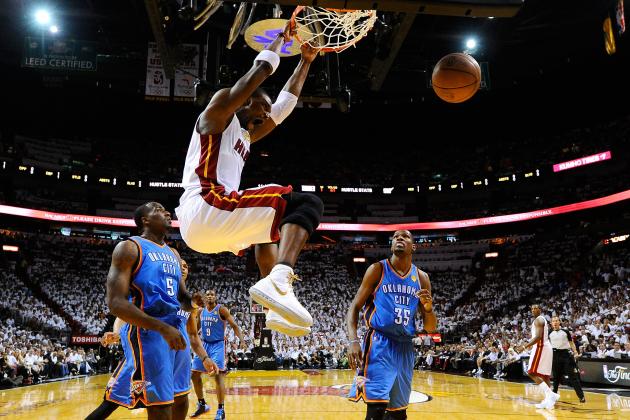 Pool/Getty Images

The Miami Heat have gone up three games to one over the Oklahoma City Thunder in the NBA Finals with a 104-98 victory in Game 4.
The dramatic storylines in this series have been many, including the "dream team" of LeBron James, Dwyane Wade and Chris Bosh trying for the second consecutive year to win a title that has thus far eluded James, one of the greatest in the game's history.
Then there's Kevin Durant, the man who has burst onto the NBA's biggest stage with amazing performance after amazing performance to carry the Thunder to an unlikely berth in the Finals. Durant's now famed killer instinct has brought OKC into a David vs. Goliath matchup.
But Goliath is now in control of this series, and the Thunder find themselves one game away from losing the championship.
Do they have enough for an epic comeback?
Begin Slideshow

»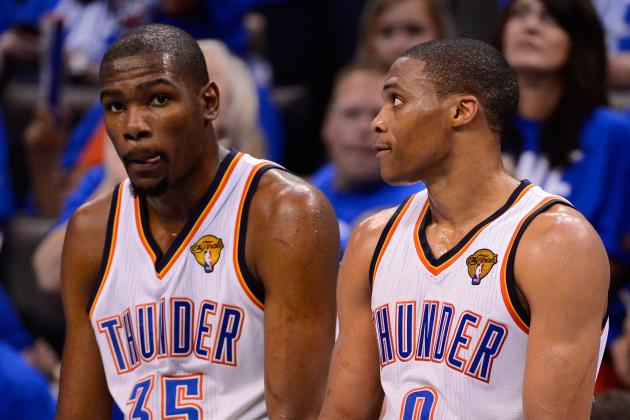 Ronald Martinez/Getty Images

Kevin Durant is averaging 30 points per game in the Finals, and teammate Russell Westbrook is averaging 29, including an explosion for 43 points in Oklahoma City's Game 4 loss in Miami Tuesday night.
The Thunder aren't getting nearly enough from their bench, or even from anyone not named "Durant" or "Westbrook." That dynamic duo scored 71 of OKC's 98 points Tuesday night, and it just wasn't sufficient.
If the Thunder are going to compete with their backs against the proverbial wall, Durant and Westbrook need some help.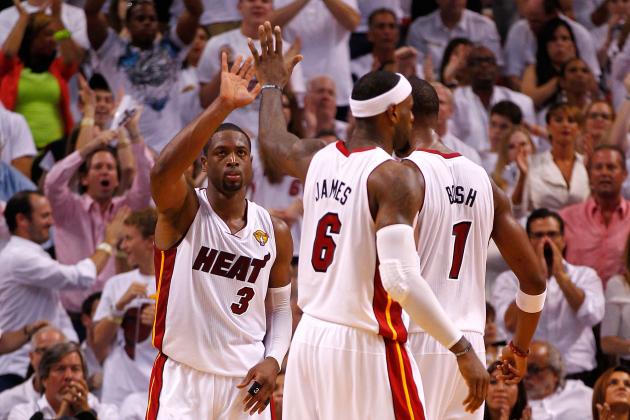 Mike Ehrmann/Getty Images

When LeBron James chose to leave Cleveland for Miami in 2010, he cited the need for a supporting cast that would help him get to and win the Finals.
When his new squad fell short of that goal in 2011, the failure to win a ring fueled speculation as to whether the Heat were built for a title or for an expensive early exit from the postseason year after year.
But Game 4 of this year's finals showed that LeBron is not alone on the floor; he's getting the help he wanted.
As James' minutes were limited by cramps, Dwyane Wade, Chris Bosh and, surprisingly, Mario Chalmers stepped up to lead the Heat to a come-from-behind victory.
Chalmers, who had been averaging just 5.6 points per game thus far in this series, erupted for 25 for Miami, propelling the Heat to a huge victory that puts them on the brink of a title.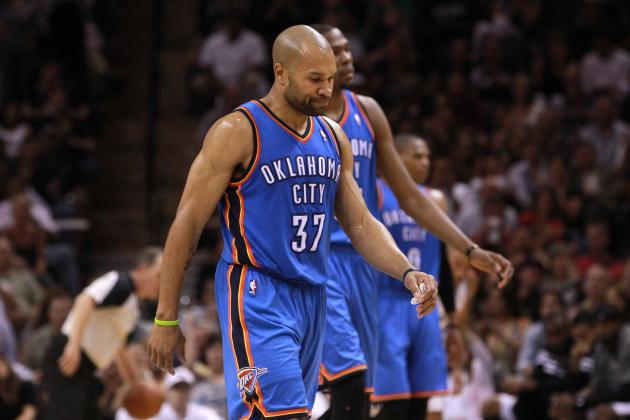 Ronald Martinez/Getty Images

The series win-loss record for teams that have gone down three games to one in the NBA Finals?
0-30.
History isn't on Oklahoma City's side.
Doug Benc/Getty Images

After all that the Oklahoma City Thunder have gone through to get this far, they've got another win in them in this series.
Kevin Durant will be heroic once more in Game 5, but LeBron James and the Heat will claim that long-awaited NBA title in six games.