Stat Projections for Every Denver Broncos WR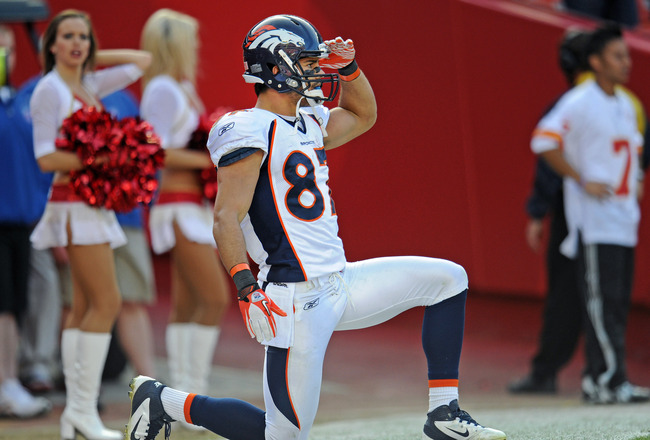 Peter Aiken/Getty Images
The one positional group that is set to break out more than any other in Denver is wide receiver. What remains to be seen is what that "break out" will equate to in yardage and touchdowns.
Eric Decker and Demaryius Thomas are quickly becoming fantasy darlings based on the prognostications of the experts, but what about the rest of the names Manning will be throwing to?
It is useful to compare the receivers to former players that Manning has worked with, as well as past performances by the current players on Denver's roster.
With all of that in mind, here are the projections for the top five wide receivers in Denver for 2012.
Eric Decker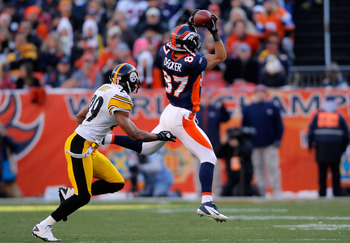 Justin Edmonds/Getty Images
If Decker was going to be compared to a former companion of Peyton Manning in Indianapolis, it would most likely be Reggie Wayne. Wayne was not the home run hitter in his partnership with Marvin Harrison, but that doesn't mean that he (or Decker) are not capable of breaking the long touchdown catch.
Still, it isn't out of the realm of possibility to say that Decker comes close to doubling his output from last season considering he has an MVP throwing the ball his way.
Touchdown-wise Decker was very productive last season and may not increase drastically from the eight scores he hauled in last year.
2012 Stats: 98 rec., 1,124 yards, 10 TD
Demaryius Thomas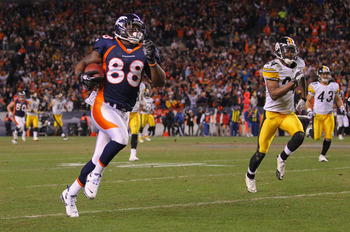 Doug Pensinger/Getty Images
Comparing Thomas to Marvin Harrison in stature would be a tough sell for most people, but the fact is that both receivers were, and are, the biggest deep threats on their respective rosters.
Thomas is a tough player to project because there is no past precedent of a full NFL season to extrapolate from. Last season was the first prolonged period of promise that Thomas ever displayed, but what he showed was very heartening for Denver.
Demaryius is easily the player most poised to have a huge season and blossom under Manning in 2012. Does that mean he will match Harrison's career high of over 1,700 yards and 143 receptions? Probably not.
Still, he will have a higher average yardage per catch than Decker, leading to more yardage and TDs despite possibly catching fewer balls in 2012 than his teammate.
2012 Stats: 89 rec., 1,398 yards, 12 TD
Andre Caldwell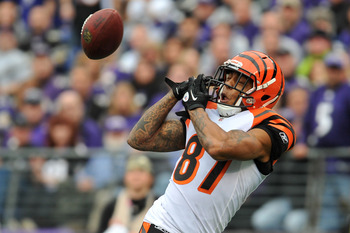 Larry French/Getty Images
Andre "Bubba" Caldwell is a free-agent acquisition that is currently flying under the radar amongst NFL experts and fantasy freaks in terms of what to expect from him next year.
His numbers will not approach those of his teammates, but looking back on his past in Cincinnati—when he actually played a full season in a similar capacity—he chipped in with around 50 catches and a little over 400 yards. Look for more of the same in Denver playing as a third wideout.
2012 Stats: 56 rec., 565 yards, 4 TD
Brandon Stokley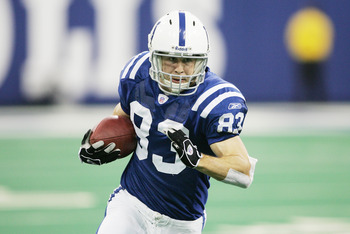 Andy Lyons/Getty Images
Can Brandon Stokley (and Peyton Manning for that matter) make like it's 2004 again and gain over 1,000 yards in receiving?
In a word...no.
However, he has a natural connection with Manning and a veteran savvy that a good quarterback can make good use of. Coming out of the slot should make him a valuable weapon and maybe a guy who converts in short-yardage situations.
2012 Stats: 63 rec., 654 yards, 8 TD
Matthew Willis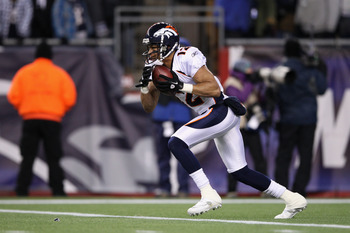 Elsa/Getty Images
The word most commonly attached to Matt Willis during his time with Denver has been "potential," and that word could turn into a realization for Denver this season.
Last season was the first full season on the roster for Willis, but the passing attack was not conducive to him showing off all his skills.
It's anyone's guess as to whether or not Willis can actually be the man to make the roster and see the field as Denver's fifth wide receiver, but suffice it to say that whoever inhabits this spot in the offense should chip in the same amount.
2012 Stats: 36 rec., 453 yards, 2 TD
Keep Reading

Denver Broncos: Like this team?