NBA Draft 2012: Ranking the 5 Best Rookie Shooting Guards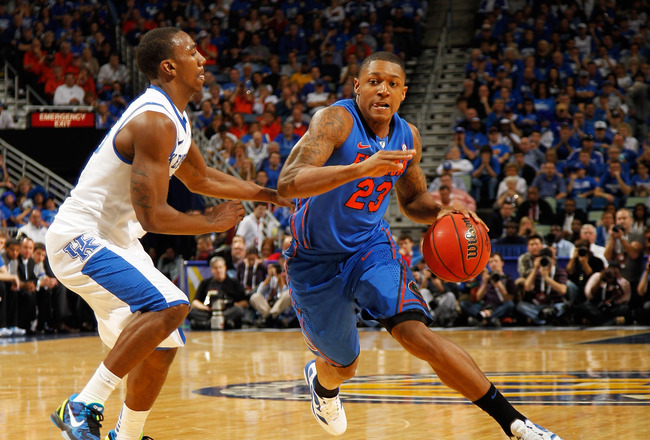 Chris Graythen/Getty Images
While the presumed No. 1 pick is big man Anthony Davis, the most talent in the 2012 NBA Draft could belong to the shooting guard position.
This class of shooting guards is extremely deep, especially at the top where there are at least five players projected to go as lottery picks.
There are several teams in need of depth at the guard spot and on the wing, including lottery teams like Charlotte, Cleveland, Toronto, and Phoenix.
Here we take a look at the top five ranked shooting guards in the 2012 NBA Draft.
Bradley Beal, Florida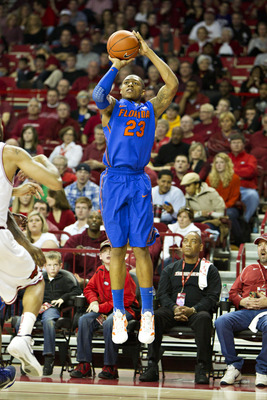 Wesley Hitt/Getty Images
In ESPN.com's Chad Ford's Big Board, he describes Bradley Beal as "Ray Allen meets Eric Gordon."
That by itself should have scouts drooling over Florida's 6'4" shooting guard who is expected to go with one of the three picks that follow New Orleans and Anthony Davis.
After averaging 14.8 points and an impressive 6.7 rebounds per game during his freshman year, Beal goes into the draft ranked unanimously as the No. 1 shooting guard in the 2012 class.
Beal possesses a unique blend of uncanny strength and deadly shooting touch and range. With a muscular build, Beal should have no problem finishing around the hoop in the NBA.
In an article with the Florida Times-Union, Billy Donovan praised Beal's leadership and work ethic, two attributes that will help him transition to the rigors of the NBA.
The main thing that will put Beal in the hunt for Rookie of the Year is his shooting ability because he has the potential to become one of the best three-point shooters the NBA has to offer.
Projected Pick: No. 4 to the Cleveland Cavaliers
Jeremy Lamb, Connecticut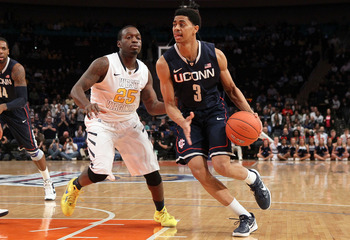 Jim McIsaac/Getty Images
While he didn't exactly build off his impressive performance as a freshman in UConn's National Title run like he'd hoped, Jeremy Lamb is a lock to be a lottery pick in the 2012 NBA Draft.
The 6'5" Lamb is a long, wiry guard who is about as explosive a player off the wing as there is in this draft.
Couple that with a feathery jump shot and you have the makings of a shooting guard who could put up some solid numbers as a rookie next year.
Lamb's biggest shortcoming has nothing to do with his skill on the basketball court, but rather lies in his lack of aggression, more specifically his assertiveness on the offensive side of the ball.
While he averaged 17.7 points per game as a sophomore under Jim Calhoun, Lamb had the tendency to disappear from the offensive flow of the game at times, especially when the team started to struggle to put up points.
However this is something that can easily be resolved with added confidence in his impressive game and maturity from a young man who just recently turned 20 years old.
Projected Pick: No. 8 to the Toronto Raptors
Dion Waiters, Syracuse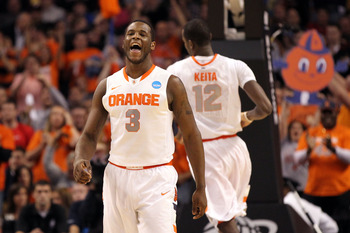 Jim Rogash/Getty Images
Perhaps it is a little unfair to put such pressure on the 20-year-old from Syracuse, but Dion Waiters is already drawing comparisons to Miami Heat star Dwayne Wade.
While that would be a best-case scenario for Waiters, he does possess many of the same slashing and attack the basket skills that Wade has.
Waiters had a breakout year for the Orange and coach Jim Boeheim, as he averaged 12.6 points a game and was a scoring threat on a talented roster.
At 6'4" 221 lbs., Waiters has a strong build for a guard, and he does a great job finishing around defenders while drawing contact in the process.
A surprisingly efficient scorer, Waiters has a solid mid-range jumper that he has confidence in, but it remains to be seen how his long-range shot will develop.
If he can develop a consistent three-point shot to go along with his slashing abilities, Dion Waiters could end up being the best shooting guard drafted in 2012.
Projected Pick: No. 13 to the Phoenix Suns
Austin Rivers, Duke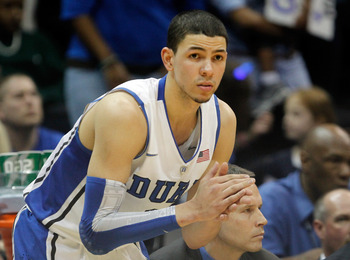 Streeter Lecka/Getty Images
Austin Rivers was one of the top freshman in the country heading into the 2011-2012 season at Duke, but he had an up-and-down year for the Blue Devils.
The son of Celtics coach Doc Rivers, Austin definitely showed why he has the potential to be a special player in the NBA, peaking with his game-winner in Chapel Hill against the Tar Heels.
He also struggled with inconsistency and questionable decision making at times. The Blue Devils' season came to a crushing end when they lost to 15-seed Lehigh in the NCAA Tournament.
Despite all of this, Rivers displayed some of the elite skills during his freshman year that have some teams thinking they can grab a superstar player with a mid first-round pick.
At 6'5" 200 lbs., Rivers is somewhat of a hybrid guard, though it is my belief that he will be a shooting guard in the long run.
This will allow him to focus more on scoring the basketball and being more selective with his shots rather than having to worry about having the ball in his hands at all times and creating for others.
Austin Rivers has had the luxury of having an NBA coach as a father and got to play for one of the best coaches for the world in college in Mike Krzyzewski, which gives him a significant advantage as he transitions to life in the NBA.
Projected Pick: No. 14 to the Houston Rockets
Terrence Ross, Washington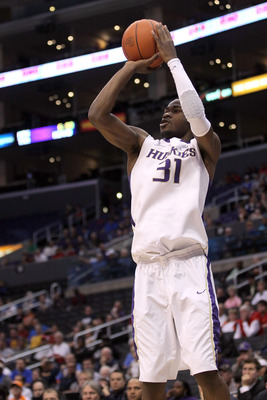 Stephen Dunn/Getty Images
After a breakout sophomore year at Washington, Terrence Ross is rising up draft boards perhaps faster than any other prospect in the 2012 NBA Draft.
At 6'7", Ross is perhaps the most well-rounded player on this list outside of Bradley Beal, and he could be a big contributor right away in 2012.
The biggest strength to Ross' game is his jump shot because he has a high, quick release that he can get over taller defenders.
He shot 37.1 percent from three-point range during the regular season at Washington, and he profiles to be an exceptional long-range shooter in the NBA.
With a fearless attitude on the court, Ross also should be a very good defender on the wing in the NBA, another skill that could help ease the transition during his rookie season.
While he relied heavily on his athleticism in college to get to the basket, Ross will need to improve on his ball-handling at the next level if he wants to become more than just a shooter.
He will also need to add on strength to be able to survive in the paint, though he should have no problem doing that with an ideal frame to fill out.
Terrence Ross' name is flying up draft boards as the draft comes closer, and although he is ranked as the No. 5 guy on this list, don't be surprised if he is drafted higher than the other guys in the first round.
Projected Pick: No. 15 to the Philadelphia 76ers
Keep Reading