Miami Dolphins: 5 Storylines That Would Make 'Hard Knocks' Must-Watch TV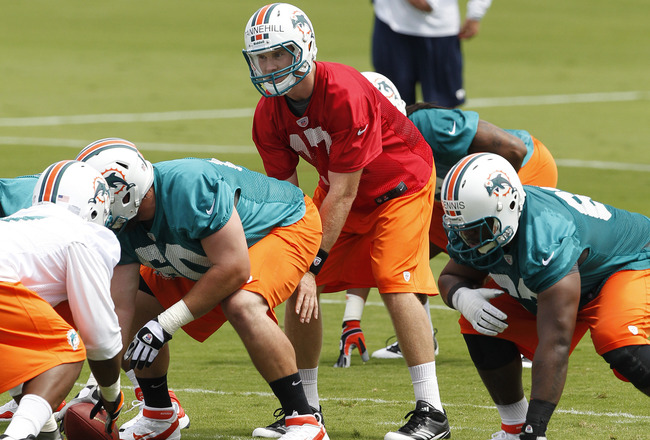 Joel Auerbach/Getty Images
This season of Hard Knocks featuring the Miami Dolphins promises to have plenty of highly entertaining storylines for viewers to watch.
Every season of Hard Knocks has at least one or two intriguing storylines—a long shot trying to make his way onto the team against all odds, an intense position battle that goes down to the wire or just seeing how new pieces will fit onto the team and those players' relationships with their teammates.
Hard Knocks with Miami promises to have all of these storylines and more. It should be a memorable season, and as a fan, I'm really looking forward to it.
So, here are five storylines that will unfold this season on Hard Knocks that will make the acclaimed HBO series must-watch TV for hardcore football fans and casual viewers alike.
1. How Will Chad Ochocinco Fit In as a Miami Dolphin?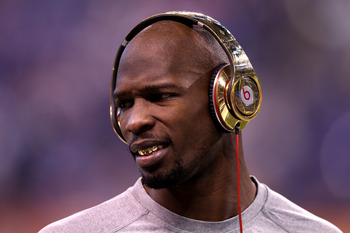 Elsa/Getty Images
Chad Ochocinco has long been one of the most polarizing players in the NFL. Love him or hate him, Ochocinco is always outspoken and is always good for an interesting quote.
There's no doubt that HBO will get him to say a few funny lines, and we're bound to hear at least one or two "child please" quotes. Ochocinco is an entertaining guy, and HBO will no doubt give him a lot of screen time on this season of Hard Knocks.
However, while Ochocinco will provide a few laughs, he's at a serious crossroads in his career. He's now 34 years of age, and if he can't rebound from what was an extremely disappointing season in New England last year, his career as a professional football player will be all but over.
Will Chad flourish in his new home in South Beach, or will he once again be a major letdown? Will Chad fit into a new system after, according to Pro Football Talk, he struggled to grasp the playbook in Foxboro?
Ochocinco's ability to fit in as a Dolphin will definitely be explored this year. Whatever happens, it'll be fun to watch.
2. How Will Joe Philbin Fare as Miami's New Head Coach?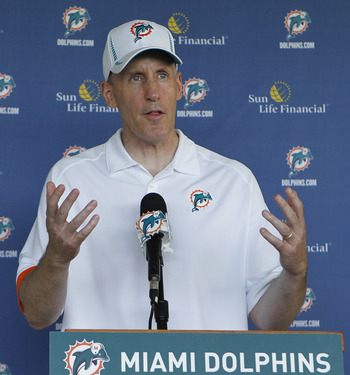 Joel Auerbach/Getty Images
Joe Philbin is entering his first year as a professional head coach. While he's certainly experienced at the NFL level, who knows how he's going to react now that he is the main man and captain of the ship?
Will Philbin be able to deal with the spotlight, or will he crumble and lead the 'Fins to yet another disappointing season?
He's taking a major gamble by agreeing to be on the show during his first season as head coach. He'll be largely known to the public, and if he fails this year, a lot of people will recognize him from Hard Knocks and associate him with losing, and it'll be very difficult for him to reshape his image.
Philbin is very capable, and I think that he'll do just fine, but with all the HBO cameras there, he'll definitely be under a lot of pressure to succeed.
Whether or not he passes with flying colors or crashes and burns, it'll be a storyline that viewers will enjoy.
3. QB Controversy: Who Will Be Miami's Week 1 Starter?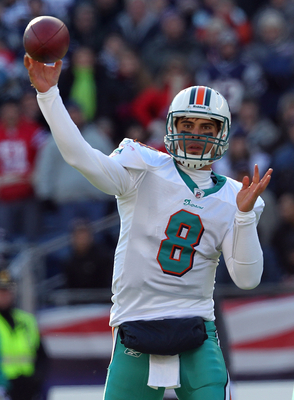 Jim Rogash/Getty Images
This is perhaps the storyline that I'm most looking forward to.
It's rare that a team has three QBs that all have a legitimate chance to be the Week 1 starter. In David Garrard, you have an established veteran who is looking for one last shot at a starting job. With Matt Moore, you have a guy who played very well last year and will hope to parlay that success into keeping his starting job.
And finally, you have first-round pick and rookie Ryan Tannehill. He's arriving in Miami with much fanfare, and there is a lot of pressure on him to succeed. Any time a team uses a top-10 pick, you're expected to be ready to play right away.
Will Tannehill be able to beat out veteran Garrard and Moore, or will he not be able to handle the spotlight and wind up on the bench?
Viewers will likely enjoy this storyline for the entire season, as it could come down to the wire. It's going to be awesome to see the individual testimonials of the three quarterbacks and hear their insights on the competition.
It'll be a rare look into a high-profile position battle that we've rarely seen in the past.
4. Cinderella Story: Will TE Les Brown Make the Team?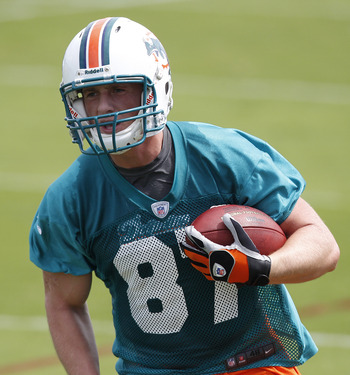 Joel Auerbach/Getty Images
It seems that on every season of Hard Knocks, there is bound to be at least one player who is a long shot to make the team, who viewers can get behind and root for.
Enter Miami TE Les Brown.
Brown's story is extremely unique. He hasn't played football since high school but is a freak athlete, and after working in accounting, he decided to move to Hawaii and devote his life to training for football.
Well, it paid off, and Brown is now attempting to become a full-time member of the Dolphins.
Brown's story will undoubtedly be showcased frequently on the show, and HBO will allow the viewers to track his progress as training camp moves along. We'll be there with him to see every high and low that he goes through, and it's sure to be a very bumpy ride.
Will Brown be able to defy the odds and be one in a very small fraternity of players who made an NFL roster despite not playing in college? He'll be hard not to cheer for, and hopefully his dreams of making the 'Fins will come true.
If not, viewers will be satisfied that they got to go along with Brown on his tumultuous journey.
5. The Reggie Bush Saga: Can He Improve Upon Last Season's Success?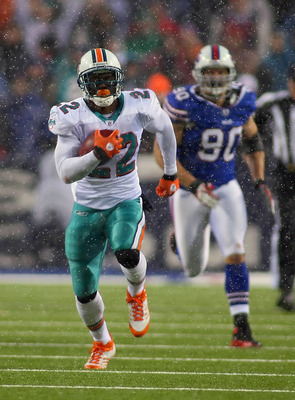 Rick Stewart/Getty Images
On to storyline No. 5.
Reggie Bush, of Kardashian family fame, is no stranger to the cameras of reality television. The HBO crew will interview Bush frequently due to the fact that he'll be as comfortable as any Dolphins player in front of the camera.
Bush is a likable guy, and it will be fun to watch him as he is coming off of the best year of his NFL career.
Will Bush build upon his success last season, or will he slump or perhaps have to deal with an injury? Bush certainly has the talent, and he's as good an athlete as you'll ever see, so there's a great chance he repeats, or even surpasses what he did last year.
Will Bush step up and become a leader on this team?
It's hard to believe it, but he's 27 and a veteran of the league. It's about time for Bush to become a player that the younger guys can look up to. Will Bush take on that role, or will he be relegated to the background of this Dolphins squad?
Follow me on Twitter: @rlongo924
Keep Reading

Miami Dolphins: Like this team?