Auburn Football: 8 Players Who Will Contend for National Awards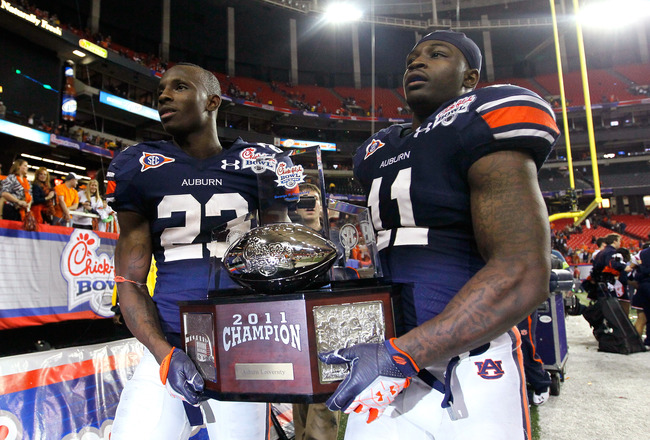 Kevin C. Cox/Getty Images
Football is a team sport, and the only hardware that truly matters is the crystal football at the end of the season, but it's always a great thing to recognize the contributions of individual players.
Auburn has a few players who will contend for these national accolades, but they will do more than merely contend.
The boys in blue and orange will not shoot specifically for these awards, but their dedication to the team will allow them to perform at such levels that they will be considered for them.
Here are eight players who could take home some horn-tootin' hardware come December.
Onterio McCalebb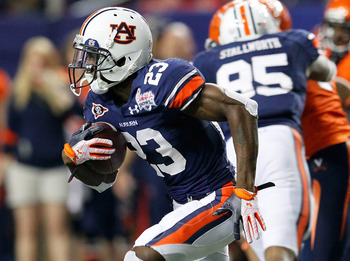 Kevin C. Cox/Getty Images
Running back, 5'11", 174 lbs
Candidate for: Doak Walker Award; National running back award
Many critics and fans alike believe that Onterio McCalebb will not get the bulk of the carries in 2012. I disagree.
McCalebb, despite his size, is a proven playmaker when the ball is fed to him.
He is like Fed-Ex. By ground or by air, McCalebb delivers the goods.
With the quality of Auburn's newly seasoned offensive line McCalebb will have all the tools he needs to put up some serious numbers.
He's a long shot to win the award, but if he gets 200-plus carries (which is not too much but would double his 2011 attempts) in 2012, don't be surprised to see him rack up over 1,500 yards. Book it.
Corey Lemonier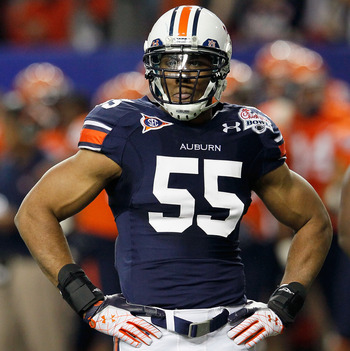 Kevin C. Cox/Getty Images
Defensive end, 6'4", 229 lbs
Candidate for: Vince Lombardi/Rotary Award; Outstanding lineman
More often than not, the Lombardi Award goes to a defensive player with sick numbers, and when it comes to Auburn players with sick numbers, Corey Lemonier will be at the front.
Lemonier put up 9.5 sacks and 13.5 tackles for losses in 2011.
His best highlight in 2011 was when he embarrassed Alabama left tackle and Outland Trophy winner Barrett Jones when the Tide was backed into their own end zone.
He's a highlight reel waiting to happen, and now that he has a seasoned supporting cast, Lemonier is poised to make waves...and sacks.
Auburn just might have their second winner of this trophy in three years after Nick Fairley won it in 2010.
Reese Dismukes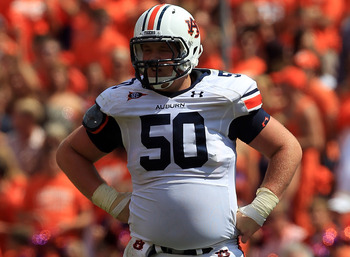 Streeter Lecka/Getty Images
Center, 6'3", 285 lbs
Candidate for: Rimington Trophy; Outstanding center
Reese Dismukes was one of the best pure centers in the nation coming out of high school, and that's exactly where Auburn wanted him.
Dismukes was recruited specifically to succeed Ryan Pugh as the Tigers center.
He's a bit undersized for an offensive linemen, but that's why I love him. As a Tide fan, he reminds me a lot of Alabama's William Vlachos.
On the offensive line, Dismukes just might be the fastest player after the snap, which is perfect, considering he's the one snapping the ball.
If Dismukes can maintain his ferocity for 12 games, he will be a serious candidate for this award.
T'Sharvan Bell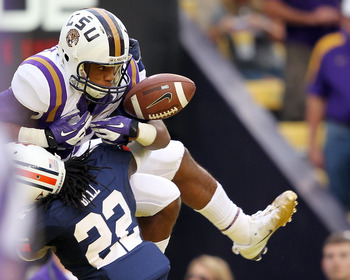 Jamie Squire/Getty Images
Cornerback, 6'0", 182 lbs
Candidate for: Jim Thorpe Award; Outstanding defensive back
You can't see much of T'Sharvan Bell in this photo, but the opponent's face perfectly describes Bell.
Bell is a tenacious defender who can hit like a truck and float around in coverage with the best of them.
Auburn owes their historic 2010 Iron Bowl comeback to Bell as much as any other player after he entered beast-mode in the second half.
When placed in man-to-man situations, Bell sticks to his target like glue. He's the Tigers' best coverage corner.
His abilities go past simple coverage as he is also dangerous against the run and a viable option for the corner blitz.
The chances of him unseating LSU's two-year grip on this award are slim, but the season has yet to be played out, right?
Bell has my vote at least.
Steven Clark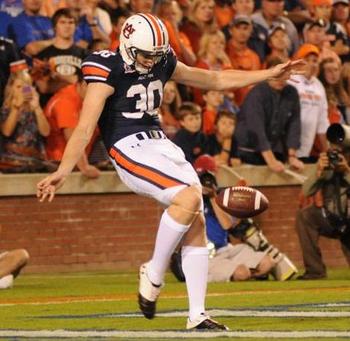 Punter, 6'5", 226 lbs
Candidate for: Ray Guy Award; Outstanding punter
Well, that's one big punter. Looking at his size, I would have thought he was a quarterback. I've heard that before.
Steven Clark is one of the nation's best punters, and he proved it in 2011 when he was a Ray Guy finalist.
Clark did not have the best average per punt in the SEC (eighth), but he was by far the most efficient.
Sometimes, it's more important to put the ball in the right place rather than just punt it as high and far as you can.
Clark puts some serious hang time on his punts and really throws his defense a bone every time he takes the field.
He's already been a finalist for this prestigious award, so why can't he win it this time around?
The only thing in his way will be Auburn's offense as they are going to clean some clocks, and Clark won't get many opportunities to showcase his skills.
Philip Lutzenkirchen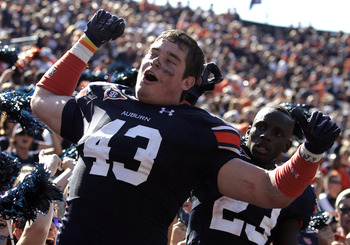 Butch Dill/Getty Images
Tight end, 6'5", 250 lbs.
Candidate for: John Mackey Award; Outstanding tight end
Philip Lutzenkirchen is one of the best all-around tight ends the college football world can offer right now.
He can block like a beast but has the skill set to make a huge impact as a receiver.
As a receiver, he can also be incredibly sneaky, and he's the one who gave the Tigers the game winning touchdown in the 2010 Iron Bowl.
Lutzenkirchen has a good chance to be the first tight end taken in the 2013 NFL draft, and he's earned every bit of that recognition.
He creates a nightmarish mismatch for opposing defenses when he has the hot hand, and he was third on the team in 2011 with 24 catches for 238 yards, but he led the team in receiving touchdowns with seven.
Lutzie is a deadly red-zone threat, and this award is far from out of reach for him.
Emory Blake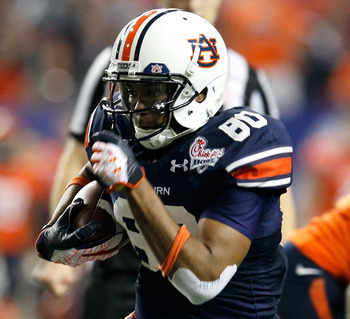 Kevin C. Cox/Getty Images
Wide receiver, 6'2", 197 lbs
Candidate for: Fred Biletnikoff Award; Outstanding wide receiver
Emory Blake will be the Tigers' go-to receiver in 2012 just like he was in 2011, but this time around, he will have a seasoned offensive line protecting a now-ready quarterback.
Is it a bit of a stretch to think that Blake could win the Biletnikoff? I don't think so.
Auburn's new offense will be trying to find an identity in 2012, and Blake will be the first guy to make a statement.
Blake placed third in the SEC last year in yards per catch with 17.03, and I'm certain he will carry that number over and improve on his meager 36 catches for 613 yards.
Given the chance, Blake will make the most of it and rack up more than enough yardage to be considered for this award.
Daren Bates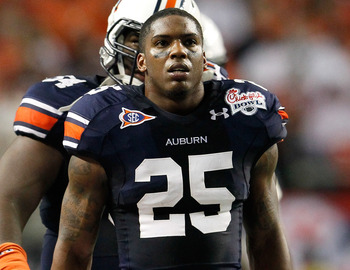 Kevin C. Cox/Getty Images
Linebacker, 5'11", 205 lbs
Candidate for: Dick Butkus Award; Outstanding linebacker
Is Daren Bates a long-shot for the Butkus? Maybe so, but if he continues his production, it could definitely be within his reach.
Bates is a bit undersized as he has the ideal build for a safety (which he used to play), but in Auburn's defense, his size and agility has proven to be a boon for the Tigers.
He led the Tigers last year in total tackles with 104, and over half were solo tackles. Bates can fly around the field and make a stop.
Bates isn't just good for making tackles in space as he can cause headaches for the opposition behind the line of scrimmage as well.
He accrued 2.5 sacks, nine quarterback hurries and 8.5 tackles for losses in 2011.
Daren Bates is the "Rudy" of the Auburn Tigers, but he has both the heart and talent to make this award a real possibility.
Keep Reading

Auburn Football: Like this team?