2012 NBA Playoffs: 10 Crucial Lessons We Learned About the Philadelphia 76ers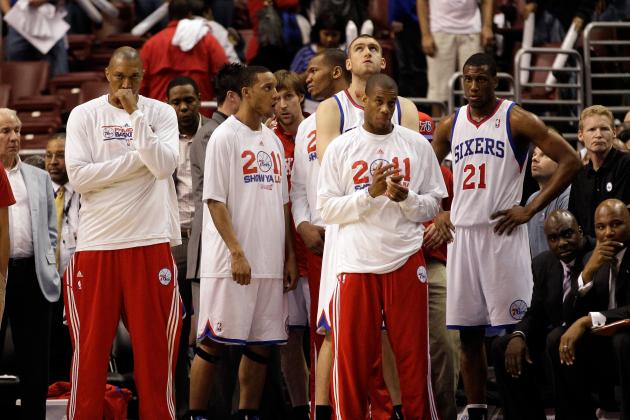 Rob Carr/Getty Images

After an improbable first round upset and an even more impressive second round battle, the Philadelphia 76ers were bounced from the 2012 NBA playoffs by a superior Boston Celtics team.
But hey—look on the bright side.
If nothing else, we learned a lot.
They opened our eyes to a few important topics that need to be addressed upon entering the offseason.
Begin Slideshow

»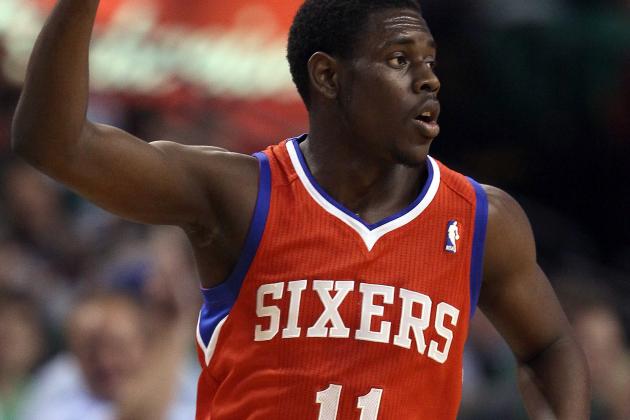 Elsa/Getty Images

One position the Sixers won't be shopping for anytime soon is point guard.
It would appear that they've found their guy.
Although he may be a baby-faced 21-year-old, the third-year guard exudes a level of poise that would say otherwise. Normally, only seasoned point guards like Andre Miller or Jason Kidd—who have years of experience and boast a wealth of knowledge of game situations—display such levels of composure.
At this early stage of his career, Holiday isn't expected to be playing at the level he is. But then again, that's what makes the game great—young players like Holiday exceeding our expectations and giving us something to look forward to a few years down the road.
Nothing spoke more to Holiday's potential than Game 4 of the first round versus the Chicago Bulls. In the first three-and-a-half quarters, the man couldn't buy a shot, missing his first five 3-point attempts.
But with 3:36 remaining in the fourth and pressure starting to mount, he finally hit one. And on the very next possession, he drilled another, putting the Sixers up seven and all but slamming the door on any comeback hopes Chicago may have had.
We're certainly not going to remember that game for his stats (20 points on 7-of-23) but rather for his willingness to embrace the moment and take big shots. That's something you can't teach.
In both series, Holiday was the leading scorer. Not the All-Star Andre Iguodala or the regular season leading scorer Louis Williams but the point guard.
I'm not saying that Jrue Holiday is the future face of the NBA. Considering the competition, he may not even be an All-Star.
However, there's no denying this kid has intangibles that make him special. If Philadelphia has any dreams of making it out of the second round, they better keep this guy around.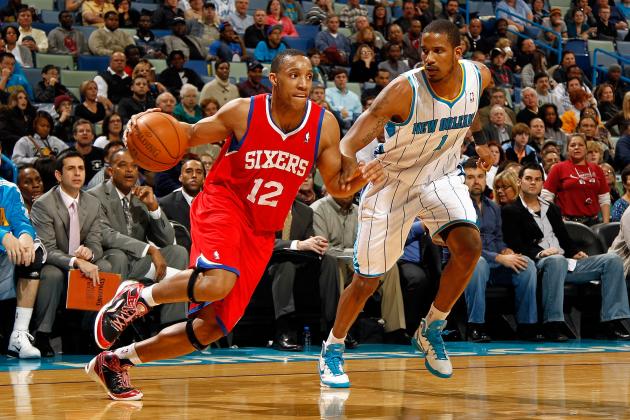 Chris Graythen/Getty Images

It's no secret that Evan Turner has had trouble validating his worth as the second overall pick in the 2010 NBA draft, but he took a big step in the right direction during this year's playoffs.
In his rookie season with the Sixers, Turner was a bit, well, disappointing—averaging just seven points and four rebounds per game. He stepped up his game slightly this year—with nine points per game and nearly six rebounds to go along with them—but his 3-point percentage and free-throw percentage plummeted.
Through two seasons Turner has looked like a bust, but none of that seems to matter after his performance in the playoffs.
In both series, Turner appeared to be motivated and rejuvenated—attacking the basket with purpose and confidence with that lightning-quick first step.
It was obvious that he wanted the ball in his hands to create for himself off the dribble. He didn't play with the indecision we'd become accustomed to seeing. He played like the scorer he's capable of being
For once, I thought, "This is the Evan Turner we've been waiting for." He was living up to his hype.
Throughout the playoffs, Turner averaged 11.2 points per game and 7.6 rebounds per game, once again showing improvement.
His NBA career has sputtered to a slow start, but based on his performances in this year's playoffs, there is reason to believe Evan Turner can find the right gear.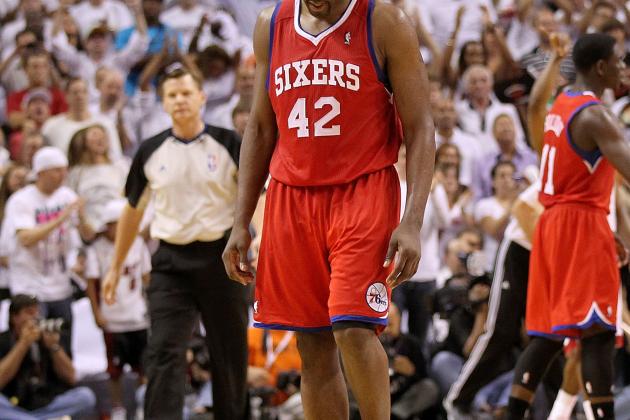 Mike Ehrmann/Getty Images

There comes a time when every professional athlete must admit to himself (or herself) that their athletic gifts aren't what they used to be.
In other words, Father Time has caught up with them.
Elton Brand is no different.
Quite frankly, he hasn't been the same since he left the Los Angeles Clippers. In his last year in L.A., he averaged 17.6 points per game. He hasn't averaged higher than 15 since he arrived in Philadelphia.
Brand is about to enter the fifth year and final year of a $79-million contract he signed in July 2008 with the Sixers. He'll be due $18 million.
The logical move would be to use the amnesty clause to free up salary cap money, which in turn would allow the team to be more aggressive in the free-agent market.
Brand's salary is the 12th highest in the NBA, but yet he was only able to muster a measly 8.6 points per game and 4.9 rebounds in the playoffs.
That's pathetic.
Sure, Brand brings experience and toughness to a very young team, but the Sixers shouldn't be paying so much for such little production.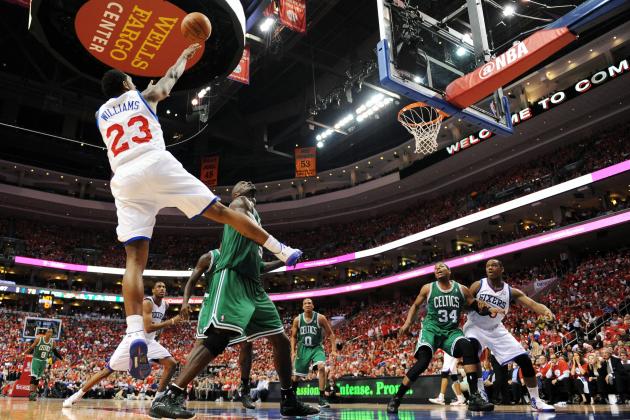 Drew Hallowell/Getty Images

The NBA is a league built on big-name players that make big-time plays.
The teams that consistently contend for championships have superstars that do just that.
For that very reason, Philadelphia will never be serious contenders with the roster that they have. They're a team full of good-but-not-great players—role players that are meant to complement, not compete.
After all, their leading scorer came off the bench. No disrespect to Lou Williams, who finished second in the voting for the Sixth Man of the Year Award, but 15 a night isn't getting the job done in the long run.
The problem is that no one fears the Sixers. Little preparation is required.
When teams face the Miami Heat, they know there are three potential mismatches on any given possession. They know they must put their best foot forward to be competitive, at least.
Acquiring a legitimate scoring threat should be at the top of Philadelphia's list of things to do in the offseason.
Otherwise, they'll continue to be dismissed as a good-but-not-great team.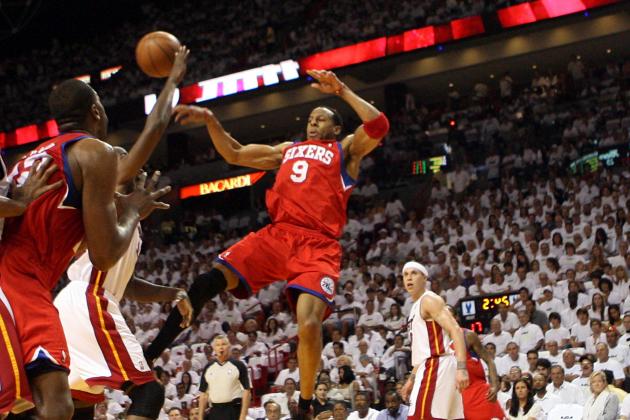 Marc Serota/Getty Images

At times during the Sixers' playoff run, their half-court offense was atrocious, almost as if no one wanted the ball.
It was dysfunctional and devoid of rhythm. And even when there was a play called, it was poorly ran, often resulting in a turnover
The scouting report on the Sixers is that they get their points from playing air-tight defense that leads to turnovers and easy fast-break points.
However, in the playoffs, that style of play isn't going to fly, especially in a seven-game series against the savvy Celtics who slow down the tempo and force you to be patient.
The only reason the Sixers were able to stretch the series to seven games is because they managed to push the tempo and play scrappy defense. It wasn't a matter of Philadelphia rising to the Celtics' level, but rather the Celtics stooping to the Sixers'.
Nevertheless, Boston still proved to be superior to the younger, more athletic team, thanks in large part to the chemistry of their offense.
It's that type of offense that Philly should aspire to be like, where Jodie Meeks anticipates Evan Turner's cut to the basket before he makes it, and Jrue Holiday runs a play before Doug Collins signals it.
But that type of chemistry only comes with time, patience and success. In the meantime, it wouldn't hurt to find a go-to scorer to jump-start that offense.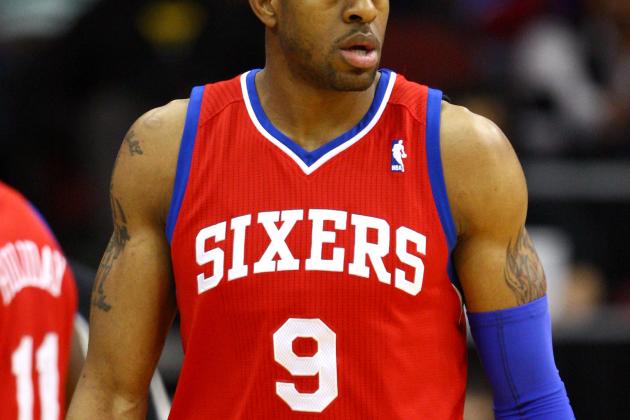 Chris Chambers/Getty Images

The thing about Andre Iguodala is that you never know what you are going to get out of him on any given night.
Basically, he's inconsistent—constantly provoking the question as to why he's being paid so much ($13.5 million in 2011).
Don't get me wrong; there's no question that Iguodala is the all-around best player on this team, but he just hasn't quite lived up to expectations.
When Allen Iverson was traded in 2006, the keys to the car were left to Iguodala. The time was right to establish himself as a premier player. To some extent he did, averaging just about 20/5/5 in the '07-'08 season, but since then, his numbers have steadily declined, along with the confidence Philadelphia has in his ability to close out games.
Iguodala may have been an All-Star this year, but by no means does that qualify him to be among the league's best.
If you haven't noticed, the Sixers' are a very young team with a big upside, and Iggy doesn't quite fit in the picture.
Their best bet is to trade him for someone of better value. Someone who fits into the puzzle. Someone more reliable.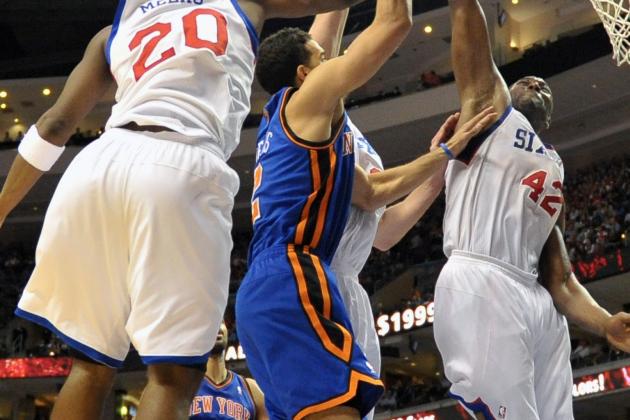 Drew Hallowell/Getty Images

If defense really did win championships, then the Sixers would be serious contenders.
During the regular season, they were third (behind Chicago and Boston) in points per game allowed, averaging 89.4. They also held opponents to just 33 percent beyond the arc.
One advantage that this youthful Sixers team has against many opponents is speed and athleticism. Filling passing lanes and wreaking havoc on the perimeter is what they do best. And as a result, it ignites their transition game—the element of their game that is most potent.
If Philadelphia can maintain their tenacity on defense, then they'll continue to have success.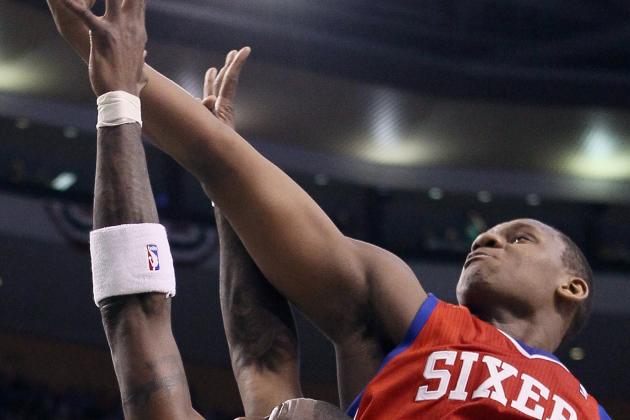 Elsa/Getty Images

In many cases, the benefits of being young and inexperienced go overlooked.
The Sixers were never supposed to push the Celtics to seven games. Most analysts correctly predicted the Celtics would win, but not in seven games.
It was supposed to be in five, maybe six.
A few were so bold as to say it'd be a sweep.
Those are probably the same people who said they wouldn't get out of the first round—with or without Derrick Rose.
But the doubt didn't seem to phase the young Sixers. The majority of them had never been to a Game 7, let alone escaped the first round. They were sailing in uncharted territory.
But when you're young, you think you're invincible. You walk around with your chest poked out, awaiting any and all challengers. The Sixers didn't know any better. Experience hasn't taught them that at some point, they'll be outmatched. They went into both series with the confidence that they'd be the last man standing.
Perhaps it's that very attitude that helped them beat Chicago and scare Boston. Embedded within that mindset is the fine sense of resilience and pride that will carry them far if they hold on to it.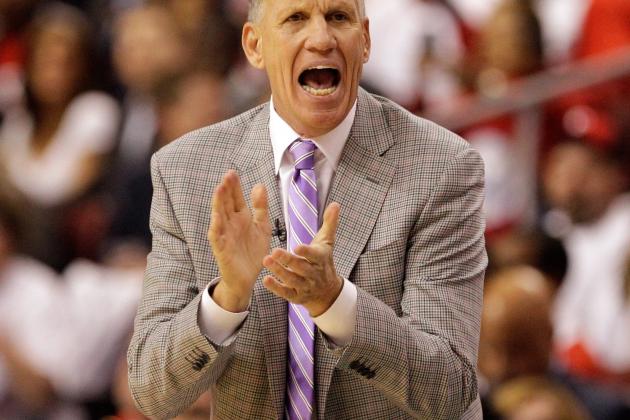 Rob Carr/Getty Images

It's obvious that Doug Collins' imprint is on this team.
They're fierce, confident and energetic, and most of all, they play tenacious D.
Collins believes in his guys, and he has them believing in themselves. This was never more evident than in this year's playoffs when the Sixers eliminated the top-seeded Bulls.
His passion, tough love and fiery spirit are exactly what is needed to nurture this young team into a legitimate threat for years to come.
In his two seasons with the Sixers, Collins has turned the organization around, leading them to the playoffs both times.
His contract is guaranteed for one more year, with a club option for the 2013-14 season, but rumor has it that he's likely to be re-signed.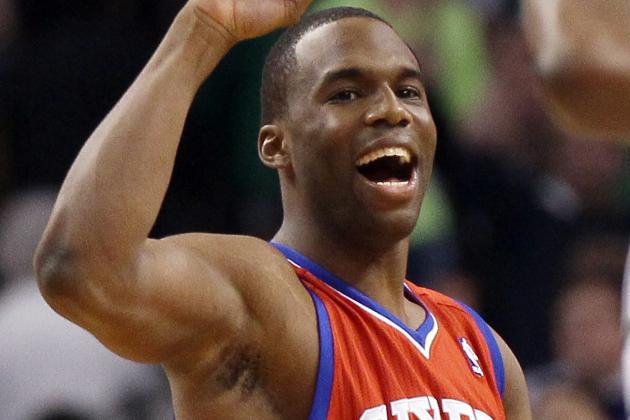 Elsa/Getty Images

After watching the Sixers in this year's playoff run—while throwing remotes and screaming expletives with my hands held high—I feel genuinely optimistic about the future of this team.
Are they perfect? Of course not!
Do they have a ways to go? Without a doubt.
But they have a solid foundation to build on. The right pieces are in place, and with a little adding and subtracting in some areas, they could be dangerous.
People forget that Philadelphia is the third youngest team in the league—with an average age of just over 25.
Jrue Holiday is 22.
Evan Turner is 23.
Thaddeus Young is 24.
And Lou Williams is 25.
That's the core of the team. If everything goes as planned, they'll be together for the next four or five seasons.
Talk about chemistry!
If they were able to push a championship-caliber team like Boston to seven games at this raw stage in their development, imagine what they could do a few years down the road.