Los Angeles Lakers: What's Next for the Lakers After Ramon Sessions' Opt Out?
June 20, 2012

Brett Deering/Getty Images
On Tuesday, Los Angeles Lakers guard Ramon Sessions opted out of his player option for the 2012-13 season and will become an unrestricted free agent July 1. There is still the possibility the Lakers re-sign Sessions to a multi-year deal, but Sessions' move adds to the list of questions facing the Lakers this offseason.
Lakers GM Mitch Kupchak was just as unsure as we all were on Sessions' future when he spoke with reporters Tuesday:
"I'm not quite sure if [Sessions is] completely aware of what the future holds for him beginning on July 1st. Beginning today, we have to plan for the contingency that he won't be available as a free agent on a later date in July. And we have to make sure we have backup plans in place."
While Sessions previously said he was happy playing for the Lakers and expressed the desire to continue playing for the team, Kupchak would much rather preferred Sessions opt into his $4.55 million salary next season rather than test the free-agent market.
Contingency Plans
Quality managers plan for the worst and hope for the best. On the Sessions front, the "best case scenario" for the Lakers is kaput. Now, Lakers management will begin making other plans.
This almost certainly means Kupchak will re-sign Los Angeles' 2011 draft pick and restricted free agent Darius Morris. The Lakers reserve the right to match any offer from another team for Morris, who will likely not garner much demand on the free-agent market given his raw skills and limited playing time last season.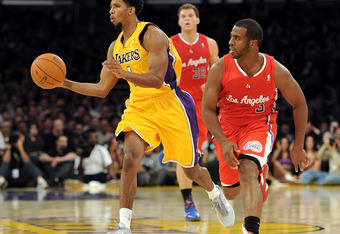 Harry How/Getty Images
Morris is a cheap solution for point guard depth who will be all the more critical if Sessions walks. Lakers management is still waiting to see if Morris can develop in-game confidence at the NBA level before making him part of their long-term future. Still, the Lakers can likely sign him at price less than $1 million for next season.
Steve Blake is also set to return with the Lakers next season (save for a trade or amnesty). Blake has two more seasons under contract with the Lakers at $4 million per year. Blake saw starter's minutes immediately after the Derek Fisher trade and played respectably, but at this point in his eight-year career, he is no more than a steady backup point guard option for Los Angeles.
New Blood
Lakers management has surely been exploring trade possibilities this offseason after a disappointing second-round playoff exit for the second straight year. Now, with Sessions' future officially in flux and the point guard position wide open, Kupchak will be pursuing potential trades even more aggressively this summer. 
Anyone who has followed Kupchak's moves knows he does not take a "wait-and-see" approach. It's unlikely Kupchak will wait to see if Sessions signs with another team after July 1. Kupchak will already have a deal in place and is typically the first to strike.
Does this mean Deron Williams is on his way to LA? Steve Nash? Kyle Lowry? 
Who knows. The Lakers certainly lack the payroll flexibility and cap space of other teams to bring in a star point guard, but with a $3 billion, 20-year media deal with Time Warner set to start in 2012-13, who's going to stop the Lakers from overspending if they want to win during Kobe Bryant's final years?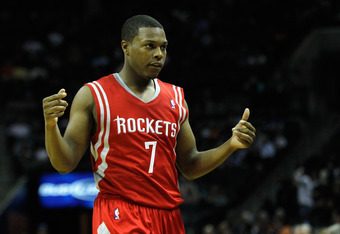 Streeter Lecka/Getty Images
A Return for Sessions
Despite opting out Tuesday, there is still the possibility Sessions returns to the Lakers under a new contract next season.
The Lakers are not limited in what they can offer Sessions since they retained his Bird Rights under the trade with Cleveland and may re-sign Sessions to a multi-year deal anywhere north of the $5 million per year average NBA salary.
After seeing Sessions start strong for the Lakers but steadily regress during the playoffs, Lakers management will only aggressively pursue Sessions after they've tested the point guard market and failed to receive desired value.
In other words, like Kupchak said, contingency plans will be pursued before going after Sessions.
I expect the situation to play out similarly to the Lamar Odom contract negotiations after he entered free agency in 2009.
Kupchak and crew threw out a low-ball offer to LO and subsequently took their offer off the table after not hearing back from Odom's agent in a timely manner. Things might get nasty.
If you're expecting Kupchak and the Buss family to blink first, you're mistaken. If Sessions does not garner the interest his agent and he expect this summer from other teams, they will then be forced to have a constructive dialogue with the Lakers to hammer out a fair deal.
I wouldn't expect the Lakers to chase after Sessions if another team is willing to overpay for the 27-year-old point guard. At that point, Kupchak will already have worked on other deals for a point guard, and it will ultimately come down to which side can strike a deal first.
For Kupchak and Sessions' agent, the clock has just started. Ready, set, go.