Rafael Nadal: Analyzing the Greatness Within the Warrior
June 22, 2012

Clive Mason/Getty Images
June 5th, 2005. That's when the unbounded legacy of Rafael Nadal began.   
Capturing his first of 11 Grand Slam slam titles at the tender age of 19, Nadal used Roland Garros as a fitting venue for his first major win.  Nadal's four-set victory over Mariano Puerta presented his profound and unquestioned skill-set to the tennis world in stunning fashion.  He appeared and has proven to be a nearly unbeatable force on the red dirt of Paris.
But having won each of the four majors, including two Wimbledon, an Australian, a U.S. Open and an astounding seven French Open titles, the Spaniard from Majorca has had success across all surfaces. By now we all know about Nadal's abilities from a fundamental tennis perspective—his ball-striking abilities, tennis IQ and movement have been well-documented. But what does Nadal do so well without the racket that accounts for his greatness?
"My greatest point is my persistence. I never give up in a match. However down I am, I fight until the last ball. My list of matches shows that I have turned a great many so-called irretrievable defeats into victories.'' —Bjorn Borg
Nadal's similar never-say-die attitude is a characteristic that is undeniable.   Whether it be within the context of a single point, a single game, a single set or an entire match, one thing you will never see from Nadal is quit.
Blood and pain seem to come from Nadal as readily as sweat.  His ability to urge himself on in the face of  adversity propels and wills him through matches.   
With Nadal, all shots are valued equally. He believes each and every ball has to be retrieved.   The extent to which Nadal increases his level of energy and motivation during moments in which others would falter  allows him to play every point to the bitter end. 
Tennis may be "just a game," but watching Nadal play often makes one think otherwise.
You often hear commentators say that players will alter their strategy once in a deep hole within a game or a set.  And for the most part, this is true.   Down deep in a set, many players will look to make their opponents serve out the set. But in certain instances, they may lay over and reserve energy for the next set. Even when down deep in a game, I think it is certainly safe to say that players tend to loosen up mentally and disengage from prior levels of focus.  
This never happens with Nadal. Absolutely never.  Every single point is viewed in the same light.  This level of concentration is, as many of my fellow tennis players would describe it, "simply disgusting."  The ability to consolidate every ounce of focus into each point is a remarkable attribute.
Think about playing a four-hour, best-of-five set match at your local club or community tennis courts and constantly elevating your mental forces in the face of the ups and downs of the match, variable conditions  and external human distractions.  Impossible, right?  
"I think it's the mark of a great player to be confident in tough situations."—John McEnroe
Rafael Nadal has beaten Roger Federer 18 times.   Are you kidding me?  It is an absolutely breathtaking statistic.  While a majority of these defeats have occurred on Nadal's surface of suit, the feat is no less impressive.   
This unprecedented superiority over arguably the greatest player of all time is truly a sensational accomplishment.  While I can't exactly enter the thought process of Nadal, I think it would not be journalistic suicide to presume this has given Nadal vast amounts of confidence.
There are only a handful of players (Dominik Hrbaty, Paradorn Srichaphan, Alex Corretja, Joachim Johansson, Chris Guccione, Nikolay Davydenko, Oliver Mutis) who have winning records over Nadal.  And most of the victories recorded by these players came before 2005.
When Nadal steps onto court against virtually every single player in the world, he can claim that he has conquered them more times than not, with the exception of Davydenko.  
"The Bull," as Nadal is sometimes called, enters every match believing he will win.  Behind his modest and humble exterior exists an everlasting confidence.  Every strand of his DNA seems to spell out victory,  which is appropriate for a man who at times seems to be beyond human, a genetic superior to the rest of us mortal beings.
While, of course, he is merely a man, this mindset has the ability to make boys out of the rest of us.
I've been motivated by overcoming challenge and overcoming the hurdles and obstacles that face me. There still is plenty out there to get motivated by.—Andre Agassi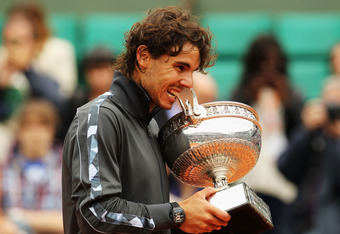 Matthew Stockman/Getty Images
We as humans are often judged by our ability to handle failure and success with equal footing.  The barriers to our goals are just that—barriers.  
Having dealt with his fair share of personal problems, health scares and droughts on the court, Nadal has tasted the bitterness of unwelcoming experiences on and off the court.
But whether it be in a match, a season or against a specific opponent, he never fails to recoup.
After losing his first and only French Open match and later being unable to compete at Wimbledon due to injury, Nadal made the ultimate rebound in 2010, capturing not only these two titles but adding the cherry on top in New York grabbing his maiden U.S. Open title.   
Looking at the epic 2008 Wimbledon final, Nadal sprinted out to a commanding two-sets-to-love advantage over Federer.  After losing the third set in a tightly contested tiebreak, Nadal found himself two points away from destined glory at 5-2 in the fourth-set tiebreak.
Unfortunately, Federer had other ideas, storming back, saving a match point at 7-8 down with a memorable backhand down-the-line passing shot, and ultimately taking the set 10-8 in the breaker having rescued two match points.
But this did not serve as an impetus to the succumbing of Nadal. He took the fifth set 9-7 to close out what I feel is the best tennis match to ever be played.  
More recently, Nadal had lost seven consecutive matches against Novak Djokovic, including three straight Grand Slam finals and four Masters Series 1000 finals.   Then came the 2012 clay-court season, four months of tennis that would test  the status of not only the rivalry between Djokovic and Nadal, but in many respects the career of Nadal.
And as all know now, Nadal handled it with brilliance.  Erasing the memories of earlier matches, Nadal defeated Djokovic in Monte-Carlo, Rome and Roland Garros, only dropping one set. 
While I still believe Nadal is behind Djokovic regarding their standing for Wimbledon, the turnaround has been incredible to witness.
Nadal's ability to live by Agassi's words have provided him a great deal throughout his career and will surely catapult him through the rest of his career.  
As Rudyard Kipling wrote in If:
If you can keep your head when all about you
Are losing theirs and blaming it on you;
If you can trust yourself when all men doubt you,
But make allowance for their doubting too:
If you can wait and not be tired by waiting,
Or, being lied about, don't deal in lies,
Or being hated don't give way to hating,
And yet don't look too good, nor talk too wise;
If you can dream—and not make dreams your master;
If you can think—and not make thoughts your aim,
If you can meet with Triumph and Disaster
And treat those two impostors just the same:.
If you can bear to hear the truth you've spoken
Twisted by knaves to make a trap for fools,
Or watch the things you gave your life to, broken,
And stoop and build 'em up with worn-out tools;
If you can make one heap of all your winnings
And risk it on one turn of pitch-and-toss,
And lose, and start again at your beginnings,
And never breathe a word about your loss:
If you can force your heart and nerve and sinew
To serve your turn long after they are gone,
And so hold on when there is nothing in you
Except the Will which says to them: "Hold on!"
If you can talk with crowds and keep your virtue,
Or walk with Kings—nor lose the common touch,
If neither foes nor loving friends can hurt you,
If all men count with you, but none too much:
If you can fill the unforgiving minute
With sixty seconds' worth of distance run,
Yours is the Earth and everything that's in it,
And—which is more—you'll be a Man, my son!
This legendary poem is truly indicative of the nature of Nadal.  When you read the poem, you can see Nadal has taken its advice and followed it to near perfection.
He is humble, yet he demands only the greatest from himself on a regular basis.  
He is gracious in victory and in defeat and rarely allows doubt and negativity to infiltrate his thoughts.  His combination of effort, belief and motivation has created a true warrior who has already left a permanent stamp on the tennis world.
Eventually, Nadal will have to hang up his rackets for good.  
But until that time comes, we must indulge in the pure mastery of the man from Majorca.