WWE: Predicting the 3 Main-Events of Wrestlemania 29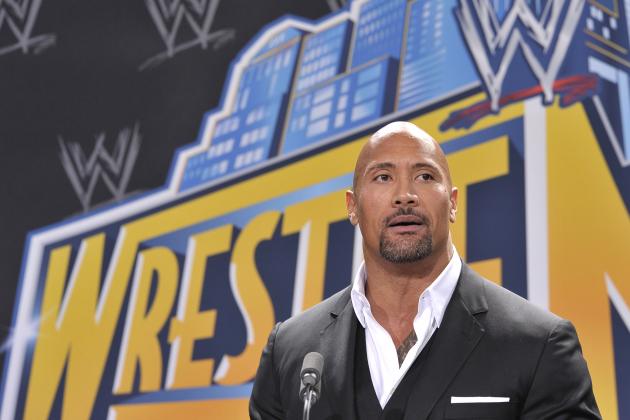 Michael N. Todaro/Getty Images

Next April, WWE will bring their 29th installment of their Wrestlemania franchise to the Met-Life Stadium in New Jersey.
It may be over eight months away, but already fans are wondering who's going to be in the main-event matches at next year's Wrestlemania.
When I say "main-event" matches, I mean the marquee matches. Matches that will sell the PPV.
Inevitably, some people will disagree with the choices I've made, but that's all it is, just my opinion.
Before I get into it, I'm going to go through a couple of matches that I don't think we'll see.
I wrote an article the other day on Bleacher Report about why we won't see Rock vs Brock Lesnar, so I'm not going to repeat myself. Check the article out here to find out why I think that match won't happen.
I also don't think that men like Ziggler, Bryan or Rhodes will be considered "over enough" to get one of these main-event spots.
That doesn't mean I don't think they deserve it, because they do, I'm just looking at it from a WWE point of view.
OK, so let's look at the three main-event matches that I think will headline Wrestlemania 29.
As always, feel free to leave your own suggestions in the comments section below.
Begin Slideshow

»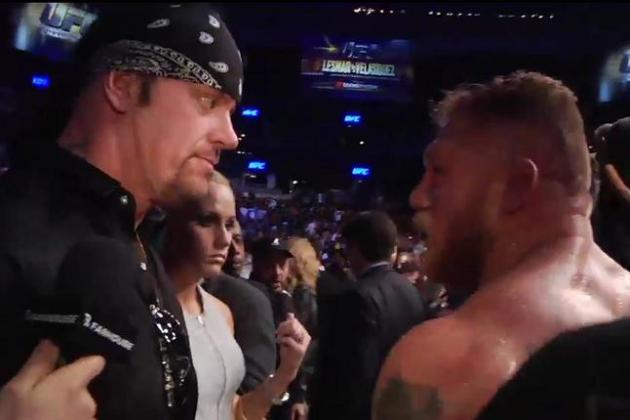 Image courtesy of bleacherreport.com
For me, this match is a nailed-on certainty to happen at Wrestlemania 29.
Look at it this way.
Apart from John Cena, Chris Jericho or Big Show, who else is there that's a big enough star for Undertaker to face?
WWE has failed to elevate stars to Undertaker's level over the last four/five years. That's why he's faced Shawn Michaels twice and Triple H twice in the last four years.
His potential opponent, Brock Lesnar, only has a one-year deal with WWE, so he isn't going to be wrestling guys who are further down the card.
I mentioned in yesterday's article, which you can read here, that Lesnar and Undertaker had one of the most brutal Hell in a Cell matches that I've ever seen.
Brock Lesnar may be the biggest threat that the Undertaker's Streak has ever faced and the match would be far from a clean-cut affair.
People on the outside looking in would legitimately feel that Lesnar would end the streak.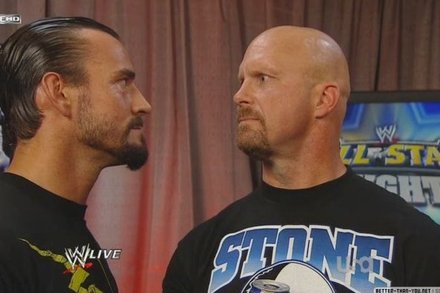 Image courtesy of bleacherreport.com
CM Punk taking on Stone Cold Steve Austin is a match that I really want to see.
However, I think it would work best if Punk was the antagonist heading into the match against the returning babyface Austin.
Let's look at things logically.
Austin hasn't had a wrestling match in almost 10 years. His last official in-ring match was against The Rock at Wrestlemania 19.
His neck was in such a bad way that although it wasn't an "official" retirement match, it was when he retired from in-ring competition.
If he's to return to action, it has to be with someone that he'll trust to take care of him in the ring.
He's not going to wrestle with someone like Brock Lesnar who's got the potential to be sloppy in the ring.
Punk is the perfect foil for Austin because he's everything Austin isn't.
The dynamic of the match would be tremendous and it's something that nobody would ever forget.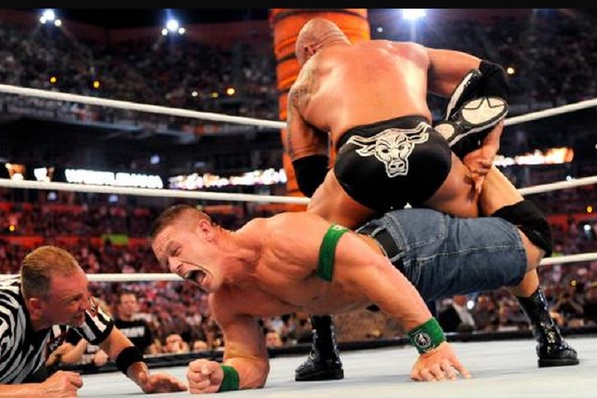 Image courtesy of sportsencounter.com
This match you can pretty much set in stone for Wrestlemania 29.
The Rock won their encounter at Wrestlemania this year, which sets up the return match next year.
I've also got a feeling that this match will be for the WWE Title.
Rock said after this year's Mania that he wanted to walk the aisle as WWE Champion again one more time.
What better way for John Cena to get "revenge" on Rock than to beat him for the WWE Title in the area where Rock made his debut for WWE in 1996.
I hate building up matches in case they don't turn out to be that good, but imagine the crowd dynamic if Rock vs. Cena II was for the WWE Title.
It could top their match from this year and become the most iconic match in Wrestlemania and WWE history.