10 NFL Quarterbacks Under the Most Pressure to Perform in 2012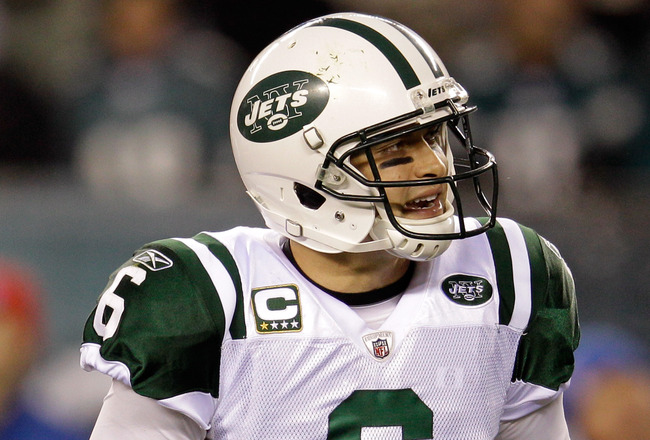 Rob Carr/Getty Images
Quarterback is the most scrutinized position not just in the NFL, but in all of American sports. Every starter is under an immense amount of pressure, but which ones need to produce this year more than ever?
Every player has something to prove, but the stakes are much higher for quarterbacks fighting for their jobs than signal callers working to win their second, third, or fourth Super Bowl.
Whether the pressure comes from fans, internal competition, or both, the quarterbacks on this list are under more pressure to perform than anyone else.
Blaine Gabbert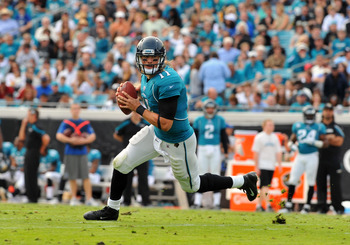 Al Messerschmidt/Getty Images
One could make a fairly strong case that Blaine Gabbert was the worst starting quarterback in the NFL last year.
Even though he had virtually no threats at wide receiver, the former Missouri Tiger was constantly flinching in the pocket. Toughness cannot be taught, and the odds that a young player can recover from a shell-shocking rookie season are slim.
If Gabbert continues to struggle next season, he has a competent backup in Chad Henne breathing down his neck. The brand new coaching staff will have no problems benching a player they were not responsible for drafting.
However, Gabbert does have a good arm and flashed potential last year when he was given time in the pocket, and a new receiver corps could give him the confidence he needs to get over his flinching problem.
Still, if Gabbert fails to make significant improvements from his rookie season, his days as a starter could be over.
Mark Sanchez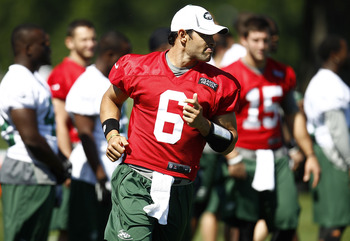 Jeff Zelevansky/Getty Images
Playing in New York is enough to get you on this list, but few players in the NFL are under as much scrutiny that Mark Sanchez.
In previous years, Sanchez had to deal with the combined pressure of Rex Ryan's championship promises and the New York market, both of which he handled reasonably well.
Now, Sanchez will face a force no quarterback has ever survived: Tebowmania.
As soon as Sanchez's first incompletion hits the turf in the Meadowlands, cries for Tebow will be deafening. In Denver, they were loud enough to not only bench Kyle Orton, but propel Tebow from third to first in the depth chart.
On top of it all, Sanchez will be learning a new system and still has to deal with a diva receiver in Santonio Holmes.
The Sanchize will have to be at his best after a disappointing end to 2011.
Michael Vick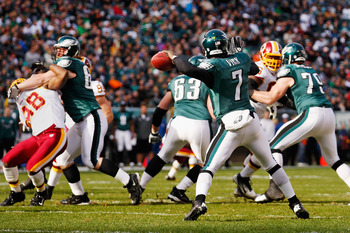 Rob Carr/Getty Images
Eagles quarterbacks are always burdened with high expectations, but after last season's debacle, Michael Vick is going to have to answer for his inconsistent play and inability to stay healthy.
He will also have to deal with losing his stud left tackle, Jason Peters. Even though Peters did not protect his blind side, he was arguably the league's best offensive lineman last season. Losing him could mean more pressure from the left side, which would force him to roll to the right, where he has to throw across his body.
The Eagles still boast a very talented offense, but expectations are always high in Philly and the organization will not stand for another disappointing season from Vick.
Matt Flynn
Jonathan Daniel/Getty Images
Matt Flynn made himself a lot of money with a pair of excellent spot starts in Green Bay, but he still needs to prove that he is more than a system quarterback.
He is also facing a considerable amount of competition from both Tarvaris Jackson and Russell Wilson.
If he falters at the start of the season, I could easily see Pete Carroll looking to his depth chart to provide his team with a spark.
Kevin Kolb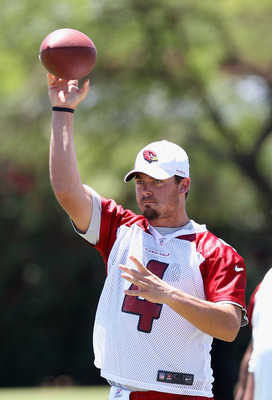 Christian Petersen/Getty Images
In a way, Kevin Kolb's disappointing first season in Arizona cost Matt Flynn a lot of money.
Like Flynn, Kolb was nurtured in a terrific offensive system where he put up gaudy passing numbers in just a few starts. This resulted in a huge payday when he was traded to the Cardinals last offseason. His failure made a lot of other teams nervous about spending big money on an unproven commodity like Flynn.
Now, Kolb is facing off with John Skelton in what may be the most unspectacular quarterback competition in NFL history. When Kolb went out with a concussion, Skelton outplayed Kolb and wound up with a surprising 8-8 record.
Working in Kolb's favor is the sheer amount of money the Cardinals have invested in him, but just as when Kurt Warner sent Matt Leinart to the bench, Ken Whisenhunt is going to play the best player regardless of contract value.
Matt Cassel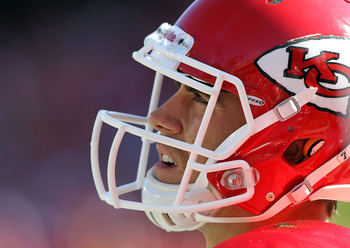 Jamie Squire/Getty Images
To me, the Chiefs are right up there with the 49ers for being the most complete team in football, and would compete for championships if they had just a little more production out of their quarterback.
Before missing most of the second half of the season to injury, Cassel was turning the ball over more often than he was in 2010, and could not get his completion percentage into the 60s.
Cassel could easily have a rebound year and get the Chiefs back into the playoffs, but if Kansas City fails to get into the postseason, I can easily see Scott Pioli getting back into the quarterback market next season.
The Chiefs are too good to let their window of opportunity close because of one player. 2012 will be a make-or-break season for Cassel.
Robert Griffin III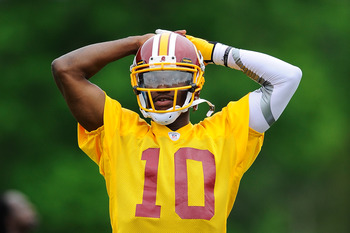 Patrick McDermott/Getty Images
After spending three first-round picks and a second to move into the No. 2 position in the draft, just about everyone in the Redskins organization, from the general manager to the regional scouts, are dependent on the success of RGIII.
The outstanding success of Cam Newton's rookie year has set the bar unfairly high for rookie quarterbacks taken at or near the top of the draft. Everything Griffin does will be compared to what Newton did in 2011, especially since they are both dual-threat players who came from "spread" systems.
The early returns are positive, but the regular season is still a ways away. While it would not surprise me if he had the usual rookie struggles out of the gate, the former Heisman winner has set the bar exceptionally high for himself.
Anything but spectacular play from Griffin in his rookie season will cause a lot of concern from Redskin fans.
Andrew Luck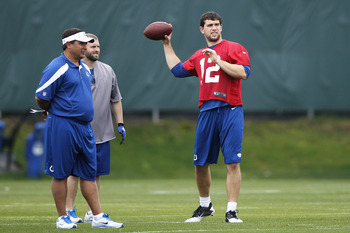 Joe Robbins/Getty Images
While Andrew Luck is in a very similar spot as RGIII, his situation is different for a few reasons.
For one, Luck is coming from a much different college system than RGIII, and while he is more mobile than given credit for, he is not the dynamic runner that Griffin is. As a result, comparisons to Cam Newton will not be as common.
There is also the difference that Luck was selected ahead of Griffin. Being known as the top pick in the draft is a great honor, but the title carries a lot of weight, for better or for worse. Players taken first overall, particularly quarterbacks, will be either known as great players or infamous busts.
It is also not an easy situation to step into Peyton Manning's shoes. Everything Luck does from here on will be compared to his predecessor, and it is up to the Stanford product to carve his own path and leave his own legacy.
Joe Flacco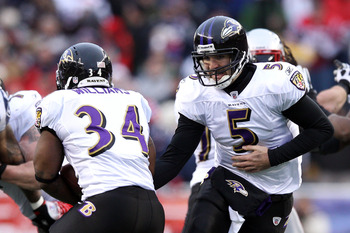 Elsa/Getty Images
In my opinion, the Ravens had the worst offseason out of any team in the NFL.
In free agency alone, the Ravens have lost three starters in Ben Grubbs, Cory Redding and Jarret Johnson, as well as backup safeties Tom Zbikowski and Haruki Nakamura.
Their best player, Terrell Suggs, will probably not return for the 2012 season. Ray Rice may not report to camp on time, and we have seen what that can do to star running backs.
This leaves a heavy burden on Joe Flacco to make up for all of his team's newfound deficiencies. It won't be easy, as Cam Cameron's 1960s-style passing attack is anything but quarterback friendly.
Still, Flacco has a lot of talent and could prove his worth as a top passer with a strong 2012 season.
Tony Romo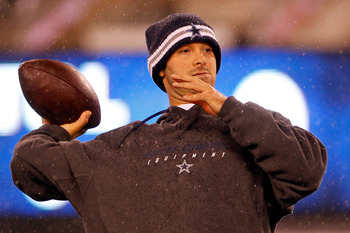 Rich Schultz/Getty Images
Being the starting quarterback of the Dallas Cowboys is not easy. There are always high expectations for the league's most popular team, and their constant national attention puts a microscope on every mistake.
While Romo is much more talented and productive than Dallas fans give him credit for, his late-game gaffs have created a stigma that he cannot be a clutch player.
Despite the fact that Romo had several clutch moments in 2011, such as bringing his team back against the 49ers with a punctured lung, they are overshadowed by the lapses in judgement that cause facepalms across Cowboys nation.
It does not help his case that the division rival Giants are coming off their second Super Bowl under Eli Manning, which only puts more heat on Romo to match his New York counterpart.
The key for Romo this year is not necessarily to continue to put up big numbers, but to stop making catastrophic mistakes at the end of games that cost Dallas a shot at the playoffs.
Keep Reading