Brandon Belt: Breaking Down the First Baseman's Improved Hitting Mechanics
June 19, 2012

Ezra Shaw/Getty Images
San Francisco Giants first baseman Brandon Belt is on fire right now due to slight mechanical adjustments in his swing.  After struggling in April and May, the Giants coaching staff worked with Belt to adjust his swing, and the results have been tremendous. 
In June, Belt is killing the ball, hitting .342/.458/.658 (batting average/on-base percentage/slugging percentage), with all three of his home runs on the season. 
Part of his success has been due to finally receiving consistent playing time. The Giants have spent the last two seasons jerking Belt between starting in San Francisco, the bench and Fresno—significantly curtailing his development.  However, when Belt has had opportunities to earn more playing time, he has not produced until recently. 
The highly-touted prospect out of the University of Texas tore through the minor leagues after being drafted by the Giants in the fifth round of the 2009 draft.  In two minor league seasons, Belt hit a robust .343/.457/.596 with 31 home runs.
However, major league pitching has exposed some of the holes in Belt's approach through his first 378 big league plate appearances.  Belt has maintained his excellent batting eye in the big leagues, but he has struggled to make solid contact on a consistent basis. 
Belt walked in 9.6 percent of his plate appearances last season, and he has improved that to 16.6 percent this season, which is seventh-best in all of baseball for players with a minimum of 150 plate appearances. 
Besides his patience, he also has a quick bat, the ability to hit same-handed pitching, solid power, good speed for his size and an excellent glove at first base.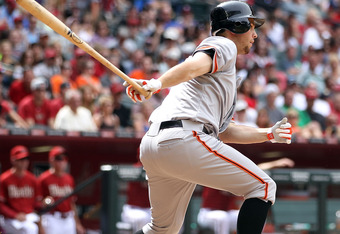 Christian Petersen/Getty Images
However, Belt's approach at the plate was limiting his power earlier in the season.  Given how often he strikes out, Belt has to hit for power to provide significant value at a corner position. 
Comparing this video of Belt grounding out in a May 12th at-bat at Arizona, and this video of him homering one month later against Houston, we can see some subtle differences that have helped him improve his performance.  
The key difference is that when Belt makes contact on the home run, he is in a much more balanced hitting position than on the groundout.  His body is more open to the pitcher, which allows him to rotate his hips and drive through the ball, rather than lunge for it.  
On the groundout, when Belt makes contact with the ball, he's reaching, and his back leg has not transferred forward toward the pitcher.  When Belt makes contact on the home run, his back leg has started to rotate and it is much more firm, creating better balance.  By transferring his weight on contact, he is able to tap into the tremendous power of his lightning-quick bat. 
The Giants have several weaknesses on their team.  Their presumed ace pitcher, Tim Lincecum, has the second-worst ERA in all of baseball.  They've also lost their closer, Brian Wilson, for the entire season due to an elbow injury, making the bullpen somewhat thin. 
The offense has been weak at the middle infield positions and at third base since Pablo Sandoval missed more than a month with a broken hamate bone.  The first base platoon of Belt, Brett Pill and Aubrey Huff was once a weakness as well.
Belt's improved approach at the plate has turned first base into a strength.  If Belt can continue to maintain his improved hitting mechanics, the Giants will have an additional young star to team up with Sandoval, Melky Cabrera and Buster Posey in the middle of the lineup.