NBA Draft 2012: 8 Prospects Guaranteed to Shine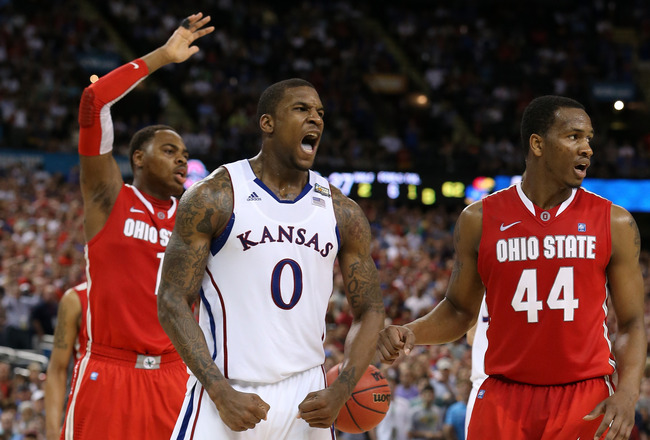 Jeff Gross/Getty Images
With the 2012 NBA draft just over a week away, teams are finalizing which prospects they think will shine when added to a pro roster.
The hard part is determining which player will inevitably shine, meaning that the prospect will be successful under their rookie contract.
There are plenty of talented prospects in this draft class, but not all of them will mesh with their teammates and coaches, stay healthy or even play the way we saw during their college or international contests.
In eight days, the journey starts for these young men. Which ones won't let this opportunity escape their grasp?
Here are eight prospects that are guaranteed to shine within their rookie contracts.
Kendall Marshall, North Carolina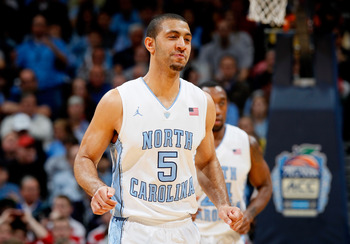 Kevin C. Cox/Getty Images
Position: PG
Height/Weight: 6'4''/198 lbs
It's no secret that Kendall Marshall is one of the best point guards in this draft class, despite coming out of North Carolina as a sophomore. He can run the offense like no other, and whichever team drafts him will get a potential future All-Star.
He will immediately be one of the smartest players on the floor and can learn quickly should he need to improve in any areas. His willingness to put the team before himself should really help his draft stock and future career. Last season with the Tar Heels, he averaged 8.1 points and 9.8 assists per game, showing he's capable of scoring and precisely passing the ball when necessary.
His rookie performance will depend on whether the team drafting him has a star at the point guard position. Even if he doesn't make a huge impact in the 2012-13 season, he definitely will by his sophomore season.
Thomas Robinson, Kansas
Dilip Vishwanat/Getty Images
Position: PF
Height/Weight: 6'9''/244 lbs
Thomas Robinson is expected to go within the top five picks of the draft, putting a big emphasis on what he's expected to do at the next level. He's a great scorer and a fantastic rebounder, and that should translate nicely from his three years with Kansas.
What's attractive about Robinson is that he's a big kid that might even be able to play small forward, while primarily playing power forward. The only thing preventing him from that is that he isn't a great shooter from mid- or long range.
Since he'll be drafted so early, there's a very good likelihood that he's a first-year starter. Whether he gets drafted by Charlotte, Washington, Cleveland or anyone else, he should have an immediate impact with that team.
He's an extremely premature candidate for the Rookie of the Year, should he stay healthy.
Meyers Leonard, Illinois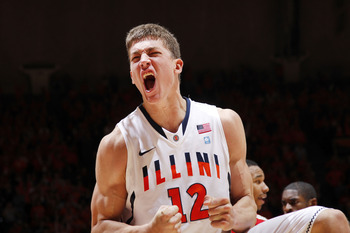 Joe Robbins/Getty Images
Position: C
Height/Weight: 7'1''/250 lbs
With only a handful of quality centers in the draft, Meyers Leonard is one of the best available. He's an average scorer for a big man but definitely knows his way around the rim whether it's on offense or defense.
Leonard isn't as NBA ready as most of the players in the draft and will need time to develop, but he could become one of the better centers in the league. He has the size and the talent but needs to be coached up.
Coming out of Illinois as just a sophomore was a risky move by Leonard, and we'll have to wait to see if it all works out for him. His rookie season will absolutely be about learning how to play center in the NBA, and he'll probably come off of the bench for most of the year.
It will be in the second and possibly third year of his career where the pick will make a lot of sense.
John Henson, North Carolina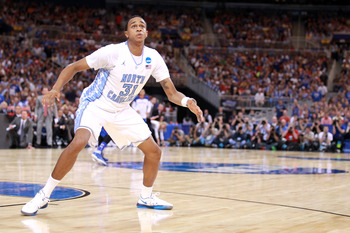 Andy Lyons/Getty Images
Position: PF
Height/Weight: 6'10''/216 lbs
The first assignment given to John Henson after he's drafted should be to find a buffet and then to hit the gym. Henson is going to have to get more muscle on him if he wants to be a power forward in the NBA. At his current size, he'll get manhandled trying to play the post.
Other than his lack of build, Henson will be a solid player in his first few seasons. There aren't a lot of big men that can play defense like Henson, which is an obvious advantage to his game.
He averaged 13.7 points and 9.9 rebounds per game last season, playing for one of the best teams in the country. And playing in the ACC is no walk in the park, either.
Henson will be an immediate-impact player wherever he goes. I'm not sold that he'll start in his first year, but he will probably be the sixth man and then earn a starting spot late in his rookie season or at the start of his sophomore season.
Kyle O'Quinn, Norfolk State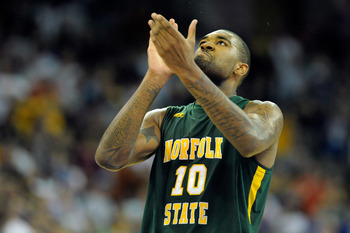 Eric Francis/Getty Images
Position: C
Height/Weight: 6'10''/241 lbs
We saw Kyle O'Quinn perform to his greatest ability when Norfolk State knocked off Missouri in the NCAA tournament. O'Quinn had 26 points and 14 rebounds in that game and will need to build off performances like that going forward.
For the record, I'm not predicting that O'Quinn will shine in his first season. He needs to learn from veteran teammates how the game is played at the pro level. He's listed a center, but I see him playing better at power forward. He can be physical underneath the basket and help his team with the battle on the boards.
He won't get a lot of playing time early, but just the time practicing should help his overall game. By the middle of his sophomore season, going into his third year, is when O'Quinn will break out. He'll show everyone that he can play on the big stage, just like he did against Missouri.
Michael Kidd-Gilchrist, Kentucky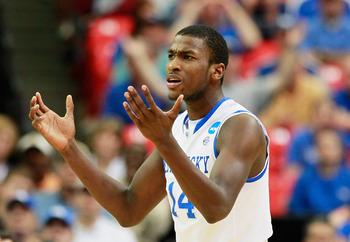 Kevin C. Cox/Getty Images
Position: SF
Height/Weight: 6'8''/233 lbs
As a freshman at Kentucky, Michael Kidd-Gilchrist accomplished more than hundreds of college basketball players had before him. He averaged 11.9 points and 7.4 rebounds per game, while playing for the national champion Wildcats.
He's a very complete player that will give it his all every second that he's on the court. He's a solid scorer, defender and rebounder. You say jump, he'll ask how high. He's a top-five pick for sure and can immediately make a difference on an underachieving team.
MKG is the type of player that you could build a franchise around, and any team would be happy to have him be their guy. I see him going to Charlotte at No. 2, which will give him a fantastic opportunity to shine. Michael Jordan will not take a chance on someone he doesn't believe in, and MKG will not let him down.
Look for Kidd-Gilchrist to have a great season that could end up winning him some hardware.
Jeff Taylor, Vanderbilt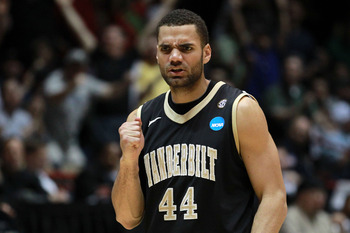 Ronald Martinez/Getty Images
Position: SF
Height/Weight: 6'7''/212 lbs
Jeff Taylor just got better and better over the course of his four-year career at Vanderbilt. His scoring and shooting improved with each season, which is a great sign. It shows that he has the ability to learn from what isn't working and find ways to get better.
Much like my analysis on Kyle O'Quinn, Taylor won't be an immediate impact wherever he ends up. He's going to need some time to develop, even though he has a lot more experience than some of the other players in the draft.
His defense is already very good, so working on his ability to score in tough spots as well as find other players on the court should be his main focuses. Taylor is definitely capable of putting up solid numbers and will be shining by the end of year three.
Anthony Davis, Kentucky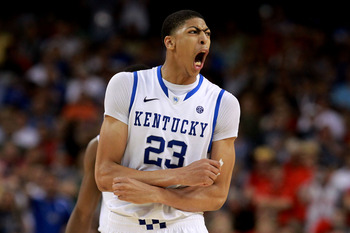 Ronald Martinez/Getty Images
Position: PF
Height/Weight: 6'11''/222 lbs
You didn't think that I was going to leave out the top prospect in the draft, did you?
Anthony Davis has all of the skills to become an immediate superstar in the NBA. He shot onto the scene averaging a double-double with 14.2 points and 10.4 rebounds per game last year with his famed unibrow.
He's excellent in nearly every facet of the game. He can score over defenders, box out in the paint, block shots, grab rebounds, create tough shots—the works. There is no better prospect available in this draft, and there might not be for the next few years.
There's no question that Davis will shine instantly with the Hornets. Even in the slimmest of chances that he doesn't exceed expectations in his rookie year, you can guarantee he will in his sophomore season.
Winning the NCAA national championship was just the first of many future accolades to come for the former Kentucky Wildcat.
Keep Reading