Breaking Down Boston Red Sox Catcher Jarrod Saltalamacchia's All-Star Case
June 20, 2012

Abelimages/Getty Images
The case for Jarrod Saltalamacchia making the All-Star team just keeps getting stronger.
The 27-year-old catcher is only four home runs away from matching his career high in home runs.  With 33 RBI he is well on his way to breaking his career high in RBI of 56.
Every game solidifies the case Saltalamacchia should be on the All-Star team.
On June 16, against the Chicago Cubs, Saltalamacchia went 3-4 with a walk, a double, a home run and two RBI. Salty's performance propelled the Red Sox to a much needed 4-3 win.
The next night Salty went 2-2 with an RBI. He helped the Red Sox get the win and get back to .500. He also made a nice defensive play when the Cubs were threatening in the bottom of the seventh.
During the game Nick Cafardo of the Boston Globe wrote:
"Salty is doing it all these days. When Luis Valbuena walked and tried to advance to second on a wild pitch by Andrew Miller, Salty retrieved the ball quickly and made a long, accurate throw to second base to nail the runner." 
Watch Saltalamacchia gun down Valbuena. (via MLB.com)  
In addition to his recent success, Saltalamacchia's stats put him at or near the top of the list in key offensive categories for catchers in the American League:
Doubles—12, second place in the AL.
Home runs—12, first place in the AL.
RBI—33, second place in the AL. (h/t ESPN)
He's only batting .257 but has raised his average by 10 points over the past week.
In addition to his solid offensive numbers, Salty has truly made Boston's pitching staff his own.
Jon Lester told Rich Thompson of the Boston Herald:
"Obviously it's nice to have Tek here, but Salty (has) gotten from underneath that shadow and now it is his pitching staff. He came to us with a big name—no pun intended—and he had a big reputation for who he was as a catcher and an offensive player. I think now he is just feeling comfortable, he knows his role."
Bobby Valentine echoed Lester's sentiment when he told Gordon Edes of ESPN:  
"He's turned a big corner. In the last couple of weeks, I've seen a player turn into an All-Star—an absolute player who you can count on, who's got it. He understands what's needed out of him and he's delivering it."
But as of Tuesday night, Saltalamacchia was not even in the top five in voting for catchers.
Per MLB.com, here are the leaders in All-Star voting for catchers: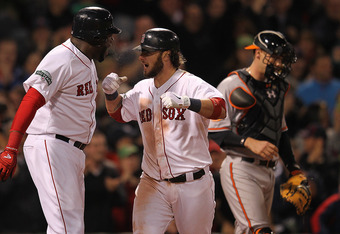 Jim Rogash/Getty Images
Mike Napoli, Rangers: 2,239,047
Joe Mauer, Twins: 1,283,804
Matt Wieters, Orioles: 1,242,247
A.J. Pierzynski, White Sox: 1,048,603
Russell Martin, Yankees: 867,495
Based on his numbers, Saltalamacchia deserves to be on this list. His offensive numbers are equal to or better than every catcher in the AL.
Here are the numbers for top five vote leaders:
Napoli: .238, 11 home runs and 29 RBI.
Mauer: .314, three home runs and 33 RBI.
Wieters: .249, nine home runs and 32 RBI
Pierzynski: .286, 12 home runs and 41 RBI.
Martin: .206, eight home runs and 21 RBI.
For comparison:
Saltalamacchia: .257, 12 home runs and 33 RBI.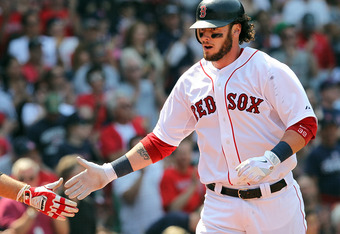 Jim Rogash/Getty Images
Mauer, Wieters and Martin all have the potential to be Gold Glove winners. Saltalamacchia may never be a Gold Glove caliber catcher, but his offense alone should get him into the All-Star game.
So what's keeping the vote total down for Saltalamacchia? His track record.
This really is the first season Salty has had a case for the All-Star team. Napoli has put up big numbers in the past. Mauer has been a perennial MVP candidate. Wieters is a Gold Glove winner and made the All-Star team last year. Pierzynski is a 15-year veteran having one of the best stretches of baseball of his career.
Unfortunately, for players like Saltalamacchia, numbers alone do not always guarantee a spot on the All-Star team.  
Saltalamacchia could easily be considered a top three catcher in the American League. But, as often is the case, the All-Star game is a popularity contest and Salty is the new kid in class. 
Unless otherwise noted, all stats are from baseball-reference.com