LeBron James Calling Serge Ibaka 'Stupid' Was Exactly What He Needed to Do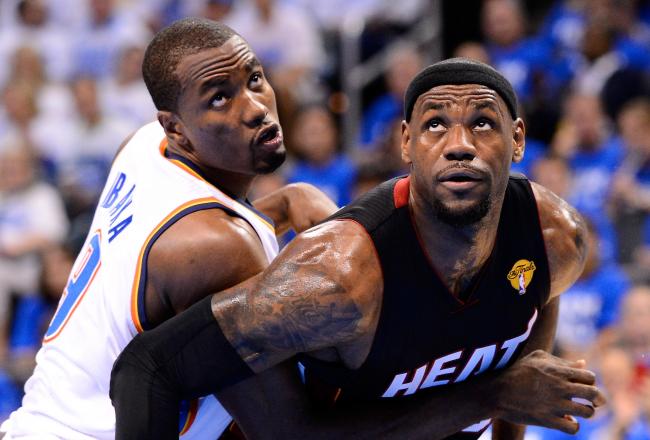 Ronald Martinez/Getty Images
LeBron James' response to Serge Ibaka's nonsensical comments about LeBron not being a good defender was not only warranted, it was also exactly what LeBron needed to do.
LeBron had this to say to Ibaka calling out his defensive abilities:
"I don't really care what he says, he's stupid. Everyone says something to me every series, then (the media) tries to get a quote. It's stupid."
The fact that LeBron came out and responded to Ibaka's comments shows that he truly is a different player than he used to be.
In the past, LeBron would've made some comment about Ibaka being a solid competitor and how he's glad to be in the place where he can be playing in the NBA and putting his team in a position to win an NBA title.
Not this year, though. Not the 2012 version of LeBron James.
LeBron's not putting up with comments that are untrue and nonsensical, and he's absolutely justified in doing so.
LeBron is finally realizing that he needs to stand up for himself and start creating an image for the player he wants to be remembered as.
People might argue that LeBron should've just kept his mouth shut or just gone out on the court and taken it to Ibaka like a lesser-know player, Michael Jordan, would have, but I like the fact that LeBron has the personal confidence to call Ibaka out.
Before the 2011-12 season started, in an interview with ESPN's Rachel Nichols, LeBron talked about how he was finally getting back to playing for himself and for the love of the game instead of trying to prove anyone wrong, and responding to Ibaka the way he did aptly shows that.
Did LeBron do the right thing by calling Serge Ibaka "stupid?"
LeBron didn't think first of what the media wanted him to say, and he didn't think of what the politically correct thing was to say.
Instead, LeBron just responded with his heart, and that's the honesty that fans want to see out of LeBron.
Calling Ibaka stupid was not only the right thing for LeBron to do, it was also what he needed to do to continue establishing his own legacy for himself.
If LeBron goes off and drops 40 points in Game 4 against the Thunder, and Ibaka, this moment will be remembered as LeBron responding to criticism well, instead of fading away because of it.
Word to the wise. When your team's down two games to one in the NBA Finals, you should just keep your mouth shut. There's no need to give the opponent's best player, in this case LeBron James, any reason to step his game up that much more.
LeBron calling out Ibaka was exactly what he needed to do, and I certainly give him respect for that.
This article is
What is the duplicate article?
Why is this article offensive?
Where is this article plagiarized from?
Why is this article poorly edited?

Miami Heat: Like this team?