Alabama Recruiting: DT Montravius Adams Should Be Tide's No. 1 Target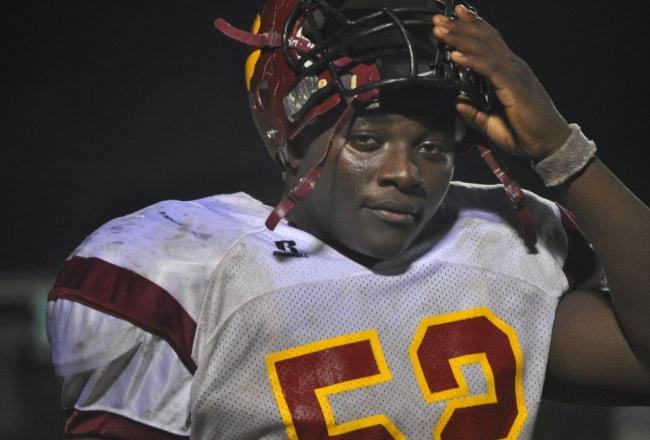 For schools like Alabama, the primary target in recruiting is the nation's top-rated recruit. Alabama swung and missed on Robert Nkemdiche, but their efforts might be better served going after defensive tackle Montravius Adams.
Nkemdiche's commitment to Clemson likely won't change. He likes their defensive scheme better and wants to play as a pass-rushing 4-3 defensive end.
Alabama will pursue him, certainly, but their energy should be focused on a much more dire need: A new, promising nose tackle.
Enter Montravius Adams.
Adams is a 5-star rated recruit by Scout and Rivals and is the best defensive tackle in the class of 2013.
He is a powerful defensive lineman that can push the pocket and impose his will on offensive linemen. Over half of his 84 tackles as a junior occurred behind the line of scrimmage.
He is great, but what makes Adams such a high priority for the Tide?
Here are a few reasons.
Alabama needs a new nose guard
Alabama's newest nose guard, Jesse Williams, will exhaust his eligibility at the end of the 2012.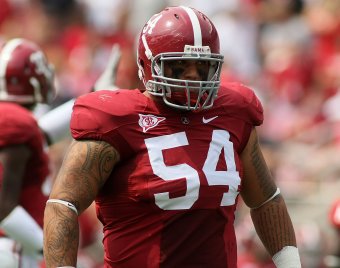 Jesse Williams will exhaust his eligibility at the end of the 2012 season.
Greg McWilliams/Getty Images
It seems like he just arrived at the Capstone yesterday, but he is a junior college transfer now with three years of eligibility used up.
Behind him there isn't much to look at.
Brandon Ivory leads the pack of backups at 6'4", 308 lbs., but he just isn't the type of elite defensive tackle that the Tide needs to anchor their defense.
After Ivory, the depth is not deep at all.
Under Nick Saban, Alabama has always had trouble bringing in outstanding defensive tackles out of high school and they have had to resort to junior college players to fill the roster.
Nick Saban cannot rely on the junior college ranks forever
Saban has been at Alabama for five years and twice during his tenure he has turned to the JuCo ranks to find his nose guard of the future.
The first time was with Terrence Cody in 2008 and the second with Jesse Williams in 2011.
They are/were both outstanding players, but they came from junior colleges and Saban had limited time to both develop and utilize them.
Most don't realize just how lucky Saban was when he was able to land two spectacular nose guards from the JuCo ranks in rapid succession.
Saban's only other nose tackles that saw significant playing time were Josh Chapman (run stuffer) and Nick Gentry (pass rusher).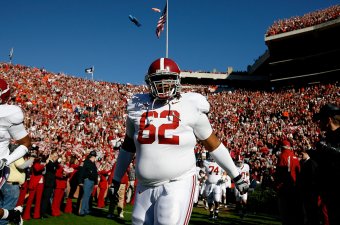 Mount Cody, a Tide player that hailed from the junior college ranks.
Kevin C. Cox/Getty Images
Chapman could not rush the passer to save his life, and Gentry was far too small to command double teams against the run.
Nick Saban needs a powerful, promising defensive tackle straight out of high school to hone to his exact specifications.
Montravius Adams is high on Auburn
Nothing is worse than losing a desired recruit to your rival, but that's the situation Nick Saban faces.
Adams' visit to Auburn was quite productive for the Tigers, and it's clear that Auburn will be in the running until national signing day.
The Iron Bowl is always a tough game, and it will be the Tide's final obstacle every year in which they have national title hopes.
Having Adams on the "wrong" side of the state would not bode well for the Tide.
Adams would be the most valuable defensive player
At Alabama, the linebackers get all the stats and recognition, but it is the defensive linemen that make it happen.
They control the opposing offensive linemen and create opportunities for the linebackers and oftentimes the safeties.
But the entire defensive scheme revolves around the play of the nose tackle. Every other player's success is a direct result of the nose tackle's production.
Should Montravius Adams be Saban's top priority?
As the lone defensive tackle on the field, Adams would be the most valuable player—just like every nose tackle that came before him at Alabama.
The difference is that Adams is more talented and would have more time to learn his role and turn his experience into production.
Adams could gain experience as a defensive end
Like Marcell Dareus before him, Adams could play defensive end.
He has the size, speed, and explosiveness to play against the run and rush the passer as Alabama's left defensive end.
That would not be his permanent position, however, as Nick Saban certainly wants him to play nose tackle.
Before he is ready to take on that role he could be a powerful defensive end. It's the same path Saban had Jesse Williams take.
If Adams commits to Alabama he may or may not start at nose tackle as a true freshman, but if he's not ready he could play as a defensive end in the mean time.
Overall
Alabama and Nick Saban need Montravius Adams more than any other player on their board.
In the Tide's 3-4 base defensive scheme no player is as important as the sorely underrated nose tackle.
Perhaps that is why Josh Chapman played most of the season with a torn ACL.
The success of the Tide's defense is based more on a quality defensive tackle than a strong pass-rushing defensive end.
That is why Montravius Adams should be (and likely is) a higher priority for Nick Saban than Robert Nkemdiche.
This article is
What is the duplicate article?
Why is this article offensive?
Where is this article plagiarized from?
Why is this article poorly edited?

Alabama Crimson Tide Football: Like this team?