Kobe Bryant: Why Lakers Legend Is Even More Overpaid Than You Think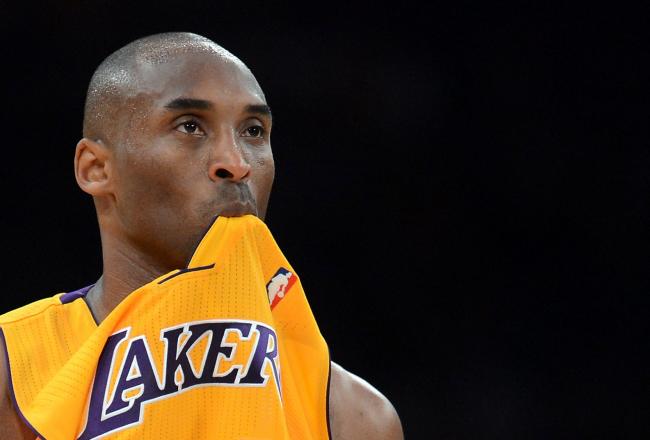 Harry How/Getty Images
After making more than $25 million this season in salary alone, you may be inclined to count Kobe Bryant as one of the league's many overpaid stars.
Given that he'll make over $30 million in 2013-14—when he's 35-years-old—one can only deduce that the iconic face of the Los Angeles Lakers is paid as much for who he is as what he does on the floor. For that kind of money, Mitch Kupchak could almost have signed LeBron James twice over in a world where the three-time MVP weren't already parading his talents around South Beach (and the Lakers actually had cap room).
In short, Kobe makes a lot of money.
According to CNBC.com's Daniel Bukszpan, Southern Utah University economist David Berri thinks it's far too much money:
"Wins in basketball are primarily about a team's ability to get and keep possession of the ball and then turning those possessions into points," Berri told CNBC.com in an e-mail. "In 2011-12, NBA teams paid $1.9 billion for 990 regular season wins. This means that the cost per win was $1.946 million. Given the cost of each win and knowing both how many victories each player produced and his salary allows us to see which players were overpaid."
Bryant comes in as Berri's second most overpaid player in his list of the 10 worst culprits, beaten out only by the Washington Wizards' Rashard Lewis.
It goes without saying that lumping Kobe in with the likes of Lewis, Corey Maggette and Antawn Jamison is an example of numeric analysis gone too far. There are some things that students of the game are better suited to assess than economic professors.
Still, Berri has a point.
Bryant kept this game against the Hornets close, but not because he was making shots.
For all the points Kobe Bryant scores, he's not the win-producing machine his legacy might suggest.
He made just 43 percent of his the 23 field-goal attempts he averaged this season, a mark of sub-par efficiency in light of the fact that Los Angeles made nearly 46 percent of its shots as a team. When accounting for the fact that Bryant took well over one-fourth of the team's shots, the team's efficiency would presumably have been even higher with more efficient scorers putting up all those attempts.
In even starker contrast, teams like the San Antonio Spurs, Oklahoma City Thunder and Denver Nuggets all collectively shot better than 47 percent—a clear testament to the value of sharing the ball amongst capable shooters.
The excuses on Kobe's behalf are numerous and at least partially valid.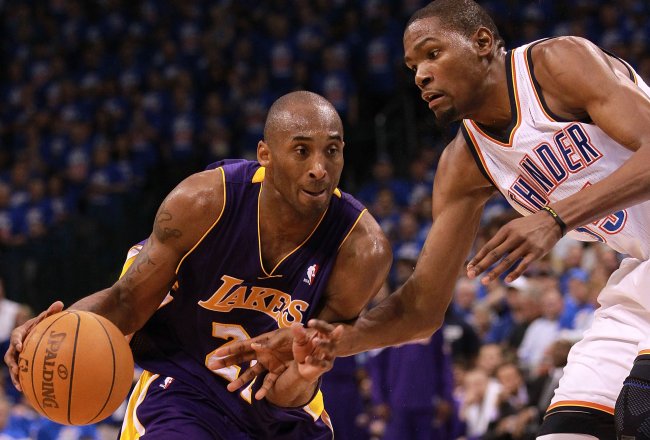 Ronald Martinez/Getty Images
Yes, he takes hard shots when the offense stalls, and his contested shots often stand a better chance of falling than some of his teammates' wide-open looks. His dynamic scoring ability also draws the attention of opposing defenders, making it easier for other Lakers to get those open looks in the first place.
That kind of value is difficult to measure by any metric.
It would still be naive to overlook the costs of Bryant's penchant for dominating the basketball. His 4.6 assists per game might suggest him to be an unselfish scorer, but his 3.5 turnovers tell a different story.
Kobe racks up more than his fair share of both numbers precisely because he's handling the ball so frequently.
Beyond the cost in lost possessions, there's little doubt such monopolization is also largely responsible for the offensive stagnation from which the future Hall of Famer ostensibly saves his team from time and time again.
At the end of the day, there's little doubt Kobe does more good than harm—just not $25-30 million worth of good.
This article is
What is the duplicate article?
Why is this article offensive?
Where is this article plagiarized from?
Why is this article poorly edited?

Los Angeles Lakers: Like this team?