2012 NBA Mock Draft: Predicting Possible Draft Day Trades (Updated)
June 19, 2012

Kevin C. Cox/Getty Images
Predicting where prospects in the 2012 NBA draft class will end up on draft day is already a difficult task. When you throw in the added variable of predicting what trades we'll see on draft day, the process becomes much murkier.
With that said, here's a full first-round 2012 NBA mock draft with predicted draft day trades to spice things up a bit. Selections made after a trade will be indicated by an asterisk.
1. New Orleans Hornets: Anthony Davis, PF/C, Kentucky
Anthony Davis is a killer on the defensive end of the floor and a lock to be picked first overall by the Hornets. Let's all just agree to be shocked if this doesn't happen.
2. Cleveland Cavaliers (From Charlotte): Bradley Beal, SG, Florida*
Original mock: Michael Kidd-Gilchrist
Update: Bradley Beal
Reports from SI.com are indicating that the Cavaliers have Beal at the top of their wish list in this year's draft. If they ultimately trade up with the Bobcats for No. 2, expect Beal to be the selection.
3. Washington Wizards: Thomas Robinson, PF, Kansas
The Washington Wizards traded for small forward Trevor Ariza and power forward/center Emeka Okafor from the New Orleans Hornets. Because of that trade, it became rather obvious that the Wiz wanted to add Bradley Beal to round out their starting five: John Wall, Beal, Ariza, Nene, Okafor.
Now it appears as if that won't happen. The Wizards are playing hardball with the Bobcats saying they'll take Robinson if Charlotte moves back, so I expect them to make a spite pick if the Cavs/Cats trade goes through.
Robinson is a physical beast who has the tools to put up a double-double on a nightly basis. He has to improve consistency on his jump shot, and he needs to gain more post moves, but for now, his athletic ability and quickness will be what he leans on.
4. Charlotte Bobcats (From Cleveland): Harrison Barnes, SF, North Carolina*
Harrison Barnes is a dynamic scorer with great court awareness and instincts. Since I have the Bobcats trading back from No. 2 to No. 4, I figure Michael Jordan wants the best UNC player in the draft.
By trading back, the Bobcats pick up another draft pick later in the first round yet still manage to nab who I believe to be their guy in Barnes.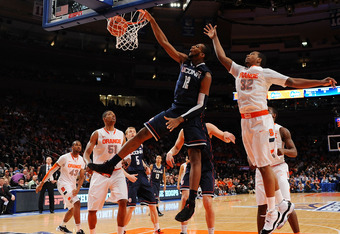 Michael Heiman/Getty Images
5. Sacramento Kings: Michael Kidd-Gilchrist, SF, Kentucky

Original mock: Bradley Beal
Update: Michael Kidd-Gilchrist
Michael Kidd-Gilchrist would be a great fit for the Kings at No. 5. He has a high motor, makes hustle plays look easy and he's the best perimeter defender in this year's draft.
The Kings need to instill some defense and they need a wing player as well. Kidd-Gilchrist fills both of those needs.
6. Portland Trail Blazers: Damian Lillard, PG, Weber St.
Original mock: Andre Drummond
Update: Damian Lillard
The Trail Blazers will have a tough decision to make if Andre Drummond is on the board here because there's so much potential, but ultimately I think they fix their point guard problem with the best available point guard in the draft, Damian Lillard.
Lillard scored 40 points or more twice last season and has ideal size for his position. He should be a solid player at the next level.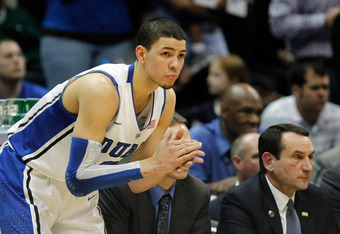 Streeter Lecka/Getty Images
7. Philadelphia 76ers (From Golden State Warriors): Andre Drummond, C, UCONN*
Original mock: Jeremy Lamb
Update: Andre Drummond
In this trade scenario, the Sixers would deal Andre Iguodala to the Warriors in exchange for pick No. 7 and pick No. 35, Dorell Wright and Andris Biedrins respectively.
Rusty Simmons of the San Francisco Chronicle has speculated at the possibility of this type of trade, and I think it works out well for both sides.
The 76ers can move up and grab a dynamic big man (with bust potential) in Drummond. With Elton Brand and Spencer Hawes entering free agency, the Sixers have questions in their frontcourt. Drummond, if he buys into Doug Collins' coaching philosophy, could become great.
The Warriors get to move forward right away with one of the best all-around small forwards in the game, and they don't have to gamble on someone like Drummond or Perry Jones III with the seventh pick. Additionally, since the trade won't work financially for the 76ers otherwise, the Warriors get to rid themselves of Biedrins' bad contract.
Again, since Spencer Hawes and Elton Brand are both set to be free agents, it may not be a bad thing for the Sixers to add more insurance in the frontcourt.
8. Toronto Raptors: Austin Rivers, SG, Duke
Austin Rivers reportedly has a promise from a lottery team in this year's draft. Although it's purely speculation on my part, the Raptors have reportedly expressed a lot of interest in Doc Rivers' son.
The Raptors desperately need offensive production, and Rivers can provide that right away as a fearless shooting guard. He can be slotted into the backcourt next to Jose Calderon, thus moving DeMar DeRozan to small forward.
9. Detroit Pistons: John Henson, PF, North Carolina
Even though John Henson's NBA combine performance was reportedly less than stellar, his stock has been on the rise of late.
He's been compared as a poor man's Anthony Davis, a lanky shot-blocker with a defensive post presence. He needs to get stronger for competition in the NBA, but with Tayshaun Prince and Austin Daye already on the roster, it's evident that the Pistons like string beans.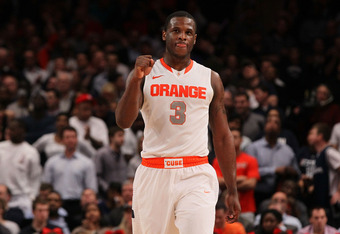 Jim McIsaac/Getty Images
10. New Orleans Hornets: Meyers Leonard, C, Illinois
Original mock: Damian Lillard
Update: Meyers Leonard
The New Orleans Hornets already have Anthony Davis with the top overall pick, but I love the idea of NOLA bringing in a true center to bump him over to the power forward spot.
Even at 7'1", Meyers Leonard is a freakish athlete.
He's a great passer for a big man and he has soft touch around the basket. He needs to put on some bulk, so he and Davis can be weight room partners in New Orleans.
11. Portland Trail Blazers: Jeremy Lamb, SG, UCONN
Original mock: Kendall Marshall
Update: Jeremy Lamb
Since the Trail Blazers opt to grab Lillard in the updated version, I think they continue bolstering their backcourt by adding a dynamic scorer in Jeremy Lamb.
Jamal Crawford's days in Portland are over, so it's time to move on with someone who will likely be a better NBA scorer anyway.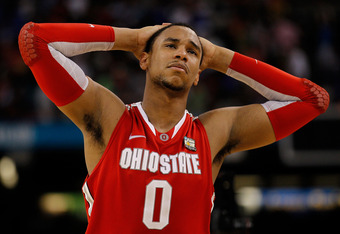 Chris Graythen/Getty Images
He's in his comfort zone when he's dishing the ball off to teammates and making those around him better. He's also not a bad shooter, despite only averaging 8.1 points per game. It was simply a case of Marshall not looking to score because he's so unselfish.
Marshall is also underrated in the athleticism department. Overall, I think Marshall will be a great NBA point guard for a long time.
12. Houston Rockets: Tyler Zeller, C, North Carolina

Original mock: Bucks take Meyers Leonard
Update: Rockets take Tyler Zeller
After the trade that brought Milwaukee Sam Dalembert and the No. 14 pick, not only are they no longer in this spot at No. 12, but they're also not looking for a center anymore.
The Houston Rockets, however, are looking for a center. Chances seem high that the big man they're targeting is Dwight Howard via trade, but if Houston keeps this pick I can see them going with the high-motor guy, Tyler Zeller.
13. Phoenix Suns: Dion Waiters, SG, Syracuse
CBS Sports is reporting that the draft promise that allowed Dion Waiters to shut down his pre-draft workouts was made by the Phoenix Suns.
Waiters is being mocked as high as No. 8 to the Toronto Raptors, but I think that's too high for a player who doesn't rebound well and doesn't look to pass.
The 6'4" shooting guard out of Syracuse is drawing early comparisons to Dwyane Wade. Although I think those comparisons are a bit far-fetched, Waiters has the potential to be a very good NBA scorer. His ability to knock down jump shots off the dribble is one of his best skills.
14. Milwaukee Bucks: Perry Jones III, SF/PF, Baylor
Original mock: Rockets take Perry Jones III
Update: Bucks take Perry Jones III
Sam Amick of Sports Illustrated is reporting that the people who represent Perry Jones III believe him to be a small forward. In my opinion, and apparently that of NBA scouts, Jones fits better as a power forward at the next level.
Questions about his motor and basketball IQ have dropped him to No. 14 on my board. However, I think the Milwaukee Bucks would be glad to have him. He has massive potential and if he can harness that alongside of the scorers they have in-house, he'll be a solid NBA talent.
15. Philadelphia 76ers: Arnett Moultrie, PF, Mississippi St.
Again, the 76ers may need to move on from an aging Elton Brand, and Spencer Hawes is an unrestricted free agent this summer. Arnett Moultrie fits the bill as an athletic 6'11" power forward who even has the ability to step outside the arc and knock down threes.
16. Houston Rockets: Terrence Jones, SF, Kentucky
Original mock: Tyler Zeller
Update: Terrence Jones
Again, I don't expect the Rockets to keep their first round picks if they intend to trade for Dwight Howard. Nevertheless, if they stand pat I think they draft Terrence Jones from Kentucky.
He's a rock solid athlete who can come in and put up respectable numbers right away.
17. Dallas Mavericks: Kendall Marshall, PG, North Carolina

Original mock: Terrence Jones
Update: Kendall Marshall
Since the updated mock has Kendall Marshall falling to the Mavs all the way at pick No. 17, I think they pull the trigger on the best pure point guard this year.
Jason Kidd is now 39 years old with an expiring contract to boot. It doesn't appear as if he'll be back in Dallas, so the Mavs should target their point guard of the future (although that may very well end up being Deron Williams).
18. Houston Rockets: Terrence Ross, SG, Washington
Original mock: Timberwolves take Terrence Ross
Update: Rockets take Terrence Ross
The Minnesota Timberwolves no longer have this selection after the trade with Houston, so the Rockets are now on the clock for the third time.
Having already added Zeller and the other Terrence (Terrence Jones), I think they look at one of the best athletes available here, Terrence Ross out of Washington.
19. Orlando Magic: Moe Harkless, SF, St. John's
Moe Harkless lacks a giant ego, has a good head on his shoulders and carries himself well out on the court.
Overall I think that's the type of player the Magic need after the Dwight Howard saga last season.
20. Denver Nuggets: Jared Sullinger, PF, Ohio State
Ohio State power forward Jared Sullinger, who was being mocked as a surefire lottery pick mere days ago, has recently been medically red-flagged by NBA doctors due to back problems.
Sullinger will still be able to play through the issue, but he's already undersized as a 6'9" power forward. Since he'll have to out-muscle and out-work opponents on the block, it's not a good sign that he may have medical issues.
With that said, the Nuggets would likely be thrilled to get a dynamic rebounder with a great work ethic and basketball IQ this late in the first round.
21. Boston Celtics: Andrew Nicholson, PF, St. Bonaventure
As one of the oldest teams in the NBA, the Boston Celtics will certainly be looking for possible big three replacements as their careers wind to a close.
Andrew Nicholson averaged 20.8 points and 7.3 rebounds as a junior in college. Last season, Nicholson averaged 18.4 points and 8.4 rebounds while improving his three-point shooting to 43.4 percent (very impressive for a bigger guy).
If the Celtics bring back Kevin Garnett for at least another season, Nicholson will benefit greatly by being able to learn under him.
22. Boston Celtics: Royce White, SF, Iowa State
Original mock: Fab Melo
Update: Royce White
Royce White has the potential to fall out of the first round for one of the oddest reasons I've ever seen; he has a petrifying fear of flying on an airplane.
Obviously this is a big problem for an NBA player when you're sometimes traveling by plane multiple times a week.
For the money White would be paid at the NBA level, I think he could find a psychiatrist to help him out with this, but it's still interesting to note.
Anyway, White translates as a rich man's Boris Diaw who can score, rebound and pass efficiently as a small forward. He needs to improve his decision-making and free-throw shooting moving forward.
23. Atlanta Hawks: Draymond Green, SF, Michigan State

Original mock: Royce White
Update: Draymond Green
Draymond Green may not be the best athlete in this year's draft, but with Royce White off the board now, I think the Hawks look at a guy who averaged a double-double in college last year.
Green can fit as a good glue-guy in the NBA and since the Hawks may choose to amnesty Marvin Williams, he can come in as his replacement should that occur.
24. Charlotte Bobcats (From Cleveland): Tony Wroten, PG/SG, Washington*
Tony Wroten is a project considering he shot 16.1 percent from three-point range and 58.3 percent from the free throw line as a freshman last season, but let's be honest, the Bobcats have time to develop a project.
Wroten is incredibly skilled at slashing to the basket and finishing strong. He's very athletic, and if he develops an outside shot, he could be downright dangerous.
Picking a guy with a ceiling as high as Wroten this late in the first round is never a bad decision.
25. Memphis Grizzlies: Doron Lamb, SG, Kentucky
There's a good chance that O.J. Mayo could be out the door in Memphis next season, so bringing in a shooting guard would fit a need for the Grizz.
Although Doron Lamb was relegated to being somewhat of a role player for a stacked Kentucky team, he was ridiculously efficient shooting the basketball. He shot 47.4 percent from the field, 46.6 percent from beyond the arc and 82.6 percent from the free throw line last season.
26. Indiana Pacers: Jeffery Taylor, SF, Vanderbilt
Jeffery Taylor is my sleeper pick in this year's NBA draft. He was one of the most consistent players in the SEC during his four-year collegiate career on both offense and defense.
Taylor has a chance to come in and be a difference-maker right away for an up-and-coming Indiana Pacers team.
Larry Bird has been making a ton of great managerial decisions over the past few years; Taylor would be another one to add to his list.
27. Miami Heat: Fab Melo, C, Syracuse
Original mock: Festus Ezeli
Update: Fab Melo
Since Fab Melo is now available for the Heat, I think this is a no-brainer. The Heat need to add size in the front court, and the the seven-foot Melo provides that.
Melo translates as a poor man's Tyson Chandler at this point. He's a great shot-blocker with good defensive awareness, but he really needs to improve on offense.
On a team like Miami where offense is easy to come by, Melo can simply do his thing in the post on defense.
28. Oklahoma City Thunder: Evan Fournier, SG, France
The Oklahoma City Thunder are stacked right now from top to bottom. I'd like to think that James Harden and Serge Ibaka would stick around for less money and the chance to be a part of a dynasty, but egos may not make that all too probable.
Adding 19-year-old Frenchman Evan Fournier to store over in Europe as he continues his development would be scary for the rest of league trying to compete with OKC.
29. Chicago Bulls: John Jenkins, SG, Vanderbilt
John Jenkins is one of the purest shooters in this draft having shot 43.9 percent from three-point land last season. He could come to Chicago as an instant-offense option off the bench.
30. Golden State Warriors: Quincy Miller, SF, Baylor
With the trade that hypothetically landed the Warriors Andre Iguodala, they gave up a pick in the second round along with No. 7, so they still get a chance at a first-round talent here.
Quincy Miller is all potential at this juncture. According to CBS Sports' college basketball insider Jeff Goodman, Miller crippled his stock at the NBA combine.
"I'm not sure how this guy was ever the No. 1 player in America and considered a lottery pick, but he obviously bought into the hype and make (sic) a mistake coming out after just one year," Goodman said.
Yeesh...
Even so, if Miller decided to polish his game in school for another season, I think he had the potential to be a top-10 draft pick, so picking him up at No. 30 is far from the worst case scenario for the Warriors.