The 10 Strangest Fighting Styles in UFC History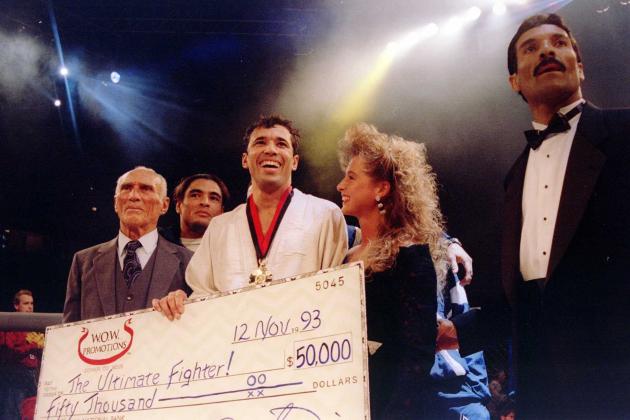 Markus Boesch/Getty Images
Helio, Rickson, Royce, and Rorion Gracie
The UFC, the brainchild of Rorion Gracie and ad executive Art Davie, had two purposes when it made its television debut in November of 1993. It was, first and foremost, a spectacle of the highest order—a cage fighting tournament that would match up athletes from a variety of disciplines to see which martial art was best.
The other, more stealthy, goal was to spread the art of Gracie Jiu Jitsu far and wide. Rorion's family fighting system was the real star of the early UFCs, introducing America and the world to the power of submissions and ground fighting. Gracie did exactly what he intended—he created a market for his Jiu Jitsu all over the world.
But Gracie Jiu Jitsu wasn't the only art fighting for supremacy in the cage. Some of the competition, like wrestling, judo and karate, were well-known arts in their own rights. Others were a bit off the beaten path.
Those are the arts we'll look at today—the wackiest styles ever used in the cage.
Begin Slideshow

»
"Scientific Aggressive Fighting Technologies of America," or SAFTA for short—it's an acronym that says so much and so little.
What exactly was SAFTA? It isn't clear after seeing Jon Hess's lone UFC 5 appearance. Even less so after watching Vitor Belfort knock him out in seconds at an old SuperBrawl show.
Watching Hess plow across the cage, as graceful as a bull elephant, there is little in the way of science present.
Aggression? And then some. He gouged at opponent Andy Anderson's eyes, stomped at his head and wracked up more fines than any fighter in UFC history to that point.
SAFTA was not an art for sport fighting. It requires a viciousness few possess, focusing on nut shots and eye gouges in place of technique. Sure, that might be appropriate for a fight to the death, but not for a sporting event. Hess, and his system, was a cage-fighting sociopath, never again to appear in the cage.
Everyone knows the ninja. Black-clad, masked possessors of exotic weapons like throwing stars and poison blowdarts, the ninja is among history's most dangerous assassins. At least in the movies.
How would that martial prowess translate to the cage, where no sais were allowed and rather than stars you could only throw fists and feet?
Not well.
Ninja Scott Morris was trounced at UFC 2 by kickboxer Pat Smith. His bloody eye told the tale. There was no lurking in the shadows—in the Octagon, Morris was under the bright lights.
Could a ninja compete in the most dangerous game? Perhaps. But they need to leave cage fighting to others.
Kuk Sool Won is a Korean martial art, one usually featuring wizened and tiny Korean men. So, how did this art's one Octagon appearance somehow feature the enormous Gary Goodridge, a black man clad in a black gi?
Goodridge explained in his recent autobiography that he wanted to fight, but didn't really have any martial arts experience. That's right—like so many of us, Gary Goodridge lied on his resume:
I trained in Kuk Sool Won for the few weeks leading up to the UFC fight. I wanted written credentials just in case the UFC asked for them, and Mr. Lee told me in order to get them I would have to represent his club by wearing his gi during the fight...I have no problem telling the the truth; it was given to me.
Former Army Ranger Greg Stott was pretty darn cocky when he made his Octagon debut at UFC 15. Sure, Mark Kerr was a gargantuan former NCAA wrestling champion. And, okay, Kerr looked like he was carved out of granite.
But Stott had his training to fall back on, and he confidently told viewers that "RIP rules and all other styles rest in peace." 17 seconds later, he was unconscious on the mat. It was the end of Stott's career. And his system's as well—may it rest in peace.
Kapu means "forbidden" in Hawaii, and this brutal style includes bone-breaking holds and the use of unusual weapons like oars and a variety of spears. John Matua could use none of that in his fight with David "Tank" Abbott.
All he managed to do was lie on the mat, convulsing as Abbott looked on and mocked him. It was an iconic moment for Matua—too bad he was on the wrong side of it.
Trap fighting is a real thing, an offshoot of Wing Chun that emphasizes closing to the clinch and landing knees, elbows and even headbutts. It is an art of technique—technique Paul Varelans never managed to show much of in his UFC tenure.
Varelans' success comes as a product of his enormity. At 6'8" and 300 pounds, the only things he seemed to trap were calories.
Hilariously, when he washed out of MMA, Varelans had a cup of coffee in professional wrestling. Allegedly offered sexual favors by Missy Hyatt to lose a match to ECW's Taz, Varelans did the job.
Hyatt refused to, um, do her job. Poor Paul Varelans. A polar bear needs love, too.
When Kazushi Sakuraba listed his style of fighting as "pro wrestling," many took it as a joke. Just the colorful Sakuraba being zany again.
But the Japanese star was dead serious. He came from a long line of professional wrestlers, a line that stretched all the way back to Wigan, England.
Many Japanese wrestling stars were taught catch wrestling by two of Europe's finest, Karl Gotch and Billy Robinson. It was Robinson, in particular, who helped Sakuraba add submission holds and techniques to his amateur wrestling base.
Yes, pro wrestling is wacky fun. But at one point, it was real. Sakuraba is a throwback to that era.
There are two victims of Joe Son's rape conviction. One, of course, is the victim of his horrendous crime. The other? Writers looking to make fun of Joe Son.
Yes, the gloves can come even further off when mocking Son's ridiculous self-named martial art "Joe Son Do." And you can take even more glee when Keith Hackney punches him right in the nuts like a hundred times.
But it isn't as joyful as it might have been, back in the days when Son was just another in a long line of bad fighters.
The chosen art of the chosen people, Krav Maga is widely used in the Israeli army. It has also come to the attention of Hollywood, so it's the art of choice in many movie fight scenes. Too bad it doesn't work against a tough professional fighter.
I feel confident saying that, because history backs me up. By history, I mean the great Mark Kerr, whose early UFC appearances seemed dedicated to eradicating these traditional martial arts from the cage.
Kerr beat Moti Horenstein in less than half a round. Method? Destruction.
Pit Fighting doesn't exist. It's not a real thing, just a gimmick that allowed street fighters to compete in a martial arts tournament. Not that it shouldn't be granted the status of "art."
What's more beautiful to watch, a spinning Tae Kwon Do kick, or Tank Abbott jacking someone's jaw? I'll take the Tank over a butterfly's wings any day of the week.
Abbott, of course, is Pit Fighting's godfather—an enormous (read: fat) brawler who was among the most popular fighters in early UFC history. Brash, bad, and more than a little uncouth, Abbott was a welcome breath of fresh air in a sport that, until he came along, was a little bit too respectful.