NBA Draft 2012: 3 Shooters Boston Celtics Must Target in Round 2
June 19, 2012

Chris Graythen/Getty Images
If the Boston Celtics aren't able to re-sign Ray Allen or sign a free agent like Eric Gordon this offseason, they'll need to draft a shooter in the 2012 NBA Draft.
Fortunately for the C's, there should be plenty of talented shooting guards left on the board when they make their second round pick at 51st overall.
The guys on this list will need some time to develop a little bit more, something they'll get while backing up Avery Bradley.
Let's take a look at three potential second round draft picks who could succeed on the Celtics' bench.
William Buford, SG, Ohio State
Buford was one of the best players in the history of Ohio State basketball.
He could step in for an NBA team and instantly be one of the best shooters in the league.
With his smooth three-point stroke and beautiful jumper, Buford is capable of putting up points in bunches.
His leadership skills that he developed with the Buckeyes would really help the Celtics' second unit.
Hollis Thompson, SG, Georgetown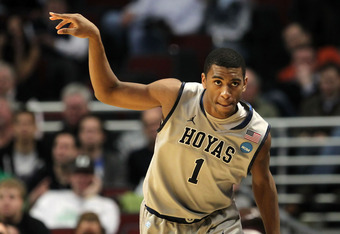 Jamie Squire/Getty Images
Thompson is an outstanding three-point shooter capable of knocking down a jumper from any distance.
In his three years with the Hoyas, he never shot below 43 percent from beyond the arc.
And at 6'8", he would give the Celtics great size at the shooting guard position. He's a decent rebounder and is solid defensively.
His size will also allow him to post up smaller defenders and create matchup problems for opponents.
Ramone Moore, SG, Temple 
Moore is a balanced scorer who can put the ball through the hoop from anywhere on the floor.
During his time at Temple, he was relied upon to carry the team offensively, something he was able to do quite well.
In 2011-12, he averaged 17.3 points per game and shot 38 percent from three-point range.
Assuming the Celtics don't re-sign Allen, Moore could be a valuable backup for Avery Bradley and a decent scoring threat off the bench.