2012 NBA Mock Draft: Teams Looking for Best Available Talent
June 19, 2012

Michael Heiman/Getty Images
Not every team is looking to get the best available talent in this draft.
A team that's looking for a center may select the 14th best overall player in the draft just because it needs a center, and as a result, this leaves some of the top talent on the board for a later-picking team to snatch. Sometimes, this works out; other times, teams that select based on needs end up with busts who don't deserve to be lottery picks, and they wish they'd just gone for the top talent.
Here's a complete first-round mock draft that takes a closer look at the teams that aren't looking to fulfill a need but are instead aiming to come away with the top talent available.
1. New Orleans Hornets: Anthony Davis, PF, Kentucky
This is a no-brainer for the Hornets, as it would be for anyone with the first overall selection. They're drafting based on need and based on the best available talent.
Obviously, any team with the top pick needs the best overall player, but the Hornets in particular need an excellent defensive option up front as well as someone with tremendous upside offensively. In both areas, Davis is their guy. He's still growing into his 6'10" frame, but he already is an excellent shot-blocker and rebounder, and there are few who can contend with his athleticism in the paint.
No matter what the Hornets are looking for in this draft, they win in selecting Davis. Any team in the NBA could use him. 
2. Charlotte Bobcats: Bradley Beal, SG, Florida
What the Bobcats truly need is an all-out makeover, but they'll have to settle for drafting the best available player when their second selection rolls around, and as a result, they'll take Beal.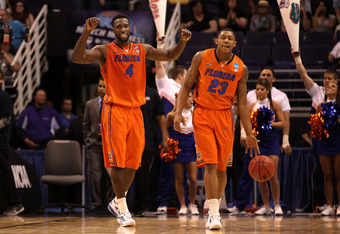 Christian Petersen/Getty Images
The Bobcats have a lot of options. They could go for someone like Michael Kidd-Gilchrist, who's still a little bit raw but brings a lot of toughness and character to the court. They could even go with Thomas Robinson, who might be the most NBA-ready player of anyone.
But in terms of a player who will make the biggest impact—not only next season, but in the long run—they have to go with Beal. He has the most upside of any guard in the draft, and he has the potential to develop into one of the deadliest shooters in the league. If the Bobcats are looking to build around one player, this is their guy.
3. Washington Wizards: Michael Kidd-Gilchrist, SF, Kentucky
The Wizards need Gilchrist, not only because he puts a big body in the paint, but because he has the leadership abilities to really shape this team's success in the long run.
4. Cleveland Cavaliers: Harrison Barnes, SF, North Carolina
The Cavs need to fill a hole at small forward, and as long as Barnes is paired with an elite point guard, he'll pay off. He'll be part of a very solid tandem with Kyrie Irving.
5. Sacramento Kings: Thomas Robinson, PF, Kansas
The Kings need someone who's going to help them shore up their athleticism and their defense, and Robinson—with his absurd 7'4" wingspan—is the man for the job.
6. Portland Trail Blazers: Andre Drummond, C, UConn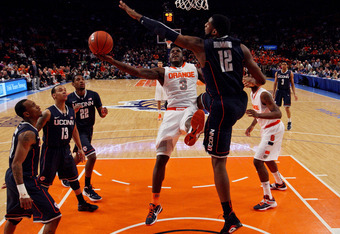 Jim McIsaac/Getty Images
The Trail Blazers are attempting to go for the most talented available player with this selection, and despite the fact that Drummond is a massive risk, they'll take him here if he's still available.
The good thing about Drummond is that he has a lot of upside at 6'11". He has yet to learn how to use his size to full advantage and has been knocked ceaselessly for being too passive, but if he does grow into that frame and does start to play more assertively, Portland will win big with this pick.
Drummond has the potential to be an elite option on both ends of the floor because of his size and his 7'6" wingspan. He's built like a star center, and he has the athleticism to get there; it just comes down to whether or not he learns to use his size.
ESPN.com's Chad Ford ranks Drummond as the fifth-best overall player in this draft, so if he's still here, Portland will bite on him. 
7. Golden State Warriors: Jared Sullinger, PF, Ohio State
Despite concerns about his size (6'9") and his conditioning, the Warriors will take the risk and go for Sullinger with this pick. There's a lot of hype surrounding him, and he's lived up to it in pre-draft workouts and at the NBA combine.
8. Toronto Raptors: Damian Lillard, PG, Weber State
Lillard has the potential to be an excellent shooter and a good distributor. His versatility makes him a good selection for the Raptors, who already have Demar DeRozan in the backcourt.
9. Detroit Pistons: Perry Jones III, PF, Baylor
Given the way Sullinger's been performing in his pre-draft workouts—and given the concerns about Jones' passivity—it makes sense that Jones will fall. The Pistons get a good deal here, though, because Jones has an ideal NBA frame, plus the athleticism and the work ethic to be a star.
10. New Orleans Hornets: Kendall Marshall, PG, UNC
The only thing that could make the Anthony Davis selection is picking up a point guard who can set him up. Marshall fits that bill perfectly. 
11.  Portland Trail Blazers: Jeremy Lamb, SG, UConn
Lamb is a risk, but at this point, he's the best player left on the board. He may not be NBA-ready right now, but he has the shooting range and athleticism to develop into a starter at the next level.
12. Milwaukee Bucks: John Henson, PF, North Carolina
Henson is a wild card—he's so long and skinny—but he's incredibly athletic and will be a menace in the post if he puts on some muscle and learns how to use his frame.
13. Phoenix Suns: Terrence Ross, SG, Washington
Though a team like the Sixers would love it if Ross fell to them at No. 15, the Suns do the smart thing and snatch the most offensively-talented player remaining on the board.
14. Houston Rockets: Tyler Zeller, C, North Carolina
The Rockets need help up front, and Zeller is the safest remaining center. He has a high NBA IQ and a ton of athleticism for his size, and if he gets stronger, he could be a solid starter. It just might take time and patience on the Rockets' part.
15. Philadelphia 76ers: Terrence Jones, PF, Kentucky
Jones has struggled with inconsistency and, at times, attitude, but in terms of raw talent, he should be the next player off the board, and he has the versatility and athleticism to play three or four positions for Philly.
16. Houston Rockets: Arnett Moultrie, PF, Mississippi State
The Rockets bolster their frontcourt even further with the addition of Moultrie, a physical specimen at 6'11" who can rebound and score. He only falls this far because of concerns over off-the-court issues.
17. Dallas Mavericks: Austin Rivers, SG, Duke
If Rivers can take the place of Jason Kidd in Dallas, more power to him. It actually might work out for him, though, if Kidd sticks around for another year and he gets to learn from a veteran how to really be a star. That will set him up nicely for a long future with the Mavericks.
18. Minnesota Timberwolves: Dion Waiters, PG/SG, Syracuse
Waiters has been hurt by the fact that he doesn't have a true position; he's not a lights-out shooter nor is he an excellent distributor. He's still a good enough shooter who probably should've gone a lot higher than this, so the T-Wolves will bite on the best available talent.
19. Orlando Magic: Meyers Leonard, C, Illinois
The Magic are going to need a center to replace Dwight Howard, and ideally, they'd like someone who was a bit more of a sure thing than Leonard, but that doesn't exist this year. Instead, they'll have to count on Leonard's raw talent and upside to pay off.
20. Denver Nuggets: Tony Wroten Jr., PG, Washington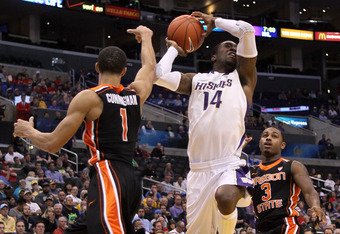 Stephen Dunn/Getty Images
Wroten's a risk because he has a tendency to play out of control, and he's been criticized for being a crummy teammate. But he still has the ideal build for an NBA point guard, and he's super athletic.
21. Boston Celtics: Fab Melo, C, Syracuse
The Celtics go for upside rather than skill here; Melo has long had the potential to be a premiere big man, but he's lacked the focus and the maturity to get there. Hopefully Doc Rivers can work some magic on him.
22. Boston Celtics: Jeffery Taylor, SF, Vanderbilt
The Celtics need a young, athletic 3 who can come in off the bench and help the team on both ends of the floor, and in that sense, Taylor fits the bill to a T.
23. Atlanta Hawks: Royce White, SF, Iowa State
Physically, White has a lot of potential to excel at the next level, but the question with him is whether his anxiety disorder will impede his ability to get there.
24. Cleveland Cavaliers: Quincy Miller, SF, Baylor
If Miller lives up to his potential, he gives the Cavs a super athletic, versatile forward who can be an asset on both ends of the floor. It's just a matter of whether or not he can get there, after ACL surgery this year halted his progress.
25. Memphis Grizzlies: Moe Harkless, SF, St. John's
Harkless is slightly undersized at 6'8" and really needs to improve his defense before he can establish himself in the NBA, but he's still worth a first-round pick because of his offensive potential and his athleticism.
26. Indiana Pacers: Marquis Teague, PG, Kentucky
The Pacers need a point guard, and lucky for them, Teague could end up being one of the biggest sleepers in this draft. He's incredibly quick, and he can shoot, but more importantly, he proved in his one year at Kentucky that he's coachable and can make all of his teammates better.
27. Miami Heat: John Jenkins, SG, Vanderbilt
Jenkins is one of the best shooters left on the board, and his raw talent will keep in him in the first round, despite the fact that he's undersized.
28. Oklahoma City Thunder: Andrew Nicholson, PF, St. Bonaventure
The Thunder have to take Nicholson if he's available here because he's good enough to have gone in the early 20s. He's a big guy who plays great defense and gets super aggressive in the paint.
29. Chicago Bulls: Doron Lamb, SG, Kentucky
Lamb is another potential sleeper in this draft whose outside shooting skills will pay off big time in the NBA. The Bulls would be crazy to let him fall into the second round.
30. Golden State Warriors: Draymond Green, SF, Michigan State
He may be small at 6'6", but he has the ability to provide a huge offensive spark off the bench. He can score from anywhere.